Film & TV
SBIFF Launches Riviera Showcases with 'Weiner'
In Its New Home, Cinephiles Can See Indie Films Sunday-Wednesday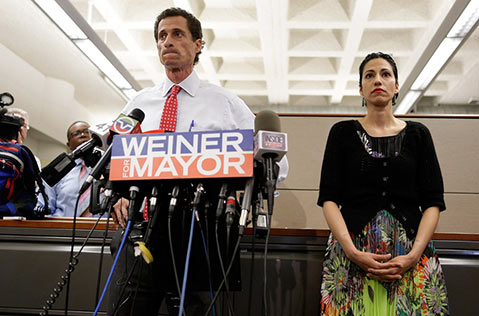 While Santa Barbara cinephiles have long had access to a healthy selection of mainstream independent fare, screenings of smaller films like Weiner, winner of the U.S. Documentary Grand Jury Prize at Sundance, have been harder to catch. "People were driving to L.A. to see [certain] movies," said Roger Durling, the creative director of the Santa Barbara International Film Festival. With SBIFF's The Showcase Film Series, which kicks off its run at the Riviera Theatre on Sunday, June 5, Durling hopes to give filmgoers a chance to see indie films without needing to brave Los Angeles traffic.  "[We wanted to] be able to show film-festival-type fare that's harder to see at the local multiplex."
Prior to signing a lease that granted SBIFF control of the Riviera Theatre for the next 30 years, The Showcase screened independent and foreign films every Wednesday at the Plaza de Oro Theatre. While the series has been successful since its inception two years ago, Durling felt that it would benefit from offering more screenings. "I heard from a lot of people that they wanted to see the films, but Wednesday didn't work for them," said Durling.  
Starting in June with Weiner, filmgoers will have a chance to catch Showcase films on Sundays, Mondays, and Tuesdays, in addition to the standard Wednesday screenings.
There is a point in Weiner, Elyse Steinberg and Josh Kriegman's shockingly intimate documentary, in which the former congressmember, who resigned in 2011 after posting a link on his Twitter account to naked pictures of himself, sits in front of his computer watching himself berate MSNBC's Lawrence O'Donnell. He asks his wife, Huma Abedin, to watch. When she declines and leaves the room, Weiner remains transfixed, glued to the screen, watching his own footage with as much surprise as the rest of America.
Anthony Weiner is a man haunted by cameras. It was a camera that caught him at his professional best — as a fist-shaking, fired-up liberal shouting in Congress about the plight of the middle class. And it was a camera — his own — that rendered the congressmember with the funny name a punch line for the pun maestros at the New York Post. "I guess the punch line is true about me," says Weiner. "I did the things. But I did a lot of other things, too."
Weiner provides a glimpse into those other things, namely his 2013 bid to be the Mayor of New York. We see an ebullient Anthony running about in colorful pants as he campaigns at a Gay Pride parade. He kisses babies and schmoozes with voters. When he rides the subway, other passengers hold up papers emblazoned with positive headlines regarding Weiner's campaign. He's coming back, and the film does its due diligence explaining why voters were game to give the fallen politician that second chance.
The film truly shines, however, when it covers Weiner's second sexting scandal that broke out in the midst of the N.Y. mayoral race. As the film plumbs the controlled chaos that is a political campaign in crisis mode, its exploration of how public opinion can rock a political marriage seems particularly timely as America follows another political race beset by scandal.