Cover Story
The Foresters' Fulfilling Formula
How Santa Barbara's Semi-Pro Baseball Team Keeps on Winning Big
There is no question that the Santa Barbara Foresters have been the foremost summer-league baseball team in the western states for the past decade. Five times since 2006, they have brought home the championship trophy of the National Baseball Congress, dominating teams from Arizona, Colorado, Texas, Missouri, Kansas, Alaska, and Washington in the annual NBC World Series at Wichita, Kansas.
Bill "Pinner" Pintard, entering his 22nd season as the Foresters manager, has compiled a phenomenal record of 857 wins and 261 losses, a .767 winning percentage. He relishes a challenge, as he showed in 2008 when the Foresters played a historic three-game series against the Cuban National Team at Latinoamericano Stadium in Havana. They were the first U.S. team to play there since the Baltimore Orioles had visited in 1999. Cuba, the three-time Olympic champions, swept the series.
The Foresters will step out of their league this month to face another significant test ​— ​two games against the U.S.A. Baseball Collegiate National Team. The first game will take place Tuesday, June 28, at Dodger Stadium. The following day, they will play at UCSB's Caesar Uyesaka Stadium, the Foresters' home diamond.
Team U.S.A. will be priming for international competition in Chinese Taipei, Japan, and Cuba. Led by head coach George Horton of Oregon, it has culled the cream of the crop among young college players. Alumni of the team include such major-league stars as Kris Bryant, Max Scherzer, David Price, Will Clark, Nomar Garciaparra, and Todd Helton.
The Foresters have been a stepping-stone for 37 players who've reached the major leagues. They primarily have come from colleges like Texas and Nebraska with whom Pintard has established relationships. "I've been doing it a long time," the 68-year-old manager said. "I have the trust of the college coaches that when they send their players here, we're going to make them better."  
In the case of James Shields, the pitcher who's now with the Chicago White Sox, he came to the Foresters out of high school. Pintard said, "It was great for the community to be able to see James Shields pitching when he was 18 years old."
Santa Barbara's success in summer baseball can be attributed to two things that might be represented by the "F" on the team's caps: Fun and Family.
The Fun
Bret Boswell, a shortstop/third baseman from Texas, has returned for his third season with the Foresters. "It's Santa Barbara," he said. "You love everything about it. After the first year being out here, I wanted to come back every year." He is especially happy to put a difficult college season behind him.
"It was rough," he said. "It started off all right but went downhill. We lost to TCU in semifinals of the Big 12. That's why we come out here: Try to forget about all that and have fun again. Now I hope to win a lot of baseball games and go back to Wichita, try to win that again."
Boswell played for Santa Barbara's NBC champions in 2014. "It was awesome," he said. "I was right on the bottom of the dog pile. I learned from that. We do that again, I'll be one of the last ones out there." He added, "The main thing I've learned is to keep it fun, keep it loose, because that's when you're going to play your best. That's why I love it out here. [Pintard] lets you be you. If you don't figure it out, it's on you."
Pintard explained his methods:
"We give the players the freedom to find out who they are, not what we perceive them to be. They need to know. We talk about constantly improving. Our motto is 'Strive for success; deal with your failure.' You don't fear failure, because you're going to fail in this game. When failure happens, you deal with it and try to figure it out.
"We give players green lights to steal bases. If they get thrown out in June, that's okay; they're going to be safe in July. We never get mad at guys going first to third, second to home, or trying to stretch a single into a double early in the game. Late in the game, they better be right, but early in the game, we want them to press it. They get thrown out at second base in the third inning trying to stretch to a double, I don't care. They're trying to do something. Acts of commission, we're good. Acts of omission, uh-uh. We don't want them playing safe. We want them pushing the envelope.
"Before the game, we talk about, what are you going to do as an individual today to help your team win? Not, what am I going to tell you to do? [But] what are you going to do? That means having the courage to put down a drag bunt and beat it out. Don't play it safe and hope you get a hit, because you're only going to get a hit one out of three times. If the defense is going to give you the push and drag, go ahead and try it. You're not going to get any static from us.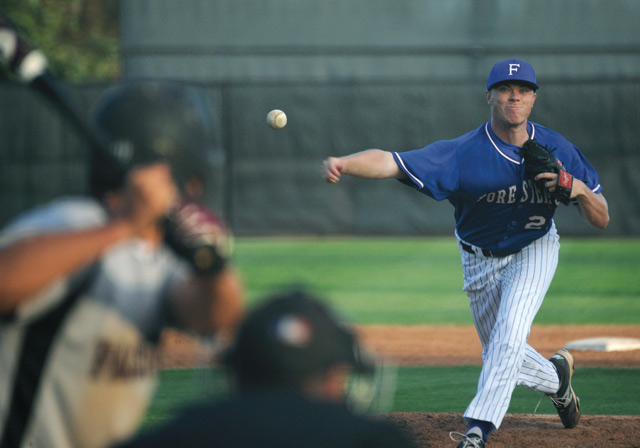 "We're at the top of the charts as far as letting players make decisions. Pitchers and catchers call the game. Hit-and-runs, sacrifice bunts, and the squeeze plays come from us [coaches], sometimes a double steal. We steal third, and everybody says, why do you steal third? It's safe not to steal third. But there's 11 ways to score from third base, and there's only two from second: a base hit and a two-base error."
Happiness is the hometown for a pair of former Santa Barbara High teammates, Connor McManigal, a Florida International outfielder, and John Brontsema, a UC Irvine infielder. "Johnny and I both played summer ball other places, but after playing for the Foresters last year, we realized it's the best place to play," McManigal said. "[Pintard] coaches how I think every coach should coach their players. He pumps us up. Everybody's excited to come to the park every single day. Playing for school is more of a job. In the summer, you find your love of the game again. I honestly compare Pinner to [Chicago Cubs manager] Joe Maddon. I've never played for him, but you can see all his players love showing up at the park and have fun winning."
Maddon, whose Cubs have the best record in the major leagues, espoused this advice at his introductory Chicago press conference: "Don't ever permit the pressure to exceed the pleasure." 
Pintard, who moonlights as a scout for the New York Yankees, had the same job with the Angels when Maddon was on the coaching staff in Anaheim. "He approached me one day and wanted to have lunch with me," Pintard said. "He wanted to know all about my son Eric."
Eric Pintard was a Foresters pitcher in 1994 when Bill got involved with the club. Cancer cut short Eric's playing career and took his life 10 years later, but in the meantime he was his father's pitching coach and founded Hugs for Cubs, the team's program of fun activities (bowling nights, surf outings, a trip to an Angels game) for children with cancer.
Bill Pintard remembers Eric in many ways, from the number 19 he wears to the license plate on his truck that reads: ZAL GUD. Eric's favorite saying was "[I]t's all good." Life is too short, Bill Pintard realizes, for pleasure to be squeezed out by pressure.
The Family
The Foresters are a small-budget operation, and they could not put together a team every summer if families in the community did not volunteer to host players in their homes. Chris Proctor, the team doctor, signed up 10 years ago.
"We say we'll take one [player], and we end up with three," Proctor said. "We have three boys, and they loved it. When they were young, the Foresters were like big brothers. Later, they were friends. The great thing about the Foresters is that they learn the art of giving back to the community, like visiting sick kids in the hospital."
Andre Miller, an Oakland native who has become a Santa Barbara police officer, was the first player the Proctors took in. "He was in the guest house, but it had spiders, and Andre was afraid of them," Proctor said. "We had to move him into our main house."
The Foresters beat the bushes to find host families. "We have volunteers who put in countless hours for this two-month season," Pintard said. "I don't have to worry about getting host families or radio ads or anything else when I'm in the dugout. It's a community-supported team. There are teams in our league that have big wealthy guys that write checks for everything. We don't have that. We get donations. The trash company owns third base; the bank gets first base."
Paul Uyesaka, a longtime member of Foresters/Hugs for Cubs board of directors, continues a family tradition of supporting baseball in Santa Barbara. His late father, Caesar Uyesaka, the namesake of UCSB's stadium, ran a Dodgers farm club here in the 1960s. "Sandy Koufax would come by dad's store," Uyesaka said. "He'd take Vin Scully for lunch at the Biltmore." Now Uyesaka is working on behalf of hopeful players. "We need host families badly," he said.
Christina Songer is president of the board. She started putting up several players each summer after hearing Pintard speak at opening day of her son's Little League. "It's been fun," she said while watching the Foresters play their California Collegiate League (CCL) opener last week against the Healdsburg Prune Packers. "We're not required to feed them, but I like to cook. I've been invited to some players' weddings this fall."
She is from Texas herself and usually hosts players from the Lone Star State, but this summer she has Daniel Robert of Auburn and a pair from Florida State, last year's Foresters MVP Matt Henderson and Steven Wells.
Henderson and Wells would not come to Santa Barbara until the Seminoles were eliminated from the NCAA tournament. Early in the season, the team employs temporary fill-ins like third baseman John Jensen, a recent Santa Barbara High graduate.  "I jumped all over it," Jensen said. "Dmitri Young is our hitting coach. It's awesome."
Healdsburg, making its debut in the CCL, was fired up to play the league's perennial champions. The Prune Packers took two out of three games in what may turn out to be a high-class rivalry between teams from wine meccas. "It's nice being in a collegiate league with good talent," said Healdsburg first baseman Jamey Smart. "[The Foresters] carry themselves well. They're very professional about their business."
Santa Barbara won the second game of the series 5-3 after Boswell and centerfielder Colby Barrick hit back-to-back home runs in the first inning. Barrick is a Santa Ynez athlete who hit .388 at Hancock College this year and is committed to UCSB.
Barrick and Boswell came through again last Sunday in a 6-5 road victory against the Conejo Oaks, a CCL team whose frustrations against Santa Barbara prompted Mike Scioscia, the Angels manager who has a stake in the team, to call the Foresters the "Evil Empire." Barrick hit a game-tying double in the ninth inning and scored the winning run on a single by Boswell.
The Foresters took up their usual residence at UCSB this week and will play 27 home games in June and July. If their progress in every previous season is any indication, they'll be getting better and better and ready to wow Wichita in August.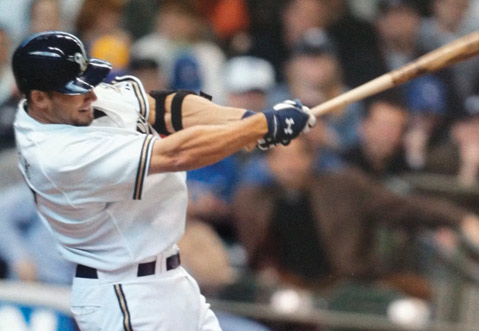 Forester Major Leaguers
Designates active in May 2016
Dylan Axelrod ★ White Sox, Reds
Aaron Bates ★ Red Sox
Adam Bernero ★ Tigers, Braves, Royals
Brian Bannister ★ Mets, Royals
Brian Barton ★ Cardinals, Braves, Dodgers
Ryan Church ★ Expos/Nationals, Mets, Pirates, Braves, Diamondbacks
Brady Clark ★ Reds, Mets, Brewers, Dodgers, Padres
Ryan Cook* ★ Diamondbacks, A's, Red Sox
Matt Diaz  ★ Rays, Royals, Braves
Morgan Ensberg ★ Astros, Padres, Yankees
Dana Eveland* ★ Brewers, Diamondbacks, A's, Rays
Kevin Frandsen ★ Giants, Angels, Phillies, Nationals
Matt Garza* ★ Twins, Rays, Cubs, Brewers
Conor Gillaspie* ★ Giants, White Sox, Angels
A.J. Griffin* ★ A's, Rangers
Brett Hayes ★ Marlins, Royals, Indians
Kyle Kubitza ★ Angels
Justin Lehr  ★ Brewers, Mariners, A's
Cody Martin* ★ Braves, A's, Mariners
Jordy Mercer* ★ Pirates
Doug Nickle ★ Phillies, Angels
Chris Pettit ★ Angels
Chad Qualls* ★ Astros, Diamondbacks, Rays, Padres, Phillies, Yankees, Pirates, Marlins, Rockies
Scott Randall ★ Reds
Cameron Rupp* ★ Phillies
Evan Rust ★ Cardinals
Tanner Scheppers ★ Rangers
James Shields* ★ Rays, Royals, Padres, White Sox
Carson Smith* ★ Mariners, Red Sox
Ryan Spilborghs ★ Rockies
Jeff Stevens ★ Cubs
Steve Susdorf ★ Phillies
Sean Tracey ★ White Sox
Virgil Vasquez ★ Tigers, Pirates
Tyler Walker ★ Rays, Giants, Mets, Nationals
Justin Wilson* ★ Pirates, Yankees, Tigers
Delwyn Young ★ Dodgers, Pirates
4•1•1
Fans can find information about the Foresters, including buses and tickets for the Team U.S.A. game at Dodger Stadium, on the club's website, sbforesters.org. Live broadcasts of their games can be heard on KZSB, AM 1290.