News
Season Opener: A Sherpa Fire Retrospective
How Fast-Acting Crews Struggled with But Ultimately Contained the Blaze
While authorities continue investigating the cause of the Sherpa Fire, firefighting crews aimed to fully contain the roughly 8,000-acre wildfire on Thursday, June 23, eight days after it started on private property near the top of Refugio Road.
As of noon on June 22, the United States Forest Service ​— ​the fire's lead agency ​— ​reported 270 threatened structures, one destroyed structure, and nine injuries, none of them serious and most due to heat-related stress and dehydration. Authorities have lifted mandatory evacuations for Venadito, Destiladera, and Las Flores canyons. Refugio and El Capitan canyons are scheduled to reopen on June 25, along with Refugio State Beach. El Capitan State Beach will remain closed at least through July 15, having lost its water-treatment plant to the blaze.
As firefighters achieved 89 percent containment on June 22, ground crews continued to mop up remaining hotspots as personnel and resources shifted their coordinated attack to several new wildfires that have erupted in Southern California since last weekend's record-breaking heat wave. At its peak, 2,178 personnel were assigned to the Sherpa Fire, including 61 hand crews and 129 engines, 14 bulldozers, 17 helicopters, and 10 airplanes.
"The mutual aid system [for fighting wildfires] in California is a model for the rest of the country," said Captain Dave Zaniboni, a public information officer with Santa Barbara County Fire Department. "We test it and put it to practice every year."
"This is the first game of the season, so to speak," added Mike Eliason, a County Fire photographer and spokesperson. "And this response has been a testament on how well the system works."
On June 22, the official estimate on the cost of the firefighting effort had reached $15.8 million.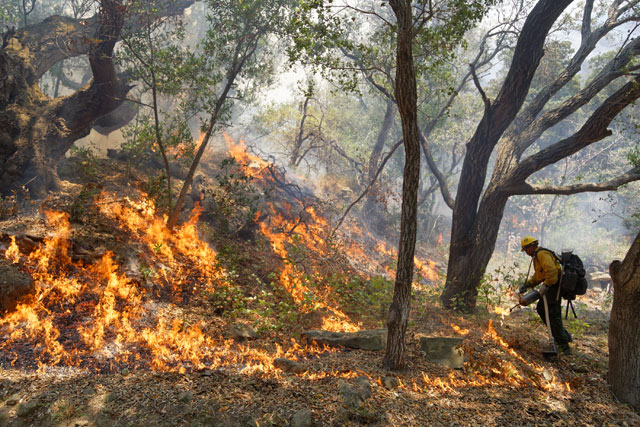 The emergency call came in at 3:29 p.m. on June 15, setting into motion County Fire's standard response for any brush fire during high fire season: four engines, one water tender, two bulldozers, a pair of 12-man hand crews, a battalion chief, one helicopter, two air tankers, and one lead pilot plane to coordinate an air attack. "We get a call for a vegetation fire, and you get all that, immediately," said Amber Anderson, a fire inspector with the City of Santa Barbara. "No matter what."
Just after 4 p.m., county crews and a Forest Service response team reached the area known as Rancho La Scherpa. (The official name of the fire was misspelled, without the "c," but left alone to avoid confusion during response, and will remain as is.) More support was called in, and for several hours before dark that first day, Forest Service pilot Mark Nunez, high above the rest, choreographed an attack troop of eight tankers and four smaller aircraft.
On the ground, mandatory evacuations were called for nearby residents and more than a thousand campers at Refugio and El Capitan state beaches, and two nearby private campgrounds packed up and fled the approaching wall of flames. Dozens of horses from various ranches were trailered to Earl Warren Showgrounds.
As darkness fell, the sundowners picked up. For the next 12 hours, sustained wind speed near the top of Refugio Canyon never dropped below 30 mph as gusts surged to 49. The fire spread south and east rapidly through densely vegetated and mostly roadless steep terrain, forcing the California Highway Patrol to shut down Highway 101 in both directions and Union Pacific to halt train traffic during the night.
Over the next 24 hours, the Sherpa Fire grew from bad to worse, temporarily closing the highway again, destroying that water-treatment plant at the top of El Capitan Canyon, threatening ExxonMobil's crude oil processing plant in Las Flores Canyon, and raging to within about 20 yards of Highway 101 as whirling dust devils spun flames into hellish tornados. At one point, jumping embers lit up the center divider on Highway 101 but were quickly extinguished by a water drop.
While the El Capitan State Beach campground was spared, its water-treatment plant was "a total loss," according to California State Parks Supervisor Eric Hjelstrom. "We're doing our darndest to get a temporary treatment plant online and reopen the park." The privately run El Capitan Canyon and Ocean Mesa campgrounds operate on a separate water source and are scheduled to reopen on June 25.
After a night that saw the fire expand to roughly 4,000 acres, with only 5 percent containment, Santa Barbara County Supervisor Doreen Farr announced on the morning of June 17 a local state of emergency, which would free up more personnel and equipment resources for the firefighting effort and better position the county to receive emergency funding from the state. Farr added that the fire had consumed considerable farmland. "It's too soon to know the value of the loses," said Cathy Fisher, the county's agricultural commissioner. She said olive, avocado, lemon, and rangeland were hit hardest.
Despite the forecasted heat wave that promised low humidity and spiking temperatures ​— ​peaking at 103 degrees on Monday afternoon in the Refugio foothills ​— firefighters heaved a collective sigh of relief as predicted sundowner winds mostly stayed aloft, well above the slow-marching fire burning low in the canyons.
On Tuesday, the National Weather Service lifted its red-flag warning as a welcomed onshore flow brought cool ocean air to mop-up teams laboring across scorched, shadeless earth.
Currently, more than 5,000 firefighters are battling four large wildfires in California, according to Cal Fire.