Arts & Entertainment
Music Academy of the West Concerts
June 21 Festival Artists Series and June 25 Orchestra Concert
The Music Academy of the West offered two concerts at downtown venues in the second week of its season, a Festival Artists series evening of chamber music at the Lobero on Tuesday, June 21, and the opening concert for the Academy Festival Orchestra with conductor Larry Rachleff at the Granada on Saturday, June 25. Both events were characterized by thoughtful programming, a high level of musicianship, and the thrill of an auspicious beginning to what promises to be a memorable summer. William Schuman's American Hymn for brass quintet got Tuesday night off to great start, with a pastoral opening building through an acceleration of the tempo into something more rhythmically sophisticated and urban-sounding, as befits the work of a composer who served as president of both the Juilliard School and of Lincoln Center.
The Piano Quartet in G Minor, K. 478 of Wolfgang Amadeus Mozart with Jeremy Denk joined by three students, Autumn Chodorowski (violin), Matthew Sinno (viola), and Songhee Lee (cello), was a sheer delight, nearly half an hour of musical perfection. Denk's animated performance, complete with head-rolling gestures of what was presumably exaltation, gave the piece a distinctly Mozartian feeling of playfulness and intensity.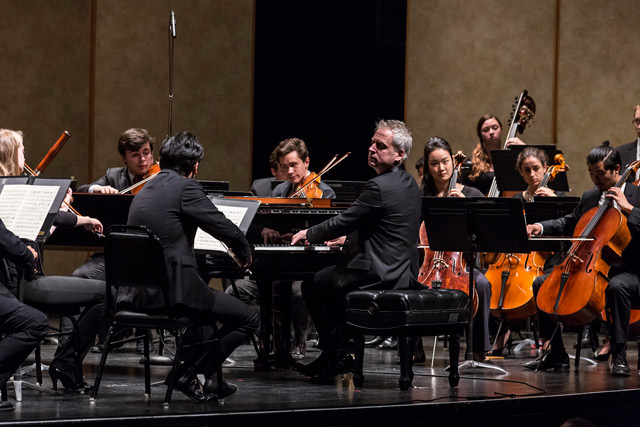 The final work on Tuesday's program, the Serenade No. 1 in D Major, Op. 11 of Johannes Brahms, required 10 players — flute, two clarinets, bassoon, two horns, violin, viola, cello, and double bass. With its six movements, all of them quite substantial, this 45-minute tour de force by Brahms is very nearly a symphony, and it was a revelation to hear it the way that this outstanding group played it. Culled from scraps of evidence and a later, orchestral version, this imaginative reconstruction by musicologist Alan Boustead represents a major contribution to the Brahms oeuvre, even if it doesn't have his autograph.
Maestro Rachleff and the Academy Festival Orchestra lit up the Granada on Saturday with four powerful works, each chosen to demonstrate one or more aspects of this group's pool of musical talent. The Roman Carnival Overture of Hector Berlioz had the orchestra running through rapid scales, trills, and fanfares from the outset and built to an appropriately ravishing climax. Brahms's Variations on a Theme of Joseph Haydn, Op. 56a, offered a different style, one that emphasized the orchestra's range of colors and tonal effects.
The evening's highlight came directly after intermission with a performance of Claude Debussy's famous Prelude to the Afternoon of a Faun. This modernist classic features an unforgettable opening statement for solo flute that actually replicates the narrative of the poem that inspired the piece, which begins with a faun taking up a flute to express his memories of a pair of encounters with some lovely nymphs. Debussy's masterpiece was not always as well regarded as it is today. One reviewer who heard the work played in Boston in 1905 asserted that "we cannot feel that all this extreme ecstasy is natural; it seems forced and hysterical; it is musical absinthe." Absinthe or not, the shimmering unreality of the work is supremely seductive to the ear. One can only imagine the impact the work must have had when it accompanied a voluptuous performance by Vaslav Nijinsky and the Ballets Russes. The evening's finale, Ottorino Respighi's Pines of Rome, offered a similarly lush sense of nature infused with modernist strangeness, and it sent the audience out into the Summer Solstice Saturday night as if returning from another world.