Arts & Entertainment
'Game of Thrones' Finale
Another Season Over, and Sunday Nights are Empty Again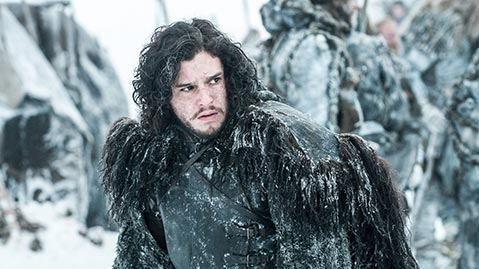 Mourn, America: Another season of Game of Thrones (GoT) is over, and Sunday nights are empty again. Another year and many favorite characters live while lots of others died, and finally (spoiler alert) that long-awaited doom that hangs over everything, that calamity we hear about in the first moment of the first episode, winter, officially arrives, announced by a white raven. Some might say, just in time. Fans have been grumbling, and some have hurled accusations around in Internet forums suggesting that the show itself was becoming too chill, was less exciting, gory, and gratuitously sexual. It is a truism that last year (Season 5) was the worst season ever: too slow, too obvious, and too mired in plot complications instead of unnatural acts. The show's old ferocity had dissipated, many critics alleged, ever since Tyrion (Peter Dinklage) killed his papa, Tywin (Charles Dance), on the crapper at the end of Season 4. Season 5 complaints ceased fast, however, after Jon Snow's stabby death, a finale that shocked America silly.
Season 6 had complainers, too. Some suggested that the bloodletting inventiveness fell off because the writers were now "off book," that is they were writing past the end of George R.R. Martin's A Song of Ice and Fire published saga. It's not a bad theory, though Martin still does advise the program's writers. But other complaints about this season rang true, too. Suddenly the possibility of time travel (Hodor's death and the plot about the Three-Eyed Raven) and another resurrection (Jon Snow) make the show's pervasive dooms and glooms feel kinda surmountable. And then there were pointless plot reiterations like Daenerys (Emilia Clarke) weirdly repeating her own history with the Horsemen of Essos from capture to rebirth in flames. It felt like padding. An epic pre-apocalyptic alternative universe fantasy known for unexpected turns — shocks — was feeling hesitant and snowbound.
And then came the aptly titled "Battle of the Bastards" last week, and timidity got chased away in two magnificent happy-ending slaughters. Burnings, mountains of dead soldiers, dogs eating human face, yay! Daenerys's dragons may feel a little like a deus ex machina unleashed on the slave-owners armada, but who cares? It was sublime TV. The Winterfell battle may have felt a bit Tolkien in its turning tides, but it nonetheless generated real thrills and was among the most electrifying sequences television has ever created. And the breathtaking finale continues the trend of just deserts — even coldhearted Cersei got pleasurable and explosive vengeances that were hard not to enjoy vicariously. And now, the stage seems set for something very final.
But we have to wait again, though it will all glow in our memories. Television this ambitious deserves off episodes, I guess, when the belated rewards are so strong. In terms of spectacle, GoT has never let us down, from King's Landing to northern battles with the White Walkers. In terms of televised melodrama, the show is unparalleled. We love these characters, even the more wicked in the fold, and part of the fun is being put on pins and needles to find out who will calamitously fall (or triumph) next in this populous, apocalyptic battleground: flayed, throat-cut, or just burned at a stake. GoT, it turns out, is a lot like reality. Monsters exist. We don't know what terrible thing might happen next, but we're obsessed with watching and waiting until we find out.