News
Climbing Kilimanjaro by Bike
Cyclists Summit Highest Peak in Africa to Raise Funds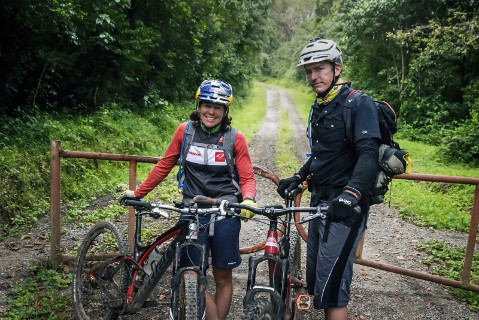 Rebecca Rusch is an endurance athlete, part-time EMT and firefighter, and full-time professional adventurer. Known as "The Queen of Pain" for her gritty attitude and perseverance under adverse conditions, she holds many trophies and titles, but she describes her March 2016 summit of Mt. Kilimanjaro as, "definitely the coolest ride I've ever done in my life."
When Rusch heard that Patrick Sweeney would be biking to the top of Kilimanjaro, she thought it would be the perfect opportunity to meld her thirst for adventure with her desire to spread some cycling love. "I'm pretty passionate about what the bicycle has done for me," she says, "It's allowed me to travel the world and provided amazing opportunities. I want to share some of that with others."
To help provide better access to bikes, Rusch set a goal of raising $19,341 for World Bicycle Relief, one dollar for every foot of elevation gained on the ascent. She believes in the organization's commitment to change. "They don't just hand out a bunch of money," she says, "it's an application process, recipients sign a contract, students' attendance and grades must improve to keep the bike. It's really empowering people to change their lives."
Named one of Outside Magazine's top 20 female athletes of the year in 2003, Rusch has enjoyed an uncannily long career in professional sports, excelling at everything from adventure racing to mountain biking to cross country skiing and whitewater rafting. She won the Leadville 100 four years in a row. The grueling course, which gains around 11,000 feet in elevation over 104 miles, required her to pick up and carry her bike over the more technical sections. It's a skill that came in handy at the craggy, un-bikable top of the African continent last spring.
Not only did Rusch and Sweeney carry their bikes through rough sections of the trail up Kilimanjaro, they also insisted on packing their own supplies in, pedaling with sleeping bags and provisions jostling in 30-pound backpacks. Many climbers use porters to help shuffle their gear to the top, but these adventurers were determined to use as little outside help as possible, even forgoing altitude sickness medications.
The ride took six days to complete: four days pedaling up and two back down. While it's possible to cover the terrain faster, Rusch and Sweeney made an effort to keep a conservative pace. The mountain has a low summit ratio due to the extreme altitude, and being in great shape is not necessarily a ticket to the top. "It doesn't matter how fit you are," says Rusch. "Altitude affects people differently and you don't know how your body is going to respond."
Both Rusch and Sweeney overcame the odds, they made it to the top of the mountain. She says the achievement was both triumphant and surreal. "There's something very pure about a summit, about getting to the top of the peak; it's a clear measure of success. It was euphoric to stand up there and see the continent."
For Rusch, the trip was yet another in a long line of amazing opportunities provided by cycling. She hopes the awareness and money raised through this expedition will enable others to transform their lives through biking, too.
Rusch continues to work toward her fundraising goal, more information can be found here: fundraise.worldbicyclerelief.org/kilimanjaro.