Arts & Entertainment
Blues Master Robert Cray Comes to S.B.
Grammy Award–Winning Guitarist Plays the Lobero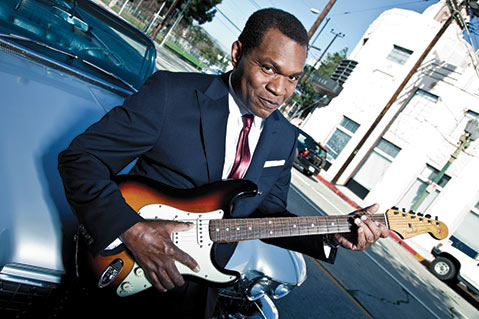 It's been three decades since his career-cementing, multiplatinum album Strong Persuader, but contemporary blues master Robert Cray still loves performing live. So when the Robert Cray Band returns to Santa Barbara on July 24, expect the Grammy-winning Fender bender to squeeze some sublime notes from his Stratocaster as he and the boys deliver such chestnuts as "Smoking Gun" and "Right Next Door (Because of Me)."
Perhaps it's only natural that Cray loves touring because, in essence, he's been on the move his entire life. Born in Columbus, Georgia, Cray grew up the child of an itinerant military father who took his family to Washington, California, and even Germany. He and Robert Cray Band bassist Richard Cousins met in 1969. "We attended rival high schools in the same school district," Cray said in a recent interview with The Santa Barbara Independent. "We started hanging out and getting into the music."
In 1971, blues guitarist Albert Collins was playing a lot of rock festivals, and Cray reckons some students at his high school must have caught him because they voted to have him play their graduation. "He was the first blues guy we saw close-up to say thank you for playing," Cray said.
Then an idea struck: "Let's go to Eugene!" So off they went to the University of Oregon town, gigging the local circuit. "We had just finished playing the last of four nights," Cray recalled, "[when] a lady came up and asked, 'Do you want to be in a movie?' She was a casting director."
Cray couldn't imagine any film being shot up in a sleepy Oregon college town. However, "she talked me into it," he said. "A few months later, I got a call. We were in Eureka [on tour]. She asked if I could be back for a fitting."
This turned out to be not just any film but National Lampoon's Animal House, which not only became a surprise blockbuster for Universal Pictures but the seminal college comedy now considered by critics as one of the greatest contemporary American comedies ever made. In 1977, Cray, who spent three of the feature's 32-day shoot on the Eugene set, enjoyed an uncredited role as bassist for the fictional Otis Day and the Knights in the 1978 comedy's racially charged bar scene.
"The atmosphere was fantastic," Cray recalled. "[Director] John Landis was really into the musical scene. He kept telling me how much I look like Sidney Poitier. We did get to meet [John] Belushi," Cray continued, describing how the Saturday Night Live star entered the club at the Eugene Hotel, where members of Cray's band jammed with Oregon blues icon Curtis Salgado's Nighthawks (dubbing their amalgam "the CrayHawks").
"[The Blues Brothers] dedicated the first album to him," Cray said of Selgado (who sang and played harmonica for Cray for six years, including on Cray's 1980 debut album).
Although Cray did not work on Landis's next hit film, The Blues Brothers, he did eventually play with many of the musicians showcased in the 1980 blockbuster, including bassist Donald "Duck" Dunn and guitarist Steve Cropper (the "Play it, Steve!" in Sam & Dave's "Soul Man").
As earnest purveyors of the musical genre with a hit movie, a number one TV show, and a chart-topping album, Belushi and Dan Aykroyd's Blues Brothers shtick proved a simultaneous blessing and albatross as the pair led something of a blues resurgence. "In the popular culture, yeah, it brought a lot of people to the forefront," Cray said. However, the act did rankle some hard-core musicians in the blues community because Belushi and Aykroyd were primarily comedians and not professional musicians.
Serendipitously, Cray scored his first of five Grammy Awards recording with Albert Collins and Johnny Copeland. "I was a new kid on the block," Cray said. "Those guys were on cloud nine [winning]. It was beautiful." Cray has since performed with Eric Clapton, the late Stevie Ray Vaughan, and John Lee Hooker (on Hooker's well-received albums 1989's Grammy-winning The Healer and 1992's Grammy-nominated Mr. Lucky).
Playing with Vaughan was especially surreal. "We had done two nights at Alpine Valley [Music Theatre, Wisconsin, in 1990]," Cray recalled, playing "Sweet Home Chicago" with Vaughan, Clapton, and Buddy Guy the night 35-year-old Vaughan was among those killed in a helicopter crash. "It was just weird," Cray said.
So after five Grammys, does winning ever get old? "For me, it's always exciting," Cray said. "It's just that recognition from your peers. It's always a big boost."
Cray and company plan to enter the studio next month to record another album. Cray utilizes less firsthand personal experience these days for his heartbreak lyrics, drawing more from "people I know, things I hear, things from the past, too." While he doesn't workshop new tunes live ahead of recording them, Cray promised "a mix of everything" at his Lobero show: "We have a master set. We call the songs and decide onstage [which to play]." Sometimes they perform a song that has not been covered in a while, which "taxes everyone's memory," Cray said, laughing. "The main thing is that we're having fun. Doing the set the way we do keeps it exciting."
4∙1∙1
The Robert Cray Band plays Sunday, July 24, at 7 p.m. at the Lobero Theatre (33 E. Canon Perdido St.). For more information, call (805) 963-0761 or see lobero.com