Living
Vintage Vehicles Gather for Veterans
Elks Lodge in Goleta Hosts Annual Groovin' in the Grove Car and Trailer Show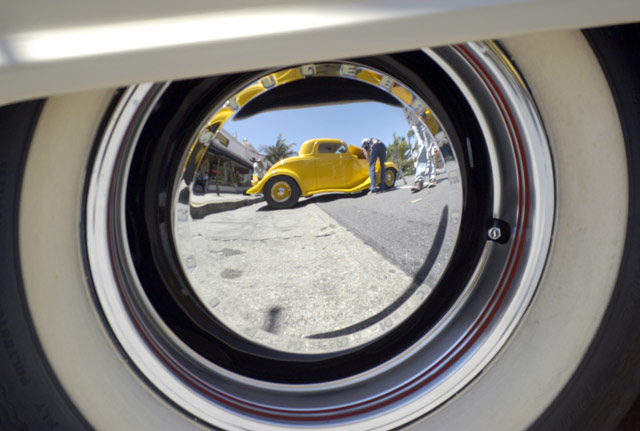 Decades' worth of American automobile history will converge for the annual Groovin' in the Grove Classic Car & Vintage Travel Trailer Show at the Elks Lodge in Goleta on Saturday, July 30. Guaranteed to please gearheads of all stripes, more than 130 classic cars and 20 trailers will be on display, including classic muscle cars, antique vehicles, and pre- and post-World War II hot rods dating from the 1930s through the 1960s. Expect tricked-out Camaros, Firebirds, and Corvettes as well as unique travel trailers that owners have lovingly brought back to life.  
"You'd be amazed at how many people in this area are involved in this hobby," said Elks member and event organizer Jerry Winters. "You'll see cars that are worth anywhere from $30,000-$150,000." As for the trailers, he explained, "The public can actually go inside them and see how they've restored them and decorated them in mid-'50s fashion."
This year, the Elks have opened up the event to boats and military vehicles from the World War II and Vietnam War eras, including a Huey helicopter, which will be brought by the Santa Barbara chapter of the Vietnam Veterans of America. Also new is the Friday-night Road Rallye, which kicks off at 4:30 p.m. on July 29. Drivers and their navigators will complete a roughly 10-mile race while passing certain checkpoints around town. Accuracy, not speed, is the name of the game. The winners get a free Friday-night dinner at the Elks Lodge.
More than 1,100 people belong to the Santa Barbara Elks Lodge #613, which is the regional chapter of an American fraternal order founded in 1868. The lodge's emphasis on charitable works is especially focused on veterans, who can take advantage of free monthly lunches with guest speakers who direct veterans to medical and financial resources, bus passes for those without vehicles, gas cards for those that can't afford gas, and rides to the nearest Veterans Administration treatment center in Santa Maria. While admission is free to the show, proceeds from registration fees, the silent auction, and contributions from sponsors will go toward these veteran-focused efforts and the Unity Shoppe of Santa Barbara.
In addition to the cars and trailers, there will be live music and food pouring out of the lodge's kitchen, including breakfast burritos in the morning; hot dogs, chili, and tri-tip in the afternoon; and root beer floats from McConnell's for dessert. There's also free popcorn, a bouncy house, and a play area for kids.  
"We're trying to get the community to come out and see what we're all about and also enjoy a nice family day," said Steve Cousens, another Elks member and event organizer.
The Groovin' in the Grove Car & Vintage Travel Trailer Show is on Saturday, July 30, 10 a.m.-3 p.m., at the Santa Barbara Elks Lodge, 150 North Kellogg Avenue, Goleta. See groovininthegrove.org.