Voices
Wasserman Schultz Quits DNC Leadership
Rocky Start to the Democratic Convention
NEWS FLASH: The head of the Democratic National Committee, Debbie Wasserman Schultz, steps down due to Wikileak emails just released. Not going to be a smooth beginning for the convention.
July 24, 2016. Today's weather remains hot and steamy. The temperature is in the high 90s and will remain so for the rest of the week. Shorts and flip-flops are the dress code. It looks like California. Today's the day that most of the California delegates arrive. Our hotel is housing 500 of us.
Committees. Over the weekend, committee hearings have been held. Both the rules and credentials committees met. I attended the credentials meeting. This is bureaucracy at its height. Hundreds of members argued over individual delegates and whether they should be seated. After a half an hour I bailed and left to get an ice cream cone. I have my priorities.
Security. I have noticed that much of the national news shows are discussing convention security. There are very few police visible around the hotels. One or two can be seen on a corner. Most of the forces will be deployed at the actual convention site — the Wells Fargo Center — which is a half-hour from here. There are no physical barriers, but I am sure the Secret Service are present.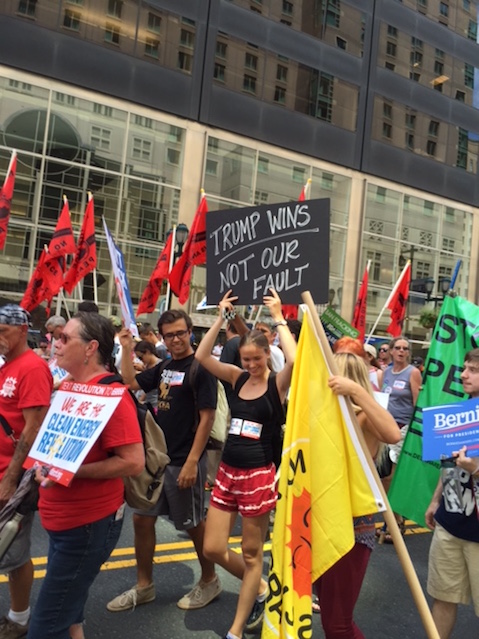 Protest. Today, at the height of the heat, a protest march occurred down Market Street from City Hall to a park. Thousands of people participated. It was led by the Bernie forces and focused on environmental issues. Signs promoted a clean-energy revolution and women for energy renewal and were again fracking and pipelines delivering pollution.
My favorite: "Trump wins, not our fault."
Susan Rose, a former Santa Barbara County supervisor, attended her first Democratic National Convention in 1960 as a college student. She'll be writing about the 2016 convention this week at The Santa Barbara Independent.