Briefs
Arrests Result in Gun and Child Endangerment Charges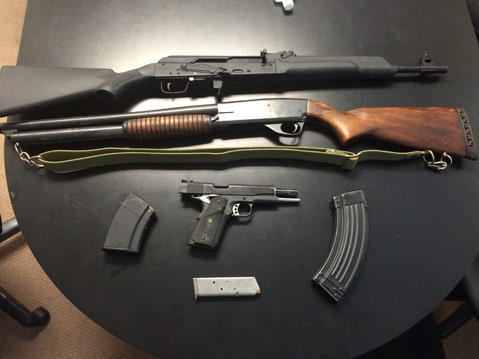 Sheriff's deputies seized four firearms from felons over the course of two days in a series of arrests made this past week in Santa Barbara County.
Officers seized a short barreled shotgun, rifle, and ammunition from the Santa Maria home of 52-year-old Andrew Arreola Sr. and his son, 32-year-old Andrew Arreola Jr. following the search for a wanted person at the East Mariposa residence on Wednesday, July 27. After a secondary search uncovered a third unsecured firearm in the residence, Arreola Sr. and Arreola Jr., both felons charged with illegal possession of firearms and ammunition, were arrested.
Thirty two-year-old Kristin Azevedo was also arrested after officers discovered drugs, drug paraphernalia, and evidence of drug exposure to her children living in the residence. Azevedo, along with Arreola Sr. and Arreola Jr., was charged with child endangerment. The children were transported to a local hospital for further medical evaluation.
The second firearm seizure occurred at the Lompoc residence of 18-year-old Ruben Estrada the following day, on Thursday July 28. After uncovering a loaded handgun in his home and arresting Estrada for violating parole, officers charged the felon with illegal possession of a firearm and ammunition.