Arts & Entertainment
Inside Outside Lands Music & Arts Festival, Day 1
'The Indy' Hears LCD Soundsystem, Drinks Cotton Candy Coffee, and Rides a Metal Bear Bike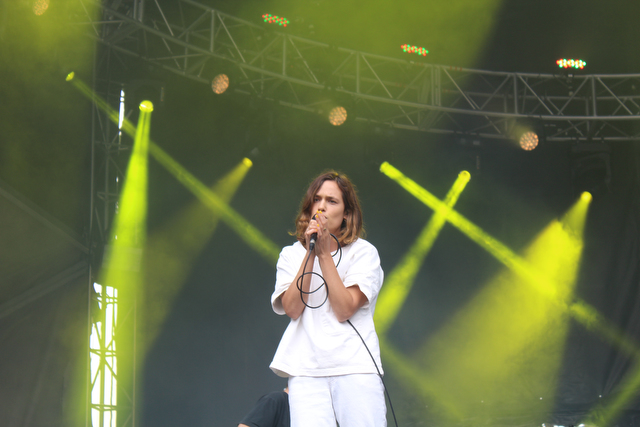 It feels good to be on the inside of the Outside. Founded in 2008, the massive festival, held within Golden Gate Park, has become known worldwide as one of the most consistently fun, laid-back, and gourmet goings-on in the festival circuit. Music editors Michelle Drown and Richie DeMaria were lucky to attend the three-day extravaganza. Here are some of the highlights of the first day, which included exciting sets from LCD Soundsystem and Duran Duran and whimsical foodstuffs like cotton candy coffee and artisanal cocktails.
Soft as Cotton Just when you thought cold brew coffee was improvement enough over its more acidic hot temperature version comes a cold brew topped off with a cloud of cotton candy. While not the most beautiful presentation — why is the cotton candy on top of the lid and not afloat on the liquid? — the maple infused iced coffee itself was delicious and surprisingly not too sweet. The flop of spun sugar on the lid was a bit drippy and needed to be eaten directly before imbibing the liquid caffeine. It was a fun festival drink that turned heads.
Wet's Slightly Damp Set Wet have drawn quite a crowd for their sleek and pretty downtempo indie pop, but left us wondering if their attraction is more about style than substance. Some songs, like "These Days," boasted soothing melodies, but a little more dynamism could elevate the band from pleasant sonic padding to something a more engaging.
Wild Pairing A few festival-goers took a more daringly fashion-forward approach than flannels, hoodies, and jeans, but Glenna Herbert and Emily Hamren stood out for their adorable crocodile and kangaroo costumes. Also of note was man dressed in silver streamers, whose name eluded us but whose dance moves did not.
Cheers Featuring ingredients like sage and wild-foraged blackberry shrub, Cocktail Magic kept up the Bay Area's gourmet reputation with refined beverages to compliment the artfully curated surroundings. Of the four choices, we selected the Urban Garden and Wild Buck. The Urban Garden lived up to its name with fresh mint and rosemary sprigs added to the liquid base, which was Tito's handmade vodka, house-made chartreuse gastrique, lemon juice, pineapple gum syrup, and soda. The Wild Buck was also a unique combination of ingredients that included Larceny bourbon, wild foraged huckleberry shrub, local top hat ginger beer, gran classic bitters, and fresh sage.
In Lennon and Claypool's Court Sean Lennon and Les Claypool, as the Lennon Claypool Delirium, impressed with their avant bass solos and psychedelic guitar musings, bringing to mind the forefathers — and, in Lennon's case, father — of hallucinatory rock 'n' roll. Impressively technical, the soundscape was esoteric and interesting. A set highlight included a cover of King Crimson's "Court of the Crimson King."
Notoriously Good Playing a mix of songs from their newest Paper Gods and old favorites like "Rio" and "Hungry Like the Wolf," both from their 1982 record Rio, Duran Duran sounded unaged, with the vocals and instrumentation as strong now as ever. A surprise highlight included "The Chauffer," the under-appreciated closing song from Rio.
Bear with Me In addition to heaps of bands to listen too, Outside Lands has an art hot spot where spray-painted creations of the highest caliber are on display as well other "Outsider Art." One particularly unique work was a mechanical metal bear fitted over a pedicab. Dreamed up by author Dave Eggers and built by the talented folks at Gizmo Art Production, Inc., attendees could sit in the "head" of the bear while a Gizmo employee manned the back end from which he peddled and steered the contraption. The only requirement for a spin in the bear was you had to roar. Who could resist? Pictured is Michelle Drown doing her best imitation of a growling grizzly.
Bahn Me, Please Overflowing with cilantro, jalapenos, and their famous NamNam sauce, the mushroom bahn mi from Fresh Roll was a delicious dinner. Props for the sourdough bread, which added a sumptuous mouth feel.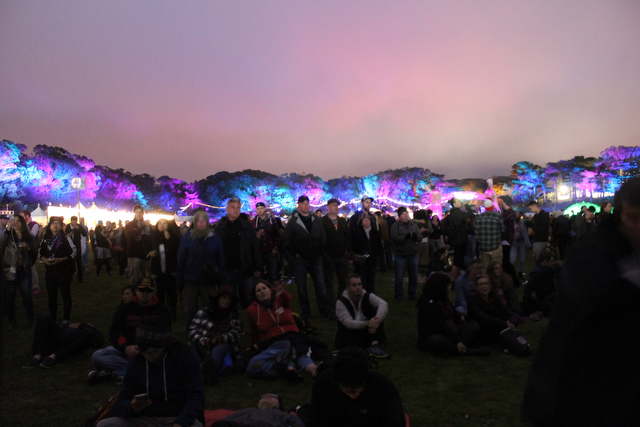 LED Soundsystem Closing out with the strongest set of the day, LCD Soundsystem thundered throughout the polo fields with a powerful and irresistibly dance-inducing act that blew away any of our initial reservations toward the band, neither of our favorites on record. At the less packed fringes of the crowd, Julie Mastrine spun LED poi balls, an entrancing compliment to LCD's set.