Arts & Entertainment
Inside Outside Lands Music & Arts Festival, Day 2
More Fog, More Great Music
It was more wintry summer weather as day two of the Outside Lands festival got underway. The main stage line up was full of musical heavy hitters with Radiohead headlining, so we decided to spend the latter half of the day posted up close to the main stage. For the next six hours our ears were treated to an array of sonic pleasures as we sipped coffee to keep our energy up and coconut water to stay hydrated.
Beans from Heaven San Francisco-based coffee roaster Four Barrel Coffee brought their rich brew to the festival, setting up a pop-up shop that offered festival goers a pared down menu of coffee drink essentials —lattes, espresso, etc. — but also couches and tables at which to sit and regroup before heading off to see your next favorite band. The Americano was particularly smooth and satisfying.
Boys from Britain There was buzz ahead of Years & Years performance with attendees eager to see the indie pop electronica group take the stage. In fact while waiting in line for a coffee a fellow from Bath, England, was so keen not to miss his countrymen, he offered to buy our coffee if we let him slip into line with us. He said he'd seen Years & Years at Glastonbury festival and they were brilliant. With that endorsement we hurried off to hear the lads. Around since 2010, Years & Years put on a lively, engaging show with frontman Oliver (Olly) Alexander seducing the crowd with his spritely personality and lithe dance moves.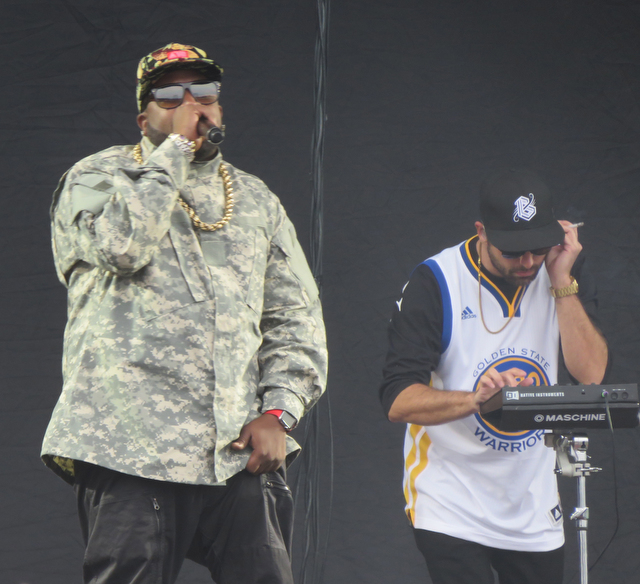 Little Big Grams The worlds-collision pairing of Big Boi and Phantogram was inchoate live as they were on record, seeming more like two acts performing alongside one another in celebration of their shared partnership, rather than true collaborators. Big Boi's big bravado out-sized Sarah Barthel's relatively middling stage presence, and Phantogram's usual talent for melodies was watered down into unmemorable, airy club hooks. With Barthel calling out the crowd to show more "titties," it felt altogether unmatched, the mood too mellow for chest exposure, the stage too big for the average occasion.
Feeling the Air Leaving out material from their most recent albums and sticking to the familiar territory of their first three, Air's set was something like a greatest hits playlist for the French band, playing fan-favorite space disco numbers that still sound fresh and futuristic, even almost 20 years after their first composition. "Kelly Watch the Stars" and "Remember" were dazzling delights, all bumping bass and Moog swirls, with the band gracefully decked in white outfits. While the sleepily sultry "How Does It Make You Feel" was a bit of a mood-sagger, set-closer "La Femme d'Argent" sent our bobbing heads right back into the stratosphere.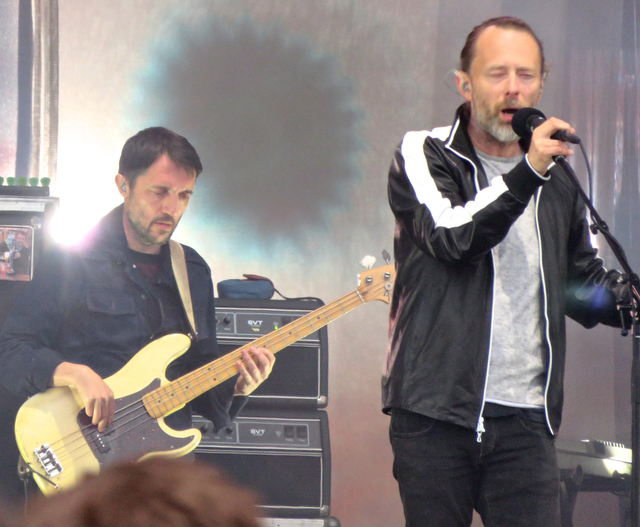 In Their Right Place It's almost cliché to say that Radiohead were the best band of the weekend, as they are by default the go-to best of, well, just about anything they attempt. But they were, and still decades into their career they deliver sets unmatched in their emotional and musical dynamism and spectacle of sensitivity, and this one was a set to remember. The new numbers from A Moon Shaped Pool were more rocking than their darkly delicate studio versions, with an especially groovy and anthemic "Identikit" being a set high point. "Bloom" and "Lotus Flower," from The King Of Limbs showcased their powers of polyrhythmic experimentation, while "Exit Music (For A Film)" and "Nude" were arrestingly intimate and hushed, quieting a crowd of tens of thousands. With "Karma Police" ending the night with a mass singalong, it was also a spiritual highpoint in the festival, with the crowds joining and smiling over songs that no doubt accompanied us in our lower moments — for a minute there, we found ourselves, and a sense of peace prevailed.