For the final day of our festival-ing, the sun was out and the line up was again packed with an array of varied and fabulous musicians. We decided to explore the one area we hadn't yet ventured into, Lindley Meadow, which was just over a wee hill from the Polo Field's main stage. The area was bookended by the Sutro stage, which showcased Ryan Adams, Jason Isbell, and Jack Garratt, among others, and the Barbary, which offered belly laughs from such well-known funny folk as Fred Armisen. Between the two were food trucks, a cheese and fancy meats, and a covered wine lounge offering a wide range of vinos for tasting. We partook in all that was offered.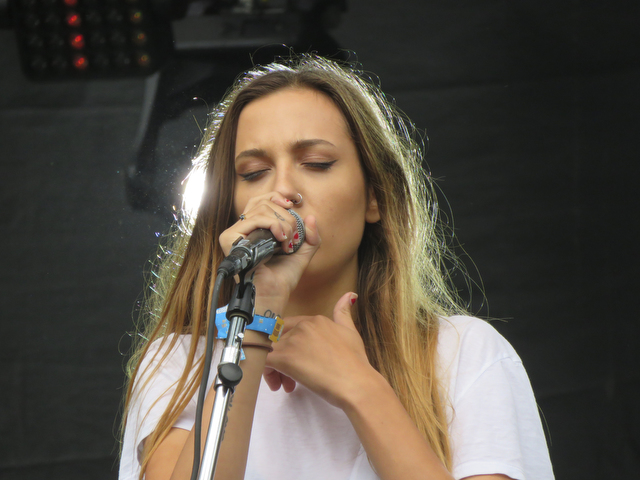 SPICEY SONSTRESS: We were eager to check out Australian ingénue Cloves (aka Kaity Dunstan), who performed mid afternoon at the up-and-comers Panhandle stage. Though a mere 20 years old, and with only an EP to her name, Cloves sings like an old soul. In interviews she has named Amy Winehouse, Etta James, and Eva Cassidy as some her vocal idols, and although her sound leans more toward folk rock than the aforementioned three, Cloves does has a distinctive style that sets her apart from the myriad young women singers crowding the airwaves. Her emotional deliveries are reminiscent of Adele and are particularly evident in the delicate "Frail Love" and "Don't Forget About Me." Keep your ears out for this chanteuse from Down Under as her breakthrough seems a foregone conclusion.
COUNTRY KING: Jason Isbell has become one of the most lauded and critically acclaimed country artists of the present day, and having seen his set at Outside Lands, we can confirm the praise is fully deserved. Opening with "If It Takes a Lifetime," from Something More Than Free, Isbell gave us both chills and goose bumps with his powerful voice and thoughtful lyricism. Amidst all the hoopla of the festival grounds, a song as gut-punching as "The Life You Chose" felt even more welcome, putting us in a place of deep thought and feeling and generating a sense of real intimacy, even when played to a sprawling field.
CHEESE, PLEASE: Festivals have changed quite a bit from the free-spirited mud pits of yesteryear, although I doubt any Woodstock-goers would turn down the delectable high-end offerings at Outside Lands. Cheese Lands, and its neighbor Wine Lands, are prime examples of the culinary and cultural bar-raising the S.F. fest offers. Wine Lands had transportive ambience to the max, all dark enclosures with fanciful curtains, while Cheese Lands was transportive on the tongue. We selected the "Hungry Like the Cow" plate, which came with a Sartori Pastorale Blend, a Marin French Cheese Petit Crème, a Cabot Clothbound Cheddar from Cellars at Jasper Hill, plus purple heart jam from Friend In Cheeses Jam, cranberry pan forte from Rustic Bakery, and Effie's homemade rye crisps. We particularly liked the cheddar.
FAVORITE SONS: Third Eye Blind had a gravitational pull on the crowd when they took the Main stage — it seemed all of the day's ticket holders were at the San Francisco native sons' set. Lead singer Stephan Jenkins distinctive vocals rang out across the polo field as he ran through new and old songs alike, including hits "Semi-Charmed Life," "How's It Going to Be," and "Jumper." One of the highlights of the show was a David Bowie medley that merged "Young Americans," "Heroes," "Modern Love," and "Ziggy Stardust," among others, to great effect.
LAUGHS POUND FOR POUND: At times hilarious, at times awkward (and quite intentionally so), the Pound House Live with Brent Weinbach (pictured), DJ Douggpound, Esther Povitsky, and Johnny Pemberton was a curious interlude in our day. Povitsky, the most down to earth and relatable of the bunch, provoked a steady stream of laughs with her dating woe tales, while follow-up Pemberton, with his alias Dicker Troy, was (to me) an outrageously funny skewering of southern men, and likely to others a horrific character who dealt no real punchline, only discomfort. Douggpound and Weinbach's finale was the best bit, with Weinbach attempting to dance along to Douggpound's often undanceable selections. It was a welcome set of musical lampooning and deliberate technical breakdowns in the dark Barbary shelter from the polished outside goings-on.