Opinion
Hot Crime Fiction for Summer Reading
Beat the Heat Between the Pages of a Book
BEAT THE HEAT: When the mercury hits 75 and keeps climbing, Santa Barbarans tend to escape town or bury themselves in escape reading.
Okay, so what if we wouldn't make it in Bakersfield (with the accent on "bake") or Scottsdale or any other place where, as Noel Coward sang, only "mad dogs and Englishmen go out in the midday sun"?
We like our climate moderate, as well as our politics. So as we nervously await the fall's onslaught of unpresidential cross fire (the real nastiness is yet to come, I fear), we can sit back and relish the remaining weeks of shady page-turning.
And what would summer reading be without crime, the gorier the better for many an otherwise genteel South Coast soul? Why ordinary folks who recoil from headlines of senseless mayhem relish a daily fictional diet of death, destruction, and daggers I don't know. But each season brings a potpourri of tempting titles. Example taken at random: Let the Devil Out, Bill Loehfelm's thriller about tough New Orleans beat cop Maureen Coughlin.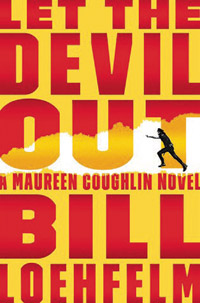 As the book opens, she's in rough shape, just a rookie on the NOPD force, and things are about to get worse. New Orleans, with its "steamy charms and seamy sins," as the Dallas Morning News dubbed the town, is a favorite of crime novelists, including Julie Smith, my old pal from the News-Press who now lives there. I just discovered her dusty Crescent City Kill (1997) on my bookshelf. It follows the adventures of NOPD homicide investigator Skip Langdon. (So now I've got to reread it again.)
Making The Booklist Reader's list of the top crime novels of 2016 is a debut entry by Bill Beverly: Dodgers, not about the baseball team but a 15-year-old L.A. gang member named East. He's with a crew driving to Wisconsin to kill a witness in a case against his boss. The reviews are great.
I know people who steadfastly refuse to read fiction, preferring books about what real life inflicts on us. Case in point is David Talbot's 620-page The Devil's Chessboard, chronicling Allen Dulles's long, dark CIA regime during which the assassination of foreign leaders and overthrow of governments went along with manipulating U.S. presidents. So now, a half century later, we learn more about what our government was up to on the sly.
But the heat being what it is, I laid it aside to search for less nauseating reading. Passing Debra Tutor's free curbside San Roque library, I spotted good old John le Carré's (David Cornwell) The Night Manager (1993 but a good one), a cracking good tale of espionage.
For those who lust for fresh meat, the New York Times packed its "Summer Thrills" book-review section with blood-soaked loads of newly minted crime reading.
Most seemed to dwell on international mayhem, and if London didn't exist, I wonder if many authors wouldn't know where to come up with a crime scene. Why has London, with all its well-mannered folk, become such a sinister killing zone? Hangover from the Jack the Ripper era, I guess.
Here's a quick glance at recent (or about-to-be published) crime reading:
Brit police officer turned crime writer Clare Mackintosh has won the Theakston Old Peculier crime novel of the year award for her debut I Let You Go. The New York Times calls it "genuinely shocking."
James Patterson (with Michael Ledwidge), who must write 10 books a year, is out with Bullseye. "Caught in the crosshairs of a deadly standoff, detective Michael Bennett must kill … or be killed."
And it wouldn't be a good year without old favorite James Lee Burke, who's out with House of the Rising Sun, following exploits of the Holland family. Hackberry Holland, onetime Texas Ranger and on-again, off-again drunk, launches a quest to save his son from an evil arms dealer.
Scandinavians are all over the crime scene these days. The Swede by Robert Karjel probes the morally ambiguous (of course) world of justice. The FBI seeks the help of Swedish security officer Ernst Grip in determining the nationality of the mysterious N. And what about that New York art heist?
Keep reading until the autumn leaves fall, vote, and get back to the more satisfying world that awaits between the pages.