Bottles & Barrels
Jaffurs Winery Sold
Winemaker Dan Green Purchases Prominent Eastside Santa Barbara Winery from Craig Jaffurs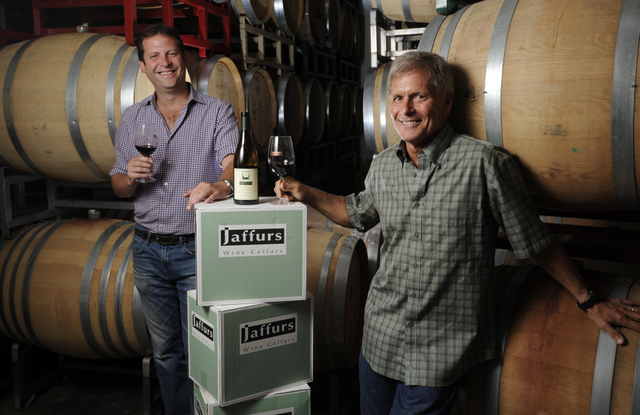 Jaffurs Winery, one of the most prominent wineries in downtown Santa Barbara and a respected leader in the production of Rhône grape varieties across California, has been sold by owner Craig Jaffurs to winemaker Daniel Green.
Terms of the deal were not disclosed, although it is one of the only family-to-family sales of a California winery in recent memory. Typically, smaller wine brands are acquired by larger beverage corporations.
Jaffurs founded the winery, which is located on East Montecito Street, in 1994. He homed in on the syrah grape, quickly won wide accolades, and steadily grew the production to about 5,000 cases of wine annually. Today, it thrives as a profitable venture, another rarity in the wine industry.
Green, a native of Washington, D.C., and resident of the San Roque neighborhood since 2013, is the owner of Conarium, a small brand that he started in Lompoc in 2012 while working for Wes Hagen at Clos Pepe Estate. He and his wife, Janelle Green, are using a combination of earnings from his previous career as a consultant as well as some family money to make the purchase.
"I can't quite believe it's happening," said Jaffurs, who is 60 years old and started thinking of selling his winery less than a year ago. "I thought it would take a long time to do this. I was prepared to put out low-level feelers and wait five years and see what turned up."
Green's story is similar: About a year ago, he and his wife started searching for an existing brand that either needed some help or was interested in selling. Earlier this year, Jaffurs and Green met through mutual friends, started talking, and soon realized they may have a deal sooner rather than later.
"First and foremost, the wines are fantastic — they express the power of Rhône varietals and a touch of that elegance that defines the best wines from this county," said Green of what drew him into the deal. "More importantly, when Craig and I talked, there was a perfect parallel shift between us. Our family is at the stage that is quite similar to the young Jaffur family when the brand took off for him," explained Green, who has three young daughters. "So that philosophical and spiritual connection between the two of us really helped me be very interested."
Family was also at the heart of Jaffurs's decision. His son, Patterson, who is 20 years old and studying computer engineering in college, was the winery's heir apparent, but is not interested in carrying on the brand. "He knows more about winemaking than any young college kid ought to know, but it's not his calling," said Jaffurs, who only moved toward a sale after many big family discussions. "I didn't do what my dad did, and he was supportive of me following my own dreams."
Jaffurs also didn't want to fall into the same pitfall as his own father, who refused to sell his medical practice until he was nearly 80. "He and my mom missed doing a bunch of stuff they said they were gonna do, like travel the world and spend more time with the grandkids," said Jaffurs. "They put if off 'til the point where they couldn't do it. I don't want to do that. I want to get to know my wife again after working my ass off for 25 years."
Then there's age, which is starting to catch up with Jaffurs, who recently had a hip replacement. "I just can't physically do what I really love to do with the winery, the whole full-body-combat stirring and punch-downs and squirting hoses," he said. "Writing checks and collecting invoices isn't nearly as fun as making wine."
As part of the deal, Jaffurs will remain in the winery for at least the first year and serve on a new board of directors probably indefinitely; Green expects Jaffurs to be quite involved for at least five years. There will be no changes to the winery or staff, according to both men, meaning winemakers Matt Brady and Stephen Searle will remain in charge of the cellar and Dave Yates will continue as GM.
"I cultivated this great team who does it the Jaffurs way," said Jaffurs. "They're the defenders of our holy grail at this point. Part of the deal is that these guys all stay and we keep this culture we built alive." Confirmed Green, "It's a good model. The short-term is about learning what they've done to make things go so well." Green will likely move his Conarium brand down into the East Montecito Street facility in the near future, as well.
As for the long term, Jaffurs hopes that his great wines will get even better with Green's infusion of energy and that his legacy will continue to remain relevant in the decades to come. "This is a really good thing for the winery and for me," said Jaffurs. "It means the winery and everything we've worked on will live to fight another day, and that's just terrific."