Visual Arts
'Views from the North' at the Arts Fund
North County Artists Shine in Funk Zone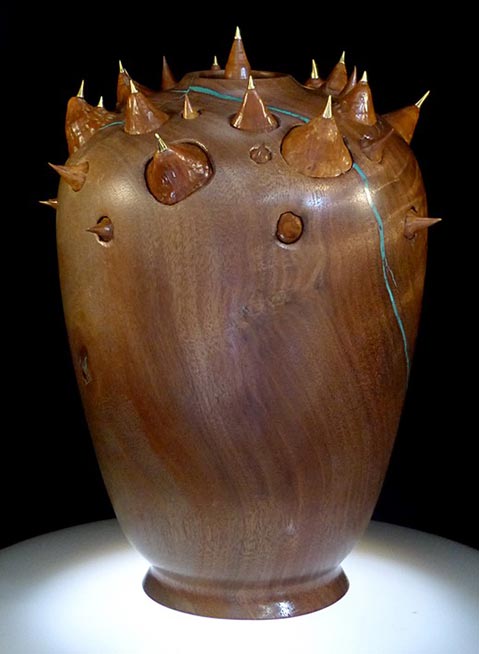 This exciting show curated by Allan Hancock College professor John Hood makes a strong case for Santa Barbara's North County as a burgeoning multimedia art scene. Ranging widely in geography, style, and subject matter, these eight artists — Larry Delinger, Felicia Kincaid, Angelina La Pointe, Connie Rohde, Robert C. Perry, Jonas Tucker, Mark Velasquez, and Luis Ramirez — nevertheless exhibit certain common interests and tendencies. As can be seen in all three of Kincaid's superb paintings, "Circus Train," "Amusement Park," and "Carnival," as well as several of the other artists' pieces, there's a shared commitment to an abstraction which allows for the deconstruction of complex, multilayered experiences, presenting familiar graphical elements in new ways. Kincaid, who has distilled the essence of cubism into a distinctive personal language, is a worthy heir to the artistic spirit of Channing Peake.
Rohde offers some of the show's most visceral moments with her gorgeous, irresistible amplified brush strokes on Dura-Lar panels. Rohde's thoughtful calibration of media to image lends pieces like "One Stroke Swirl in Red" an unusual piquancy. These paintings are as spicy and fresh as the most delicious peppers in a Los Alamos garden.
Speaking of well-integrated matches between materials and matter, don't miss the three touching portraits of farmworker "Cara" by Ramirez. Ramirez, who was born in Mexico and grew up a part of the agricultural community in rural Santa Ynez, brings an insider's eye to these intimate acrylics painted on wood. La Pointe's beautiful and clever linoleum block print series of Guilty Pleasures offers another fine example of how viewing things "from the North" seems to involve ironic juxtapositions between retro media filters and hyper-contemporary content. Who could possibly deny the status of "Guilty Pleasure #1" to the "Selfie," complete here with an iPhone seen in the mirror?
Perry's contributions are both so consistently excellent and so different from one another that at first I was reluctant to believe they were all the work of one person. From the marvelous abstract oil painting "Ironwood" to an exquisite watercolor rendering of the "Southland Hotel" façade, complete with aging neon sign, Perry has clearly achieved considerable mastery on both sides of the abstract/representational divide in two dimensions. But that's not all — as Perry has also brought his painstaking attention to detail to bear on a pair of extraordinary turned black walnut vessels, "Black Walnut and Silk Floss Thorns I and II," that would be proud additions to the cabinet of curiosities in the most mystically fantastic of castles.
Velasquez already has an avid audience for his dynamic color photography, and it seems as though the young draughtsman Tucker is developing one, as both were hot items among the buyers who attended the opening. Finally, distinguished musician/composer Larry Delinger's mesmerizing collages were a personal favorite. These little books are full of some of the most delightful composite images since Max Ernst, and, as they each contain dozens of individual works, they constitute quite a bargain. Congratulations to the Arts Fund and in particular to Hood for producing such an eye-opening exhibit.