S.B. Questionnaire
The S.B. Questionnaire: Kim Davis
Talking Personal Rebirth and Child Advocacy with the Executive Director of CASA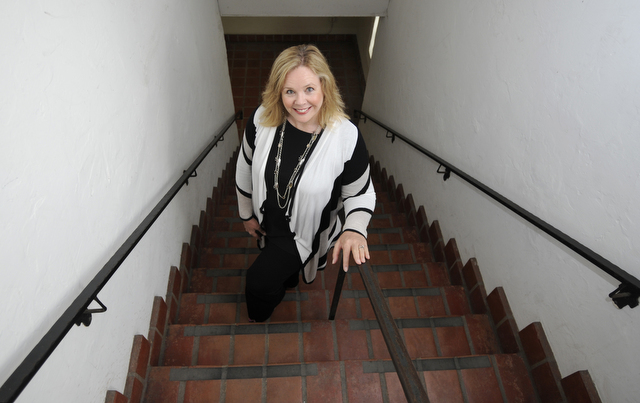 "I was given another whole life," Kim Davis tells me passionately about how she became executive director of Court Appointed Special Advocates for Children of Santa Barbara County. Known simply as CASA, the organization's mission is to assure a safe, permanent, nurturing home for abused and/or neglected children by providing highly trained volunteers to advocate for them in the court system.
Before being diagnosed with lupus, suffering a stroke, and undergoing minor brain surgeries, Kim had been a type A personality and competitive tennis player with a successful career in wealth management. But confined to bed with lot of time for introspection, she started asking herself, "When I heal, what will I do differently?" She didn't want to return to her former career, but she did want to help children.
So in 2006, she began volunteering for CASA, first as an advocate, and then in the office, helping with events and publicity. Before long, she was a full-time CASA staff member. By the end her first year, new volunteers increased by more than 53 percent and the number of children served increased by nearly 65 percent. Under her guidance, CASA now is serving double the number of children, with more than 300 community volunteers.
"I wasn't able to have children of my own because of my illness," Kim confides, but now she's an avid advocate for many other kids thanks to what she calls "the gift of critical illness." Her most pressing challenge today is finding a new home for CASA, since their lease at the Santa Barbara County Courthouse ends as of December 2017 due to an upcoming remodel.
"I appreciate every single day," she tells me as we're finishing our lunch together. "This is my bonus life."
Kim Davis answers the Proust Questionnaire.
What is your motto?
"The best way to find yourself is to lose yourself in the service of others." – Gandhi
What is your current state of mind?
Incredibly blessed.
What is your idea of perfect happiness?
Being healthy and able to contribute to the world to make it a better place for someone that I don't know, and having the chance to enjoy time with friends and family.
Who do you most admire?
People who volunteer for whatever cause they find important. The commitment it takes to do something because you believe that it is right and important, with no thought of being paid, is just incredible. If we were to monetize volunteerism, we would see the incredible value that volunteers bring to our community. This is how things happen, how problems are solved in our communities.
What do you like most about your job?
I have the incredible fortune of going to "work" every day to do something that I love, alongside the most incredible group of people – our staff, board members, and 300 of the most awesome volunteers in Santa Barbara County, and together we get to make the world safer for children. I love it all – every challenge and every success.
What is your greatest fear?
Losing someone that I love – I guess you could say death.
What is your greatest extravagance?
The occasional trip to a spa is a fun extravagance for me. I especially like to make a day of it and go with a friend or a niece. Good times.
What is the quality you most like in people?
I really appreciate kindness. It sounds like a simple thing, but in our daily lives we can all get so busy and caught up in our own lives. I am inspired by people who give of their time to reach out to others with an effort of just being kind. My mother used to tell me to smile at people I don't even know, because they might be having a bad day and a smile is the easiest gift to give. People who take time to be kind are special human beings.
What is the quality you most dislike in people?
I dislike people who are not authentic. Life is too short to spend it trying to be something that you aren't. I've just never understood that. It seems like way too much work.
What do you most value in friends?
When I think of my close friends, one thing they all have in common is that they like to laugh. I love that the people closest to me get my weird sense of humor, laugh with me at my silly stories, and let me laugh at theirs.
What is your most marked characteristic?
Brutal honesty. I'm not sure if that's a good thing – I think it has also backfired on me, but I recognize that I am honest to a fault and I have consciously worked on slowing down my answers to make sure that I don't offend someone with my comments.
Which words or phrases do you most overuse?
This would be a good place to admit that in general, I use too many words to express myself. Another thing I am always working on – my internal editor.
Which talent would you most like to have?
I would have loved to have learned to play the piano.
What do you consider your greatest achievement?
If anything I have done, in my work or as a volunteer, has made life safer and more stable for even one child, then that is my definition of success. If I have been a good friend, a helpful aunt, and a loving and loyal wife to my husband (the most amazingly supportive person you can imagine and my #favoritehuman), then I have achieved the most important things in life.
Where would you most like to live?
I'm happy wherever I am, but I especially love Monterey and Boston.
What is your most treasured possession?
I'm really not a "possession" person. Definitely not things, but I do treasure time with people. Unless maybe we count my cat as a possession, but she would have serious opinions about who possesses whom.
Who makes you laugh the most?
I have the most wonderful friends – seriously, I was blessed with the most amazing people coming into my life. They make me laugh. Every decade since my teens I have been blessed with someone new coming into my life. Cheryl, Kathy, Kay, Kerry, Jennifer – they have kept me laughing through some pretty crazy times. When you can look back at tragedies and find the humor, and you have people in your life who can laugh with you about both the best and the worst of times, that's pretty amazing. Cheryl and I have so much history, having been friends since high school, and there is never a time we are together when we don't wind up doubled over laughing and trying to catch our breath.
Which historical figure do you most identify with?
Certainly no question for me here – that would be Jesus Christ. I was blessed with my faith and it has saved me and carried me through my life.
I was young when my mom died, and the last thing she told me was this: "Life can be hard and there will always be change. Everything changes. Except your faith. Your faith will be the one constant in your life, it will always be there for you no matter what. People will leave, everything changes. But God is always there for you. Trust your faith." What an amazing gift she gave me with this last thought.
On what occasion do you lie?
I just don't. Too complicated and I would be afraid that I would forget what I said. There are plenty of challenges in life, I don't need that one.