Arts & Entertainment
Lily & Madeleine Stop at the Lobero
Close Harmonies, Dynamic Music Make Duo Ones to Watch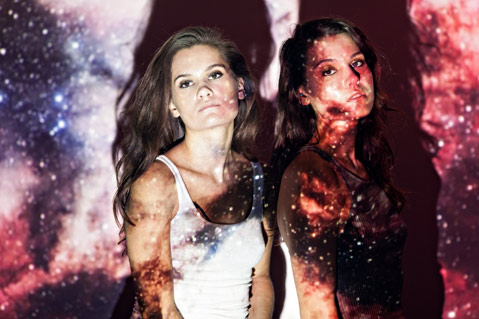 "When we were in high school, we had started singing songs together, and then we met [producer Paul Mahern], and he thought we had some potential," explained Madeleine Jurkiewicz of the origin of the duo Lily & Madeleine. "So he challenged us to try to write our own music, and 'In the Middle' was one of the first songs we ever wrote together. We just filmed it in his studio and then [posted it on YouTube] for fun."
What started as a lark quickly became a career for the Jurkiewicz sisters, Madeleine (now age 21) and Lily (now 19). In fact, the duo has put out multiple records since 2013, including the recent release Keep It Together, for which they are currently on tour. "We started out just making music kind of as a fun project, but when it started taking off we decided that we needed to keep the ball rolling and put out more material," said Madeleine in a recent interview with The Santa Barbara Independent. "We've worked really hard the past couple of years to get three full-length records and an EP out, and now we finally have a second to breathe and think about the next thing that we want to put out."
Although they were both teenagers when they made their debut, the sisters' songwriting has the gravitas one might expect from a more seasoned duo. Keep It Together is no exception and sees the pair exploring their most personal material yet. "Nothing" is a particularly haunting ballad about the disintegration of a romance and its emotional debris. "Hotel Pool," "Westfield," and "Hourglass" are other standouts, but the entire album is an original, captivating aural experience. With their trademark close harmonies and compelling music compositions that feature folk, rock, and tinges of jazz, Lily & Madeleine have been garnering a wide range of fans outside their home state of Indiana. Don't miss them when they stop in Santa Barbara Sunday, September 18, at the Lobero Theatre.
I love your new album, Keep It Together. You have made three albums in such a short amount of time. How has that pace been?
Madeleine: We started out just making music kind of as a fun project, but when it started taking off, we decided that we needed to keep the ball rolling and put out more material. We've worked really hard the past couple of years to get three full-length records and an EP out, and now we finally have a second to breathe and think about the next thing that we want to put out.
Your YouTube video "In the Middle" is how you got noticed. Was that a professional recording?
Lily: We did it in a studio, but the video was just camera on a tripod. It was just one live take. It was a pretty short thing and we didn't really think anything would come of it. If we did, then we probably would have made it look a little better. Because, I don't know, I think the video is kind of boring. [laughs]
Madeleine: That studio we recorded it in was owned by our manager at the time, Paul May. He also produced, he's produced all of our records so far. So we met him early on. When we were in high school we had started singing songs together, and then we met him and he thought we had some potential so he challenged us to try to write our own music and 'In the Middle' was one of the first songs we ever wrote together. We just filmed it in his studio and then released it for fun.
What was it like writing your first song? Did you struggle or did it flow easily?
Lily: I would say I didn't really take it very seriously first of all, so I feel like if I had thought that we were starting our career with that first EP then I probably would have worked a little bit harder to hone my writing skills instead of just putting out the first things that we made. But it was difficult to write at first, but I think now, it's probably as difficult as it used to be but now I feel more confident in my abilities.
I'm impressed with the level of maturity of your writing considering you were teenagers. How did you become so adept at writing? Did you write poetry growing up?
Lily: Madeleine and I are both definitely more English-inclined versus math-inclined. Yeah, I liked to write poetry a lot when I was younger, but again, I never thought anything would come of it. I never thought I wanted to be a writer it was just something I enjoyed. And we also read a lot of books.
One of my favorite songs of yours is "Spirited Away." Which one of you wrote that one?
Madeleine: Lily and I collaborated on every song we've released. I think on that song maybe I started with some inspiration. I assume you've seen the movie Spirited Away…
So the film was your inspiration?
Madeleine: Yes, partly because it's one of our favorite movies when we were kids, but also there is a resort hotel in Southern Indiana called the French Lick resort. It's very strange and mysterious and it's very historic and there appears to be a lot of history and mystery in the place, and we took a family vacation down there years ago and it just kind of inspired me to come up with this song.
There's a bit in there that kind of reminds me of the Indigo Girls, when you do that round singing. Were you fans of theirs?
Madeleine: I'm not super familiar with their music.
Lily: Me neither.
Madeleine: We just liked the way it sounded. This idea that comes with harmonies that makes you think of sirens or some sort of spirits, which I think is super dreamy and so it's cool to be able to create that kind of vibe by layering our voices.
Your new album feels a little more lush and maybe a bit more rock-y on some of the songs. Did you go into the recording studio with the intention of stretching musically or did it just come about naturally?
Lily: I feel like it was natural moreso because we arranged all of the songs with the band that we recorded with, which was Madeleine, and myself, and Shannon Hayden, who played cello, guitar and mandolin, and our drummer Kate Siefker, who did like the bass parts and a lot of the drumming and the auxiliary percussion. And arranging with those ladies allowed us to first of all save money, because when you spend time arranging in the studio that just takes up a ton of money and studio time, but also we really got to take our time and figure out what each song meant and what we wanted each song to feel like. I think it's a cohesive record for sure. I haven't really listened back to it recently or listened to our older stuff, but I think it feels like a pretty natural progression.
The songs on your new album seem particularly intimate lyrically.
Madeleine: I would say that this record, Keep it Together, is definitely a more personal record compared to our other stuff. Every song I can think of a moment that we've had on tour in the past year that inspired the song.
How long have you been on tour?
Madeleine: We've been touring since, like 2013. …We don't really do it like some artists do where they release an album and then go on one long chunk tour. We kind of just do it constantly here and there for months or weeks at a time. And I like it that way.
Your "Hourglass" video is amazing. Was that super fun to make?
Madeleine: That was so fun and exhausting and crazy. It was a blast. We actually filmed that one in L.A. in November and the director of the "Hourglass" video also did our "Blue Blades" video and the video for "The Wolf Is Free." She is obviously very talented and we love working with her. Her name is Laurel Cohen. We actually just filmed another one last weekend that we have yet to release, but we are super excited about it.
Who came up with the concept for "Hourglass" with all the colored powder and the falling hamsters and turtles?
Madeleine: That was Laurel's idea. She just wanted something whimsical. It's kind of like each little thing represents a memory or something of the past, something of our childhood in an abstract sense. As they are falling, it kind of represents time passing. That entire video was her creation, her direction. Lily and I just showed up and she told us where to stand.
There are some parts where you are falling. What did you fall from?
Madeleine: I leapt backwards onto this mat and they covered me with powder and we are supposed to get gradually more powdery over the course of the video, but when I fell onto the mat, all of the powder flew off of me, then settled back on, so I got dirty really fast and it made the shoot kind of difficult. It was really fun.
Did you work with Laurel on the new video?
Madeleine: No, we worked with a new team for this video and they are from New York. It's the first time we've worked with them but we met them through a mutual friend of ours named Indy – she's a stylist, and she had referred them in the past. Really the video was just kind of thrown together very quickly, but surprisingly it was one of the most intense and amazing and detail-oriented shoots we have ever done. It's going to be a really amazing video, I think.
Do you feel like your lives have completely changed in the past years since your music took off?
Lily: It's kind of hard for me to say whether or not my life has changed because if I wasn't doing this I would be in college, so in that way I'd be doing exactly what my peers are doing, but we got into doing music and I dropped out of high school a couple years ago so I don't really know what the alternative would be, because I didn't get there, you know? Even though we are alone a lot of the time, and we work with a lot of, like, older white men, like I [don't hang out] with people my age or meet cute boys [laughs], we are doing exactly what I want to be doing for sure. I mean, we get to make art and that's what matters most to me.
It sounds like you guys have a fair amount of direction and control over your music.
Lily: Oh yeah, for sure.
Madeleine: Absolutely, which is really nice.
Your first few records were with Asthmatic Kitty and now you are with New West Records. What was the reason for the change?
Madeleine: About a year and a half ago, or maybe it was two years ago, we were thinking about working on this new record, Keep It Together. Of course, it was very fresh and new, we didn't even have everything written, and Asthmatic Kitty just didn't want to put anything else out — they just didn't have the resources for us, and it just seemed like a good time for us to move on to something else. There were no hard feelings and it wasn't a hard thing to do, it was just a wonderful natural way to kind of leave the nest so to speak and go somewhere else.
What instruments do you play?
Madeleine: I only play keyboard, I don't play guitar.
Lily, you play both?
Lily: Yeah.
Were you guys trained or are you self-taught?
Lily: We took piano lessons for, like, 10 years each, maybe a little less than 10 years, and I took a couple of guitar lessons, but I feel like once you learn the chords, you can kind of do anything.
And what about singing? Did you ever take formal lessons?
Lily: I never took singing lessons. Madeleine took lessons when she was, like, eight, and I don't know how much they affected her.
Do you have a mentor who has helped you maneuver the business?
Madeleine: Our parents have been really awesome and really involved in what we are doing. Both of our parents work in bankruptcy law, so they know a lot about finances and contracts and legal stuff in general. So our dad reads all of our contracts. He is directly involved in all of the business dealings that we do. As far as creatively, our previous manager and producer Paul, who I mentioned earlier, was really instrumental in the beginning of our career, helping us get to where we are now. Now Lily and I just kind of take it wherever we want it to go. We kind of control mostly everything.
Who would you guys be most excited about collaborating with?
Madeleine: I really love Beck. I think working with Beck. I think his [music] is so perfectly produced, like when you hear a Beck song, you know it's him. I think that would be super cool.
Lily:Madeleine and I don't do many collaborations, so I'd say in general I'd like to collaborate more, especially with local indie musicians. I'd like to work with more hip-hop oriented producers and musicians. Maybe the band I would most like to collaborate with is Arcade Fire, because I really love the vibe of each of their albums, and I feel like I give that answer a lot in interviews because I just think that they're great.
4•1•1
Lily & Madeleine open for Brett Dennen Sunday, September 18, at the Lobero Theatre, 33 East Canon Perdido St. Call (805) 963-0761 or see lobero.com.