Film & TV
Go Visit Some Sharks
Shark Research Committee Fundraiser Offers Dive Opportunity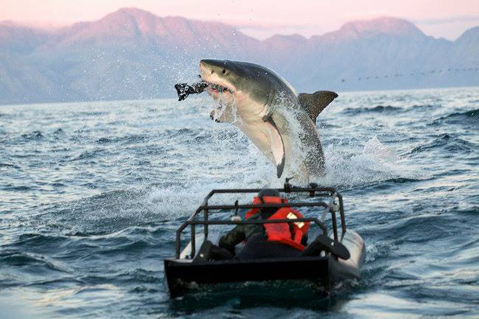 About the only thing more enticing than an evening devoted to sharks is the opportunity to go swim among a bunch of them. That unlikely pairing goes on offer September 24 when the Shark Research Committee holds a fundraiser, "Sharks at Dusk: An Evening Affair," to buy a polymerase chain reactor — you have to attend if only to find out what that is — at the Santa Barbara Maritime Museum. The event features videos of shark-tagging off our shores, behind-the-scenes clips of great whites from the making of Air Jaws, and information about Santa Barbara County shark attacks, as well as a drawing to win a trip with shark expert Ralph Collier on a dive off Baja's Guadalupe Island.
Collier will be taking his research off Baja California from November 26-December 1, and in a drawing at $100 a ticket, two people can accompany him on this expedition as he heads out from San Diego. (You've got to get yourselves to San Diego, but for anyone about to dive with sharks on a $7,600 trip, that's easy-peasy.) The tropical blue ocean surrounding the volcanic Isla Guadalupe — itself a Mexican biosphere reserve that had an ecosystem similar to the Channel Islands' before it was decimated by non-native goats — is famous for an abundance of sharks and its clear water.
The Shark Research Committee grew out of the Smithsonian Institution's work on shark attacks along North America's western coast in 1963. It soon expanded to investigating the general biology, behavior, and ecology of indigenous sharks, including the great white, which was identified as the primary culprit in most shark-versus-human encounters. For those impatient to know more, the polymerase chain reactor allows researchers to amplify certain sites on DNA strands that can identify families of sharks, or even individual sharks, from evidence like a tooth fragment. Peter Howorth, a marine mammal expert who will talk about county shark attacks at the event, states such analysis could even identify repeat-offender sharks.
Tickets to attend — $20 adults, $15 youths and seniors — are available at the door starting at 5:30 p.m., and drawing tickets will be available at the event. Benefit tickets and drawing tickets are also available online in a two-step process: Go to SharkResearchCommittee.com, click on the "Donate" button, and fill out and send the information. Email the committee at SharkResearch@aol.com, and let them know what your donation is for: tickets for the event or drawing tickets (or just for their research endeavors).
4•1•1
"Sharks at Dusk: An Evening Affair" to benefit the Shark Research Committee takes place Saturday, September 24, 6:30 p.m., at the Santa Barbara Maritime Museum, 113 Harbor Way. Tickets are $20 adults, $15 kids and seniors. For more, visit SharkResearchCommittee.com.