Briefs
Vandenberg Ablaze with Third Wildfire
Firefighters Containing Canyon and Washington Fires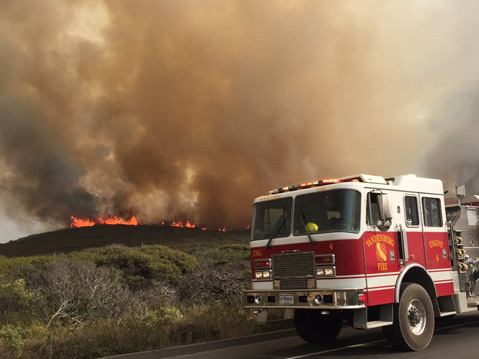 Aircraft, engine crews, and bulldozers are responding to a third wildfire on Vandenberg Air Force Base property, this time in Oak Canyon, north of the Federal Correctional Institution, Lompoc (FCI Lompoc). Reported at 1:20 p.m., the fire is approximately 30 acres and spreading southward, according to base officials. Crews with the base's fire department are working in conjunction with Lompoc and Santa Barbara County fire departments.
Base officials reported this morning that the 215-acre Washington Fire, burning vegetation on North Base, experienced "minimal activity overnight [and] is under control," according to a statement. The Washington Fire started on Thursday afternoon, reportedly by a power line downed by strong seasonal gusts out of the northwest, forcing the evacuation of several buildings. There have been no reports of damaged structures.
At the same time, about 10 miles away, firefighting crews were closing in on the Canyon Fire, a wildland blaze on South Base that started on September 17. This morning, base officials reported that the 12,500-acre wildfire was 90-percent contained. Its cause has not been released and remains under investigation.
On Wednesday morning, Ventura County firefighter Ryan Osler, 38, was killed in a rollover crash on Highway 246. Osler, an 18-year veteran of the department, was the only passenger in a 2,000-gallon water tender heading toward the Canyon Fire. The driver survived with minor injuries and has been released from the hospital, according to a department spokesman. The driver's name has not been released, and the accident is being investigated.