Make Myself at Home
Make Myself at Home: Cute but Spacious Downtown Craftsman
Take a Look Inside This Cottage at 325 West Sola Street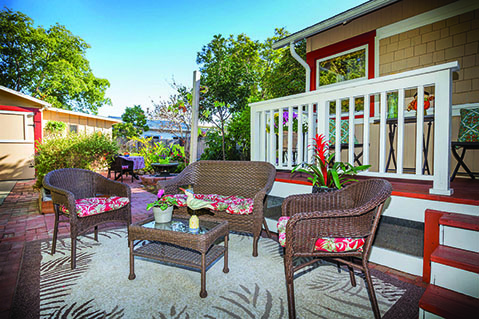 Address: 325 West Sola Street
Status: On the market
Price: $865,000
My dog, Scout, and I were walking in our neighborhood on Sunday, trying to keep to the shady side of each block to stay cool. Scout and I walk a lot. I truly thought we had already traversed every downtown street, but as we turned from Bath onto the 300 block of West Sola, I spied a rounded flower bed, fashioned out of Santa Barbara sandstone, built right into the sidewalk. I'd never seen this old flower bed, so I realized that we must have never walked this particular block.
Not only did we discover an as yet un-walked stretch of street, but right there in front of us was an open house: 325 West Sola Street is a craftsman home in the middle of the block, sporting tan wood shingles with red-and-white trim, surrounded by a stereotypical white picket fence. I didn't intend to go inside since I was accompanied by my canine sidekick, but I thought I would at least try to see the exterior. The front yard has a short path leading up to a cute front porch, with fresh, drought-tolerant greenery and bushes on either side, framing a big, mature lemon tree loaded with fruit. The left side of the house has a long, gated driveway, but the gate on the right side of the house was open, so Scout and I walked on back to see if we could get around to the backyard.
The backyard is an unexpected oasis. A winding path leads to a variety of seating areas, with lots of trees and landscaped focus points. There's a raised, fenced back deck as well as a brick patio with a barbecue/fire pit area, offering plenty of room to relax or play or both. The lot is much deeper than is typical in this neighborhood, and the whole yard is fenced and gated. In the back sits a large separate studio, which we found with the ample doors flung wide open. It's a sunny space perfect for art, a workshop, a playroom, or whatever your hobbies dictate. The studio displayed a handwritten sign directing visitors not to miss the laundry room, which I certainly would have missed. The laundry room is a large, functional space around the corner from the studio. Both are attached to a one-car garage, which combines with the long driveway to provide more than ample parking, which is a boon in the compact downtown neighborhood.
Pleased with my tour of the garden and outbuildings, I was prepared to walk Scout home when the realtor came out onto the back deck and called, "You can bring your dog inside if you want to. The floors aren't carpeted, and we're all dog lovers here." You don't have to ask Scout twice, so we went on in.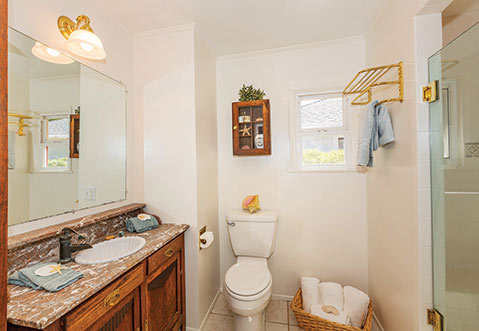 The interior of this house, which was built in 1915, is also full of surprises. I expected to find the smallish rooms, quaint trim, and lack of closets typical of most houses of that era. This cottage, however, has been remodeled over the years. The rooms are huge. The living room, dining room, and kitchen are one airy, expansive space, combining to form a 400-square-foot great room that's rare indeed behind the front door of a craftsman. The windows are tall, original sash windows with deep wood frames, retaining the authenticity of the era. But the overall feeling of spaciousness is a pleasure.
Hardwood flooring in the living room gives way to bright-white linoleum in the kitchen, which contrasts beautifully with the cherry wood cabinetry and central island and breakfast bar. Granite countertops and new appliances are additional luxuries. The blend of old and new works well in this house, and behind the scenes, the plumbing and electrical systems have also been updated, so you've got contemporary convenience mixed with old-fashioned charm.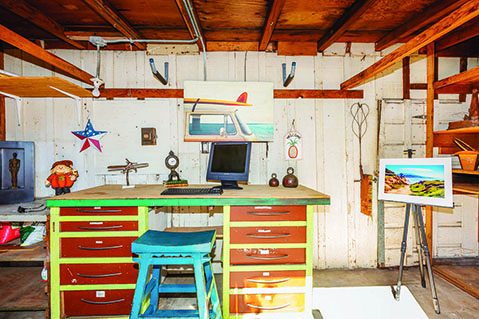 Walking from the kitchen into the other half of the house, there is a central bathroom with a bedroom on either side. Both bedrooms are also surprisingly large, each with three big windows letting in the sunshine. Each room has a large closet, as well, with charming double doors on the master closet. The master bedroom is the larger of the two. However, the back bedroom, with wainscoting on the walls and a nice private view onto the backyard, is my favorite.
Scout and I headed out front to take our leave and found Kathy, the realtor, chatting with a couple of neighbors who had stopped by. They were interested to hear that I lived in the neighborhood, too, and we compared notes about the convenience of living downtown and being able to walk everywhere. When I mentioned the unusual flower bed down the street, our conversation turned to landscaping tips, flower choices, and the virtues of various types of mulch. Kathy has a wealth of ideas, and of course anyone who welcomes Scout is destined to be a friend. Our impromptu visit to 325 West Sola Street introduced us to friendly neighbors, a new favorite block, and a gardening project to plan. Scout got her afternoon walk, and we both got much more than we had anticipated on our sunny Sunday sojourn.
325 West Sola Street is currently for sale in Santa Barbara, listed by Kathy Hughes of Berkshire Hathaway HomeServices. Reach Kathy at (805) 448-4881 or kathyhughes7@cox.net.