Arts & Entertainment
'Better Things'
Refreshingly Subtle, Often Audacious, Odd New Variation on Family Sitcom Paradigm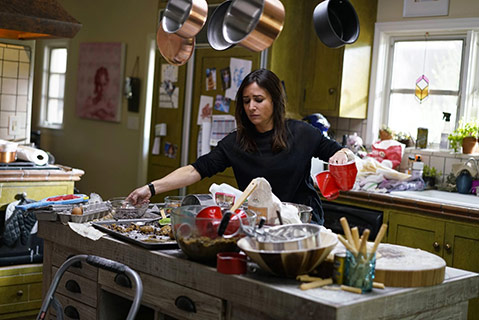 Matching classic rock songs with contemporary television or film settings can be risky pop-cultural business, which can backfire and make both entities feel cheapened and exploited — e.g., the creepy feeling of hearing the Beatles' "Revolution" on a car commercial. But somehow, opening the sparkling and hip new FX show Better Things with John Lennon's great song "Mother" feels just right. At the heart of this show is Sam Fox (a mother) and her trio of daughters. But whereas Lennon bemoans his fate with an MIA mother — "Mother, you had me / but I never had you" — Sam's daughters have their mother, on some new, revising-as-it-goes terms.
Better Things, cocreated by naturally charismatic comedian Pamela Adlon and her pal comic guru Louis C.K., (and named, incidentally, after the Kinks song of the same name) really is one of the better things on the new TV-scape. A refreshingly subtle, periodically audacious, and deliciously odd new variation on the age-old family sitcom paradigm, it sits somewhere of its own clever devising, a strongly female-driven dramedy off to the left and right of Ward and June Cleaver family values and the eclecticism of Modern Family.
(Reality "been there, doing that" check: Adlon is the ex-wife of Felix O. Adlon, son of the famed German director Percy Adlon, and has been raising their three daughters since a divorce in 2010).
In Better Things, mother knows best, except when she doesn't. Mom/Sam is a struggling actor with an ex out of the familial equation, trying to raise a family in Hollywood, with her judgmental, British mother living across the street. The motley nature of Sam's day gigs becomes part of the show's fun factor and ever-varied locations and rotating contexts of the series. In the tasty pilot, we find her lending a goofy voice-over to a cartoon (Adlon is an ace voice-over actress, nabbing an Emmy for her work on King of the Hill), donning whacked-out makeup in a sci-fi show shooting in Canada in episode two, and in episode three in an emo TV-land scene with a gamely spaced-out David Duchovny as himself (and with Lenny Kravitz as the show's director and would-be, could-be lover — stay tuned for that subplot as things develop).
Sam is also a struggling modern mother with enough of a cool, devil-may-half-care attitude to survive the task. While tooling along L.A.'s not-mean streets in their SUV, Sam's feisty teenage daughter Max (Mikey Madison) asks her to buy her weed, reasoning that she has access to cleaner/better cannabis product. "You're my mom," says Max. "You should know if I have sex or wanna get high. You don't want me to hide things from you, do you?" Aghast, the suddenly less-liberal Sam demurs: "No, hide things from me. Please!"
Her intuitive maternal instincts zoom out to a more gender-related scale, as when she gives an impromptu speech at a women's empowerment meeting at her daughter's school and makes a larger point about solidarity via the subject of menstrual cycling. "We all bleed," she tells the initially sheepish but then won-over young audience, "and we all suffer. But we all take care of each other."
In another inspired moment of classic music effectively coating the screen goings-on, Sam flashes back to a love encounter in a hotel, conveyed through impressionistic maneuvers in the night rather than nitty-gritty details. Joni Mitchell's "Both Sides Now" — the mature, burnished-voice, Vince Mendoza–conducted orchestral version from 2000 — hovers over the sensuous memory in a memorable moment of chemistry between sight, site, sensuality, and sound … for grown-ups.
Better Things, so far — the series was renewed for a second season — finds ways to achieve delicate balances of the sort rarely encountered on the small screen. Relatable scenes from the family-next-door perspective weave in and out of dramatic surprises, jolts, and portable tiny epiphanies snatched from the everyday. Oh, and winning jokes are also on the menu.
Better Things airs Thursdays at 10 p.m. on FX.