It was sensory overload in the best possible way at the Santa Barbara Bowl Wednesday, October 5, when an eclectic crowd was treated to a highly produced punk show that began with The All American Rejects (AAR) and ended with Blink-182.
The surprising opener, AAR, who ruled airwaves throughout the 2000s, played a 30-minute set with the sun still up to a half-full venue of fans singing along passionately to hits "Move Along" and "Gives You Hell." Next up was post-hardcore band A Day to Remember. The band engaged with the audience as they threw toilet paper into the mosh pit and the Bowl lit up with cell phone lights swaying to "If It Means a Lot to You."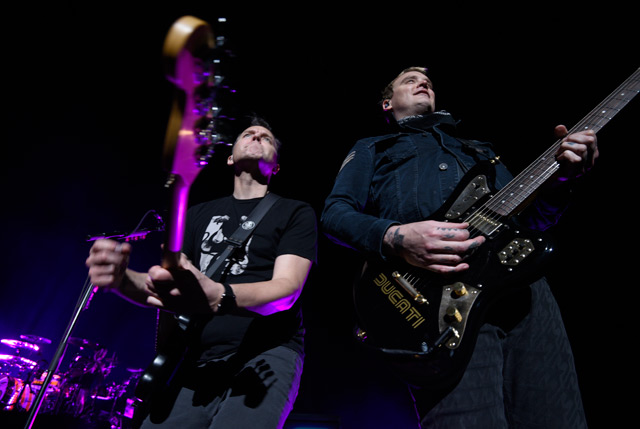 With the punk-rock camaraderie in full swing, people rose up once the drums of Blink's "Feeling This" began. This tour introduced fans to Alkaline Trio frontman Matt Skiba, who lacked former guitarist Tom DeLonge's ability to interact with the crowd. Thankfully, Mark Hoppus still hopped around the stage with his neon guitar, and Travis Barker slayed with intermittent drum solos.
Known for childish banter, Blink delivered with the offensive "Family Reunion" but lacked their legendary punk-ass attitude without DeLonge. Aside from songs from their new album, California, the set mostly consisted of radio hits ranging from "Miss You" to "All the Small Things."
It would have been great to see Blink-182 in the Enema of the State era, but grown-up Blink drew a diverse crowd — from folks in the upper-two-digit age group to Mohawked, tattooed youth — attesting to Blink's ability to create a sense of community.