Food & Drink
The Sideways History of Orcutt Burgers
Why Didn't the North County Chain Capitalize on Cinematic Fame?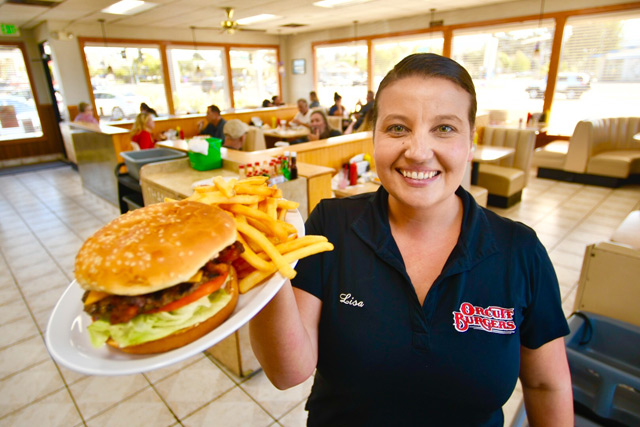 The scene comes near the end of Sideways, and if you're a fan of Alexander Payne's Oscar-winning comedy, you've never forgotten it: Upon the publisher's rejection of his book, Paul Giamatti's failed-novelist antihero Miles pathetically pours into a Styrofoam cup the celebratory 1961 Château Cheval Blanc he'd been saving to toast his success. Adding to the melancholy mise-en-scène, he sits in the booth of an indiscriminate fast-food burger joint, with funky '70s-style décor.
Though that burger joint was supposed to be in San Diego, where Miles lived, Payne cut some corners and shot the scene at one of the Orcutt Burgers locations in northern Santa Barbara County, where most of the film was set. Today, that particular restaurant has become Santa Maria Burgers, but Orcutt Burgers remains a thriving small chain, with locations at East Clark Avenue in Orcutt and in Grover Beach.
The Clark Avenue spot is the original, founded in 1998 by a Greek couple, Sam and Patt Zafiris, who had previously owned The Lucky Greek in Riverside County. They opened the Sideways location in Santa Maria in 2000, sold it in 2003, reacquired it in 2005, and sold it again in 2009. (The Grover Beach location was opened in 2008.)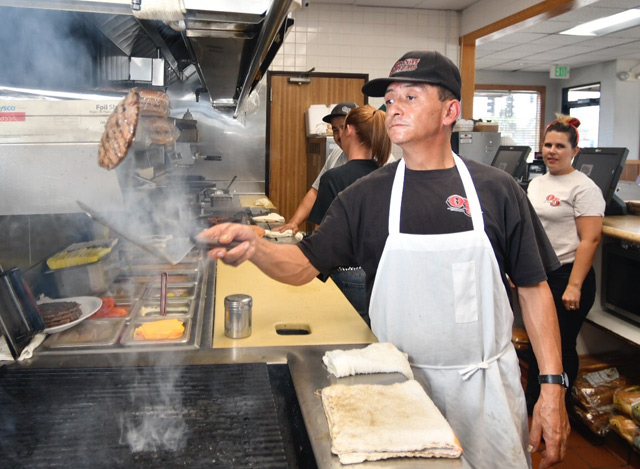 Though Sideways proved an economic boon for much of wine country, the Zafiris's son Spiro, who runs the business now, said it didn't mean much for their business. But he loves what he does. "It's fun," Spiro Zafiris said. "It's nice being a part of the communities. It's very busy."
The menu remains much the same, a roster of popular pastrami cheeseburgers and breakfast burritos. "My parents were very set in their ways," Zafiris said. "We're not Carl's Jr., always introducing a new item. The last thing we added were chicken wraps, spinach salads — that's been popular. The salmon burger — that took off well." He touts the rib-eye steak sandwich and the gyros, the sole ode to the Zafiris family heritage.
"Two is plenty," Zafiris said of his burger stops. "But there's always room for expansion. As opportunities come up, we're looking into it."
Meanwhile, about 20 minutes away stands the former Orcutt Burgers, as seen in Sideways. Step into Santa Maria Burgers today during lunch hour and the place (including the drive-through line) is packed. On the walls: not one reference to the film. But the décor, replete with dated-looking, brown-and-powder-blue booths, remains intact. There's no mistake that this is where Giamatti delivered one of cinema's most famous pity parties. Why didn't any of its owners feel compelled to capitalize on the connection? Why no Sideways Burgers?
But don't go to Santa Maria Burgers just to connect with Payne's comedy classic: The hamburgers are pretty damn good here. Plus, there's no liquor served, so don't fret — you will definitely not be drinking any "fucking merlot."
See orcuttburgers.com.