Sports
Bye-Bye, Baseball; Hello, Football Play-Offs
Wrapping the World Series and Previewing High School Gridiron Matchups 
Before moving on to the most exciting time of the football season, I must look back on a fantastic year for baseball. It included UCSB's first appearance in the College World Series (a quest of 69 years since the college tournament was started in 1947), and it ended last week in a most dramatic fashion. After 108 years, seven games, and an extra inning, the Chicago Cubs terminated the granddaddy of all championship droughts at the World Series.
Game 7 — the Cubs outlasting the Cleveland Indians, 8-7 — was a lavish feast for baseball fans. It was full of twists and turns, blunders and heroics. No less an observer than Roger Angell, who has written brilliantly about baseball for decades, expressed "never-before" wonderment at several instances in the game: Chicago's Kris Bryant sprinting from first to home on a single, and two Cleveland runs scoring after a wild pitch caromed off the face mask of catcher David Ross (who later hit a home run in the last game of his career). As for Rajai Davis's stunning two-run homer that tied the score 6-6 in the eighth inning, though, Angell made a rare boast: He saw it coming.
Angell, whose account appeared on the New Yorker website, is Vin Scully at a keyboard. He was a longtime editor at the magazine, and his articulate sensibility shines in his baseball writing. He is 96 years old, which, he pointed out, is the combined age of the Cubs' four infielders.
By my own reckoning, the key to Chicago's breakthrough in the tenth inning was another rarity: pinch runner Albert Almora's tagging up at first and advancing to second on a fly-out to center field. That set up the intentional walk to Anthony Rizzo, Ben Zobrist's RBI double, another intentional walk, and third-string catcher Miguel Montero driving in another run, which proved to be the game winner. Never-say-die Cleveland touched home one last time and had the tying run on base when Rizzo recorded the last out at first and pocketed the baseball.
"It was a game for all time," Bill Pintard said. "I didn't want it to end." Pintard is the manager of the Santa Barbara Foresters, achievers of another baseball milestone in August: They won the National Baseball Congress World Series for a record sixth time. It's remarkable because they are made up of a different collection of college players every year. Their other title years were 2006, 2008, 2011, 2012, and 2014. That's a flood, not a drought.
PLAY-OFF FOOTBALL: Keep the Friday-night lights burning. For the first time since 2012, the Santa Barbara High Dons and Dos Pueblos Chargers are heading into the CIF Southern Section football play-offs. The Bishop Diego Cardinals and Carpinteria Warriors will also join in the postseason fun. The four schools are spread into different divisions, according to the competitive level of their past performances.
DIVISION 10: Mission College Prep (4-5) at Dos Pueblos (8-2), Fri., Nov. 11, 7 p.m. — The Chargers avoided being locked out of the play-offs by defeating Ventura, the three-time defending Channel League champion, in a 28-21 thriller last Friday. That threw the league into a three-way tie for first place among Dos Pueblos, Ventura, and Santa Barbara. The league was guaranteed only two play-off berths, which the principals voted should go to Ventura (in Division 5) and Dos Pueblos. Mission Prep of San Luis Obispo came out of a Northern League logjam (three teams tied for second place).
The Chargers have a defense that could carry them deep into the play-offs. Opposing backfields see senior defensive end Marcellous Gossett in their nightmares. He has recorded 17 sacks and 35 tackles-for-loss, according to DP coach Nate Mendoza. In the secondary, junior Michael Elbert has come up with six interceptions.
DIVISION 9: Santa Barbara (5-5) at Agoura (3-7), Fri., 7 p.m. — At long last, the Dons can become the Golden Tornado, their moniker in the play-offs. They thought they had a berth sewed up after winning their last two league games over Dos Pueblos and Buena. But last weekend, when Santa Barbara had a bye, DP's win at Ventura muddied the picture. "Saturday morning was very difficult," Dons coach J.T. Stone said about hearing the league's vote. He was gratified to get the news from the CIF office a day later. "The CIF got it right," he said. Stone described Agoura, which ended the regular season on a three-game winning streak in the Canyon League, as "one of the sleeper teams in our division."
DIVISION 12: Carpinteria (4-6) vs. St. Genevieve (9-1) at Encino's Crespi High, Fri., 7:30 p.m. — It's a tough assignment for the Warriors, who placed second in the Frontier League. St. Genevieve's only loss was to St. Anthony, which is in the same bracket of Division 10 as Dos Pueblos. Carpinteria coach Ben Hallock is encouraged that his team's leading tackler is Alex Martinez, a linebacker. "It used to be our safety was the leading tackler," he said.
DIVISION 5: Salesian (6-4) at Bishop Diego (7-3), SBCC's La Playa Stadium, Saturday, 7:30 p.m. — Bishop's Cardinals, play-off bound for the seventh consecutive year, are in the high-rent district because they keep knocking off larger schools, such as Newbury Park and Palmdale last year. Salesian is an at-large selection out of the tough Angelus League. Salesian's Deommodore Lenoir, a triple-threat back, has committed to Oregon after being recruited by everybody from Alabama to USC. The game is Saturday because SBCC has a women's soccer game scheduled Friday night at La Playa Stadium.
ANOTHER LA PLAYA SHOWDOWN: At 1 p.m. on Saturday, SBCC's Vaqueros (7-2) will host L.A. Valley (9-0) with a chance to tie for first place in the American Pacific League. Valley is the only unbeaten community college football team in Southern California. The Vaqueros have a potent ground game that has produced 31 touchdowns, the most in the state.
FÚTBOL FINALS? UCSB could be hosting the Big West men's soccer championship match on Saturday night, with the winner going into the NCAA tournament, pending the outcome of Wednesday's semifinal against Cal State Fullerton. Westmont College's men and women are both in the running for spots in the NAIA soccer play-offs.
S.B. ATHLETIC ROUND TABLE ATHLETES OF THE WEEK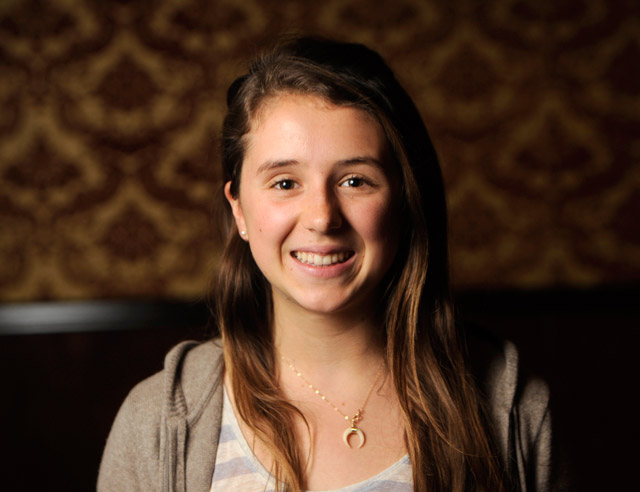 Maddy Nicolson, Laguna Blanca volleyball
Maddy, the team's only senior, had 32 kills in CIF play-off victories over Pioneer and Hemet, leading the top-ranked Owls in pursuit of their second consecutive championship.
Michael Elbert, Dos Pueblos football
The junior defensive back snuffed out two Ventura scoring opportunities by intercepting passes in the end zone. He also caught a touchdown pass in the Chargers' 28-21 victory.