Make Myself at Home
Make Myself at Home: Stylish and New Funk Zone Townhomes
Take a Look Inside Monti al Maré, Under Construction Near the Waterfront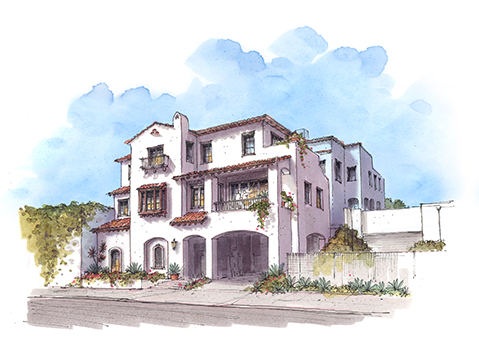 Address: 128 and 130 Anacapa Street
Status: On the market
Price: $3,495,000 and $3,195,000
We all love sneak previews. Whether it's a special prescreening of a soon-to-be-released movie or the VIP opening of a new restaurant, it's fun to be the first to experience something new.
Recently, we were invited to tour the newest addition to the hottest neighborhood in Santa Barbara last week. Monti al Maré is the name of two brand-new townhomes being built in the heart of the Funk Zone at 128 and 130 Anacapa Street. They are still under construction, with tile being set, wood still exposed, and appliances in boxes waiting to be installed. But these luxurious homes are far enough along that their bones are set and the style already shines through.
With The Lark and Lucky Penny right across the street, Santa Barbara Winery next door, and the gleaming white tower of the new MOXI Museum just a stone's throw away, this address is arguably the epicenter of the Funk Zone. The harbor, Stearns Wharf, and the beach are footsteps away, as are some of the coolest tasting rooms and best-reviewed restaurants in Santa Barbara.
These two beautiful condos are similar in style and footprint. The one at 128 Anacapa is the back unit — with three bedrooms, four and a half baths, and 3,600 square feet of living space — while 130 Anacapa is the smaller of the two and yet still boasts 3,200 square feet with three bedrooms and three and a half baths. Each home is equipped with an elevator that goes from the garage to the rooftop, stopping on each floor. In addition to the obvious comfort and efficiency provided, the elevators also create a unique architectural element, as the landings on every level form an additional living space not found in most Santa Barbara homes. The elevators themselves are beautiful, with lovely, custom wood-paneled doors gracing each floor.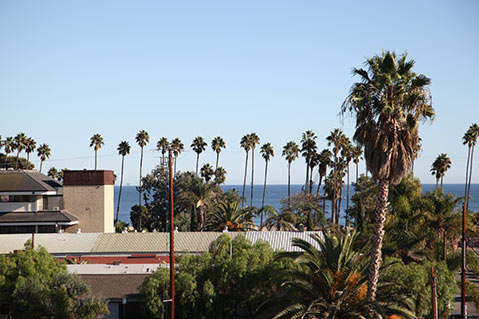 While the front condo has a beautiful, wide, hardwood staircase leading up to all four stories, the back condo features a stunning, ornate spiral staircase. Being able to see beneath the surface — literally — of this feature in progress showcases the craftsmanship and the physics involved in such an architectural masterpiece. Beyond the wow factor of the spiral staircase, we marveled at various details of these homes at every turn, appreciating the obvious care and unique special touches.
To best absorb these townhomes, we started at the top. Monti al Maré literally means from the mountains to the sea, and the view lives up to its name. Standing on either rooftop patio, you can view all of the Riviera and then turn around to see a stunning panorama of the ocean. These contrasting vistas from the same spot — from the waves breaking at Sandspit to the amazing purple mountains at sunset — provide one of the most incredible views in town. The rooftop patios on both houses are definitely large enough for furniture and entertaining. It's easy to envision leisurely afternoon barbecues or even a hot tub. This would also make a perfect spot to watch the fireworks on the Fourth of July.
Moving down one level to the third floor, we found the master bedroom in both homes. This is where the as-yet-unfinished status forced us to use our imagination a little bit. Both master bedrooms are enormous suites, with huge bathrooms and closets that are large enough to be considered separate rooms, fulfilling anyone's fantasies about spacious storage and dressing areas. The front condo has an additional bedroom and bath on this floor. There are also multiple terraces that open onto different vantage points, providing a variety of views and outside living space.
Going down one more floor, we found ourselves in the heart of each house. Large living rooms flow into formal dining rooms and beautiful gourmet kitchens. Both units have full laundry rooms and balconies on this level, and the back condo has a large patio, as well. The back unit has an additional bedroom suite on this floor, while the front one has a study and half bath.
The first floor contains a full, two-car garage for each house. There is also a self-contained bedroom/bathroom suite in each, plus an additional media room or den and half bath in the back condo. This level is where the outdoor spaces become most important for each home. Both freestanding units have their own private yard areas. They are separate but connected with a passageway. There will also be hand-forged, wrought-iron gates for both vehicle and walking entrances.
Every doorway and detail in these homes is custom. As part of our sneak preview, we met the developers who are also the builders. Having these two artisans point out various elements along our tour, in their hard hats and with sawdust flying, made it obvious that the years of planning and work that have gone into building these homes have been a labor of love.
The word condo doesn't feel adequate for these ornate residences. They are spacious, fully contained homes with style that speaks volumes, even in their unfinished state. With landscaping and the finishing touches yet to come, Monti al Maré will be the talk of the town. Whether you're looking for a beautiful pied-à-terre in the most vibrant part of Santa Barbara or a luxurious home perfect for entertaining, these freestanding townhomes are poised to provide exactly what you need to live a happy life in the Funk Zone.
Gabriel Guinn, a 7th grade student at Santa Barbara Middle School, spent a week working at The Santa Barbara Independent as part of SBMS's annual Career Study Week. His self-professed obsession with real estate was a perfect match for the research and writing for our Make Myself at Home column.
128 and 130 Anacapa Street are currently for sale in Santa Barbara, listed by Tim Walsh and Priscilla Bedolla of Village Properties Realtors. Reach Tim at (805) 259-8808 or tim@villagesite.com. Reach Priscilla at (805) 680-7146 or pbedolla@aol.com.