News
'Del Playa' Horror Film Release Set for 2017
Director Defends Movie as Art That Pushes Boundaries and Poses Hard Questions
The condemnation came fast and hard last year when filmmaker Shaun Hart announced the upcoming premiere of his horror movie Del Playa, based on the 2014 Isla Vista murders. Many called the film exploitative and ill-timed, coming so soon after the shooting and stabbing spree that left six UCSB students dead and 13 others injured. Nearly 30,000 people signed an online petition to halt its release. Others, however, defended Hart and his right to free speech, and accused his critics of censorship.
In deference to the raw emotions of the time, Hart decided to temporarily shelve Del Playa. Now he's ready for an early 2017 release. "A lot of people have graduated and moved on with their lives," he said of the UCSB students and Isla Vista residents living in the college town when the killings took place. "Time heals all wounds."
Hart said it was never his intention to make a film that would "rile up the masses the way that it did." Nevertheless, he said, he believes "art is about pushing boundaries, inciting societal and emotional revelation. I like that we provoked reactions on both sides."
Soon after Del Playa's trailer was uploaded to YouTube in August 2015, UCSB graduate Kate Nollner created a change.org petition and started speaking out against the film. "We understand freedom of speech and expression, but our town and our tragedy are not commodities," Nollner said at the time. "They have the right to make the movie, but it shouldn't be profiting off the death of students. It's a horrible precedent to set." UCSB contacted Hart about his unauthorized use of university logos in the YouTube clip. The offending imagery was removed in the movie's final edit, Hart said.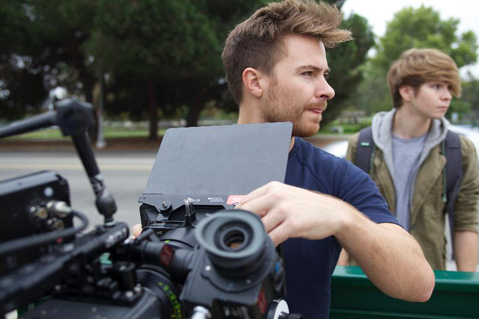 The online trailer features an alienated and bullied young protagonist who targets and kills female victims in a seaside college community. The film's tagline is: "Monsters aren't born. They are created."
On May 23, 2014, Santa Barbara City College dropout Elliot Rodger fatally stabbed his roommates Cheng Yuan Hong and George Chen and their friend Weihan Wang before embarking on a shooting rampage that killed Katherine Cooper, Veronika Weiss, and Christopher Michaels-Martinez. Rodger committed suicide as he was pursued by police. In online videos and a written manifesto, he blamed women for his life of "loneliness, rejection, and unfulfilled desires."
Hart said it's his responsibility as a filmmaker to pose difficult questions. "Santa Barbara, Colorado, Sandy Hook — we have to ask ourselves why we accept extreme violence as a normality." He also said that as a UCSB alumnus who lived on Del Playa, writing the screenplay was his method of processing the tragedy on his own terms. "As an artist, this was my way of working through things on an emotional level, and how deeply it affected me," he said.
Nollner and others asked Hart to at least change the title of the film. "We really are just hurt," she said. "This is so close to our hearts." Hart opted not to for marketing reasons. However, he and his partners did decide to donate a portion of the movie's proceeds to charity. The amount and the charity have not been chosen.
Hart predicted Del Playa will be a modest moneymaker. "This was never about getting rich," he said. "This was about making a film we believed in." Hart said the premiere date is also still up in the air but that the film will be widely available on Netflix, iTunes, Redbox, and other video on-demand services. For those still offended: "You can always not watch it," he said.