News
Dario Pini: Slumlord or Savior?
As City Launches Enforcement Sweep, He Worries for His Spanish-Speaking Immigrant Tenants
If Dario Pini is nervous, he doesn't show it. And if he's joking, he's not letting on.
For the past 40 years, Dario Pini has loomed large in Santa Barbara's urban folk mythology as the city's single most notorious landlord. Twenty-two years ago, City Hall succeeded in putting Pini in jail for a slew of slumlord building-code violations. In 2011, a statewide tenants-rights organization declared Pini "slumlord of the year." One year later, City Hall threw the book at Pini with a 67-count complaint alleging wholesale building safety violations, and today, City Hall is after Pini again for all the same reasons. But this time, City Hall is pursuing the legal steps necessary to wrest control of Pini's vast rental empire ​— ​home, Pini says, to at least 1,000 Santa Barbara city tenants.
That makes it a very big deal.
City Attorney Ariel Calonne, not given to theatrics, called the city's latest action "unprecedented."
Last week, Calonne stated Pini could not be trusted to bring his properties up to basic safety standards. More to the point, Calonne charged, Pini lacked "the capability" to do so. That's when Calonne took the first step to end the interminable game of cat and mouse he contends Pini has been playing with building code inspectors for the past 20 years. That's when the city attorney dispatched a team of 20 cops, firefighters, and city inspectors ​— ​armed with a search warrant issued by Judge Jean Dandona allowing the use of force if need be ​— ​to inspect 164 of Pini's who-knows-how-many rental units.
In an interview with The Santa Barbara Independent last Sunday, Pini accused Calonne and City Hall of strong-arm tactics that served only to terrify his tenants ​— ​largely poor, Mexican immigrants who speak little English ​— ​when less draconian methods were readily at hand. If City Hall succeeds in its mission, Pini claimed, "hundreds and hundreds" of his renters will find themselves without a home. Given the harsh realities of Santa Barbara's rental market, he argued, few of these displaced tenants will find new landlords anywhere as accommodating as he's been.
At the conclusion of the interview ​— ​held at Pini's Villa Rosa hotel by the city's West Beach waterfront ​— ​Pini stood up and turned around, revealing in the process the words written on the back of his black T-shirt: "If a man says he'll fix it, there's no need to remind him every six months."
Given Pini's long legal history, that's one defiantly audacious T-shirt joke.
But Pini's demeanor is strictly deadpan. To the extent irony is intended, none is betrayed.
For Calonne, there's nothing remotely amusing about Pini or the unsafe housing conditions to which Pini's tenants are routinely subjected: rats, cockroaches, faulty wiring, backed-up toilets, garbage spilling over, cold hot-water heaters, wires exposed, and people sleeping in quarters too tight for human habitation: children in closets, adults on balconies under thin plastic tarps, families in crawl spaces. Overcrowding is everywhere: 16 beds in a two-bedroom apartment, 20 people in another.
All this, Calonne said, city inspectors expected. What wasn't expected, he said, was the sheer volume of children living in what he termed "21st-century slum conditions." Fifty percent of the people at Pini's properties were kids. Calonne was struck by the effect they had on him. But then, he added, even street-hardened cops who assisted in the sweeps were shaken by what they encountered. "When the public sees what the inspectors saw," Calonne predicted, "it will shock the conscience of the community."
Calonne, in the meantime, has been strategically selective with what information and what images he's released thus far. That's been necessary, he said, for inspectors to maintain the element of surprise and also to protect the integrity of any legal action City Hall may eventually take against Pini. But Pini claimed that Calonne took liberties with some of the photographs he released to the media in a press release early last weekend. One photo, for example, showed a dead rat in a trap placed on top of a neatly folded News-Press. "That's from my own house," Pini exclaimed. Likewise, he claimed, a photograph showing a partially built bathroom ​— ​described in the press as being in use ​— ​was from the guest quarters of his own Mission Ridge home.
City Hall, Pini claimed, has been on a personal vendetta to get him. His 21-room, beachfront hotel, the Alamar, was shut down, not because of rats or roaches, but because the hot water heater needed a three-quarter-inch pipe instead of the half-inch pipe it had. Calonne declined to engage in what he described as "cross talk" with Pini, stating only, "Mr. Pini will have an opportunity to explain his version of the facts when and if the city files an enforcement action against him."
Should that happen, Pini said he would deploy his considerable resources to resist. Pini isn't saying exactly how many properties he owns, but he's willing to acknowledge 100-150 rental properties within city limits. That doesn't include holdings in Kern County, Las Vegas, Ventura, and Santa Maria. With this portfolio, Pini is easily rich enough to hire a management company and retire to the beach. "I could do that," he agreed. "I could probably buy an entire island if I wanted to. But I'm committed to providing housing for these people."
By "these people," Pini means Spanish-speaking immigrants. Over the years, Pini has been quick to accuse his accusers of racism and elitism. When it comes to providing housing for Santa Barbara's immigrants and working poor, Pini insists, he's the biggest game in town. Whether that's their blessing or curse, however, remains the subject of intense debate.
Pini is quick to point out that both his parents were Italian immigrants who immigrated to the United States when they were infants. Pini grew up in the Bay Area, his father a butcher who worked eight hours a day in a freezer box, his hands regularly cut to ribbons. His grandfather cleaned San Francisco's streetcar tracks. As a kid, Pini was a standout baseball player and was drafted out of college in 1972 by a minor league farm team for the Oakland Athletics. When baseball didn't pan out, Pini moved to Santa Barbara, where he worked 19 years as a special-education instructor for the Santa Barbara School District. There, he recalled, he handled the unruliest of kids. "I guess that's why I'm so tolerant," he said. "I dealt with these types of people. I have more patience. I try to resolve problems."
Pini's detractors are quick to dismiss such claims as nauseatingly self-serving. Former educators who claim to have worked with Pini remember a man absolutely driven to make money. They are no doubt correct, and make money he absolutely and spectacularly did. But over the years, many attorneys representing tenants in landlord-tenant disputes have conceded ​— ​however privately ​— ​that Pini has been unusually willing to strike a deal with problem tenants. And for those unable to provide the financial paperwork needed to pass muster with other landlords, Pini's doors ​— ​albeit dilapidated ​— ​have always been open.
Late rents are not forgiven, but they are accommodated, evictions initiated only when tenants got four to five months late. Pini claims he's owed about $160,000 in late rent by some of his current tenants. Normally, that figure is closer to $100,000. "Things are getting worse," he said. Pets and kids were never an issue for Pini. Neither were sheets and blankets used to divide a one-room unit into two. Dining rooms and living rooms, as Pini reads state building codes, qualify as habitable living space.
As much as Pini has become a poster child for overcrowded units, he insists he does not charge tenants per head as has widely been reported. Instead, he insists, he clearly delineates how many tenants are allowed in his leases. If tenants violate the written lease by subletting space, how is he to know? Pini claims his managers try to keep track of the number of tenants in each apartment, but it's not always easy unless people complain. "A lot of the time, they're opening up to extended family," he said. "They're entitled to be together. We can't separate families."
Calonne, for one, isn't buying it. To the extent Pini rents to immigrants, he commented, it's because he can take advantage of their legal vulnerability. "They can't insist on their rights, because of their legal status," he said. Whatever Pini's true motivations are remains open to debate. But undeniably, he provides a dramatic bellwether for the most vulnerable forced to seek shelter in Santa Barbara's unkind housing market.
Pini insists that if City Hall takes him to the wall, hundreds of his tenants will be rendered homeless. As it is, he noted, private management companies ​— ​like Ivy Apartment Homes ​— ​have been gobbling up large, multi-family complexes on the city's lower Westside and converting them to upscale rental units targeting City College students.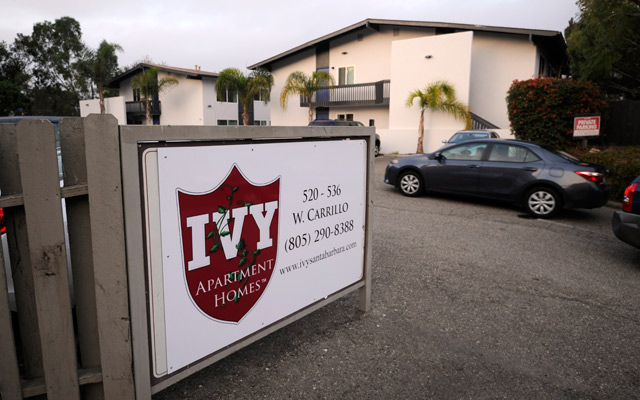 Ivy Apartment Homes ​— ​owned by Barton Stern, owner of Ventura Investment Company— ​has taken over seven properties in the past few years, the most recent being a 50-unit apartment complex at 520 West Carrillo. All but a small handful of tenants there are Latino, many from Mexico. Many have lived there for years. Occupants of 10-15 units have already been notified that their tenancies have been terminated ​— ​due to late payments or calls for police action ​— ​and have been given 60 days to move out. The rest will be allowed to reapply for housing and will be allowed to stay if they can pay the new rents and meet the new financial requirements. Rents will be going up from $1,300 a month for one-bedroom units to $1,925-$1,975. Ivy Apartment Homes requires tenants earn two and a half times their monthly rent, which means those renting a one bedroom need to make $5,000 a month. Tenant-rights advocates with groups like CAUSE (Central Coast Alliance United for a Sustainable Economy) and the Santa Barbara Rental Housing Roundtable are gearing up for a protracted showdown over the gentrification of the Lower Westside. "They're changing the demography of the Westside," declared tenants organizer Frank Rodriguez.
What CAUSE can do about this remains to be seen. Pini claims he's already dealing with the fallout. "All these people are getting pushed out," he said. "They're moving in with their relatives. Where do you think their relatives live? They live with me."
City Attorney Calonne made it clear he has no interest in shadowboxing with hypotheticals. "I have no information to indicate that anyone will be displaced because of the city's enforcement action," he stated. Calonne insists the fatal fire that killed 36 at Oakland's illegal artists' lofts had no bearing on the city's action, but it starkly highlights the worst-case consequences of a don't-ask, don't-tell inspection policy. In the meantime, what's striking is the extent to which the language of City Hall's 1994 criminal complaint against Pini ​— ​led by the Police Department ​— ​is almost identical to Calonne's remarks and equally identical to the 2013 lawsuit against Pini filed by Calonne's predecessor, Steve Wiley.
"We're not saying there isn't room for improvement," said Pini. "Clearly, there is." He is hoping to strike a new understanding with City Hall to hash out safety-code issues in the future. If the city tries to take his property and give it to a court-ordered receiver, Pini said he will fight. Whether there's a deal to be made is up to Calonne to decide. If the answer is yes, it will be up to Pini to prove he doesn't need "to be reminded every six months."