Make Myself at Home
Make Myself at Home: Perfect Park-Like Home on East Pepper Lane
Take a Look Inside 1401 East Pepper Lane, a Charming Montecito Farmhouse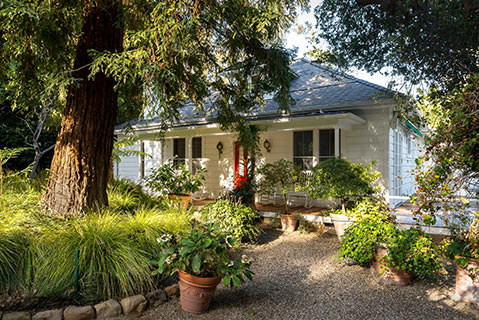 Address: 1401 East Pepper Lane
Status: On the market
Price: $4,450,000
I'll admit it. Sometimes multimillion-dollar homes scare me a little bit, in the same way that sitting down to an über-gourmet meal with mysterious utensils and unfamiliar ingredients can slide me slightly out of my comfort zone. (Do I sip it? Or dip my bread in it?) There are some occasions when I pull up to a ritzy address, walk up to what I hope is the front door, and step into a building that feels more like a museum than a home sweet home. I can appreciate the finer things in life, but for me, a home has to be relaxed enough that you don't have to tiptoe. This was going through my mind as I drove toward a particular Montecito address last week, unsure of what awaited me.
I was delighted to discover that 1401 East Pepper Lane in Montecito is not one of those museum-like abodes. As soon as I walked through the front gate, I knew that this house was about to capture my heart. It's a farmhouse, built in the late 1800s, with a main house and a separate cottage facing each other across a wide, grassy front-entry area. A huge California redwood tree, surrounded by clumps of puffy pampas grass, sits between the two houses, just begging to be climbed. Gravel paths meander between and around both buildings. There's just enough space and distance that grandma could live quite contentedly in her dower cottage yet walk up the path to visit as often as she pleased.
The cottage has myriad charming details to admire — starting with its red Dutch door — yet I fell in love with its overall simplicity. The adorable front door opens into a combination living and bedroom with whitewashed wood walls dotted with built-in shelves and cabinets, and high, open-beam ceilings with transom dormer windows. One wall has floor-to-ceiling windows that look out onto a private side garden. A striking natural stone fireplace is also a focal point. The cottage's kitchen and bathroom are compact, with wainscoting, period fixtures, and delightful details all the way down to the hexagonal black and white tile floor in the bathroom. I'm told there is a climate-controlled wine closet somewhere in the cottage, too, but I had to tear myself away to go explore the main house.
The house is open and airy, starting with the quintessential front porch that runs the full length of the front of the house, echoed throughout by the beautiful Douglas fir floors, both inside and out. Downstairs, two bedrooms and two bathrooms, plus a living room and a cozy corner family room, both with fireplaces, all exude simple yet elegant charm. Upstairs is a fairy-tale children's bedroom, with built-in bookshelves and cabinets, exposed brick, a vaulted ceiling, and decorative banisters and railings.
While the living room has two sets of French doors opening onto an expansive side deck, the kitchen is destined to be the central gathering place of this house. It contains a huge dining area, a natural stone-walled walk-in pantry, vintage appliances, and a wood-burning pizza oven. Double doors and plentiful windows open up from the kitchen onto a big deck overlooking the backyard. For most families, this deck — large enough to hold a 10-person table on just one side — will be the de facto dining room much of the year.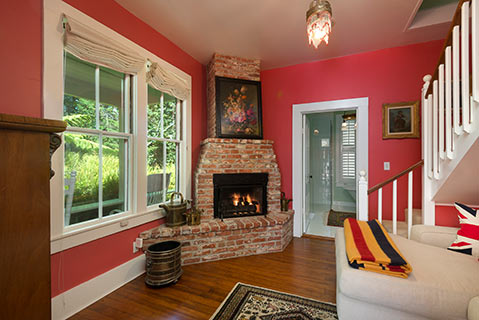 As captivating as this home is, the grounds are even more enchanting, with an acre of land perfect for parties or playtime adventures. Paths lead to different sections of lawn, a huge rose garden, fruit trees with bench swings, and multiple manicured seating areas. There are hammocks hanging from coastal oak trees and a seasonal brook running through the yard. The overall feeling is that of your own private park. But nothing holds a candle to the surprise tucked back in one corner, nestled among the oaks: a one-bedroom, half-bath gypsy wagon. Whether it's used as a kid's playhouse or a cozy writer's nook, this colorful, detailed vardo with its own flagstone patio is an unexpected treasure.
Nope, there's nothing overly fancy or formal about this captivating Montecito homestead. It's comfortable in its own skin and filled with character, offering the perfect blend of vintage charm yet updated with modern amenities. I know just what I would do with every square foot of this timeless farmhouse, its dowager cottage, and its gypsy caravan playhouse. I would have no problem settling in, getting comfortable, and making myself right at home.
1401 East Pepper Lane is currently for sale in Montecito, listed by Luke Ebbin of Berkshire Hathaway HomeServices. Reach Luke at (805) 705-2152 or lukeebbin@gmail.com.