Arts & Entertainment
Dawes Singer Taylor Goldsmith Talks Storytelling
Songwriter Explains His Upbringing, the Music Business, and More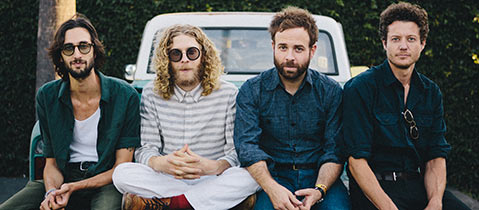 Despite the vast and stunning array of diverse, inventive, and simply great music being created today, that lowest-common-denominator style of catchy hooks and simplistic songwriting still manages to dominate airwaves and the festival circuit. The Los Angeles–based band Dawes is a strong antidote to that, offering rich storytelling in their lyrics, which are laid across meanderingly melancholy chords that usually culminate in a chorus full of emotion and meaning. The band is led by singer/songwriter brothers Taylor and Griffin Goldsmith, who spent their formative years in Malibu. Taylor spoke to me over the phone for a half hour last month.
What did your parents do?
Our dad was a singer and keyboardist and was in bands throughout his whole life. He was in a band called Sweathog that opened for Black Sabbath and eventually was the lead singer of Tower of Power for a few years. He still sings and plays all the time, but he's also a real estate agent now.
It must have been critical for your current career being around music as a kid.
Absolutely. We never went through that whole what-are-we-gonna-do thing. We always knew that music was gonna be the thing. When you had to till that stuff out in 1st grade, it was always music.
Did you do many trips to Santa Barbara as a kid?
Some of my friends went to college there, so I'd go up and visit them. But that was a much different impression of what it was than when I came later and started playing gigs there and hanging out. I love Santa Barbara and have always dreamed of someday having enough money to have a spot up there. I don't see that happening …
The strong storytelling aspect in your music is missing in most popular music these days. Why do you make music that way?
There are some kind of songwriters who know how to create an impression by not really being too particular in connecting their intended emotions. They write what they need to do for their own trip, and that turns into something that is powerful for the listeners. I've always struggled with that. I don't know how to do that.
For me, it's always been more so figuring out how to write a song by making it as simple and understandable as I can, like Warren Zevon and John Prine and guys like that. When I listen to them, there is a real depth and a real universe they create, but I don't struggle with digging through the weeds in order to get something out of it.
Are your songs told from your real life?
Originally, when the band first started, they were all autobiographical. But as time goes by, it's the responsibility of any writer who wants to lead a healthy life and give it some self-respect to move away from that. Obviously, our personal experiences find their way into the material and inform the songs, but I don't think anybody gives a shit about some documented account of my life.
If anything, we're all looking for something we can find common ground with and relate to. That doesn't have to be something you or I actually experience, but if it connects us as human beings, or there's a piece that resonates from a feeling we've all shared, that's what we're looking for.
Sometimes songwriting can turn into a gossip column, and I try to avoid that as much as I can. I'm not scared of talking about myself, but I want to do it in a way that feels worthwhile for someone else rather than [go] into the mundane trivialities of the details that aren't really offering anything but are rather just sensational.
Do you ever have to pull back from doing so?
There are plenty of songs to their day that are dealing with very personal accounts, but I don't pull back for the sake of keeping something private. The only time I would change it is if it creates more of that universal quality. Sometimes it's counterintuitive to make it more universal. Like, if you get into the specifics of what color a car is, all of a sudden that is what makes it feel real. I guess I'm always looking for what the best song is rather than what will protect me.
There's a melancholy mood to a lot of the music, but also some joy, sort of like the two sides of life. Is that intentional? I appreciate that you find that. When I listen back to our first records, which I like and am proud of them all, there is only one side, and it's pretty down, pretty sad. That's only showing one half of the equation. The human condition requires two halves of that picture. It is rough and it is dark, but we are also able to laugh at the same time, and sometimes we're laughing at that same dark shit. I really wanted, as much as I could, to bring that to the music so that there was a more complete human picture rather than just a sob story.
Is that why the first song off the new album is a party song?
We didn't really think about that. That song is a good example of what we're talking about because it does show the duality of that lifestyle and that world, especially in Los Angeles. You want to go out and be a part of it; you want to be invited. Then you are witness to this debauchery in the midst of what was supposed to be a celebration. You have to figure out where the line in and what is ugly and what is appealing. I hope that is what's conveyed in the song. The singer in the tune is not entirely sure where he stands on what he's experiencing.
How do you make a living as musicians these days? Touring is definitely the main chunk of it for us. A lot of artists figure out other ways. I know some bands that don't like touring and are able to make a living producing other bands. There are a lot of ways of carving a living out, but it's become tougher and tougher to figure out what that means.
People will talk about streaming services — once they are embraced and with competing streaming companies, that the money might come back into the music labels and artists. Maybe not to the same extent but at least enough to where putting out a record feels worthwhile. We love touring, but we also love making these albums. But if no one is gonna buy them, it's harder to justify the expense. We'll continue to [tour] and dwell on figuring it out, but it is just a very interesting time because there are big unknowns as to what the future holds. People are drifting to EPs and even singles.
And what about the future of the live market?
Are people gonna get sick of going to these summer festivals? There are millions of them now. Is the culture of live music going to be affected by an oversaturated market? You look at a schedule for a small city and you can see several of the greatest touring acts coming to that town within a week. Does it come to a point where people don't want to go anymore?
What can people expect on this tour?
We're doing "An Evening With…," so there is not going to be an opener, and we are going to be able to play more than we ever have before. As a band, we love what we do, and we want to stay onstage longer and longer. We get an opportunity to play for two, two and a half hours, and we're really looking forward to what that allows us to do. We'll be revisiting parts of the catalog that we haven't played in a long, long time.
4•1•1
Dawes performs at the Lobero Theatre (33 E. Canon Perdido St.) on Saturday, January 14, at 8 p.m. See www.lobero.com.