Cover Story
On Immigration and Sanctuary, S.B. Looks the Other Way
Law Enforcement Doesn't Ask, and City Doesn't Want to Tell
The term "sanctuary city" makes Santa Barbara's leaders nervous, and for good reason. President-elect Donald Trump has vowed to cut federal funding to any American community that openly adopts the title and rebuffs his stated intent to round up and deport millions of undocumented immigrants.
For the City of Santa Barbara, the complete loss of federal funding would be catastrophic. In any given year, a sizeable portion of its budget comes from the departments of Transportation, Housing, Justice, and others to pay for highway construction, urban development, firefighting equipment, and so on. In fiscal year 2013, for instance, nearly 10 percent of the city's $271 million budget came from federal sources.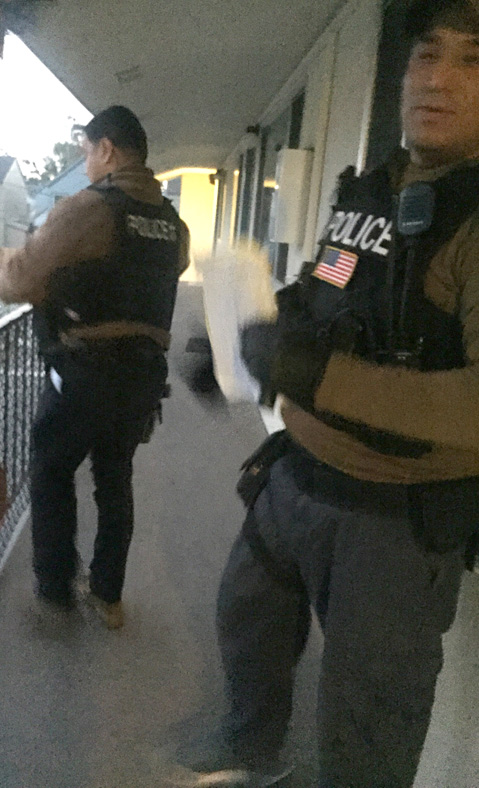 But for Santa Barbara's immigrants, silence from our elected officials in the face of looming mass deportations is just as distressing. They want leaders to help protect a vital yet vulnerable part of the county workforce, and they're now actively organizing and taking steps toward formal lobbying efforts, first at the county level, with their sights set on the City Council, as well. "There should be the political will for it," said Lucas Zucker with CAUSE (Central Coast Alliance United for a Sustainable Economy), noting the progressive majority on both the Board of Supervisors and City Council.
Zucker's colleague Frank Rodriguez met with two dozen activists from multiple groups last week to devise a collaborative game plan toward ordinances that go beyond symbolic gestures. "We want language with teeth," he said. Later this month, La Casa de la Raza's board of directors will convene to discuss their own strategies.
This early momentum has a dauntingly steep hill to climb, as Santa Barbara's councilmembers are hesitant to fly the sanctuary city flag anytime soon. They feel the city is already effective in shielding its immigrant community from improper federal reach, pointing specifically to Police Chief Lori Luhnow's public statements shortly after the election that city cops do not actively seek out undocumented immigrants, unless they've committed a crime beyond crossing the border without legal papers. "The immigrant status alone of individuals in Santa Barbara is not a matter for police action," she said at the time.
Councilmember Cathy Murillo doesn't like the idea of putting Santa Barbara on Trump's radar, even with a ceremonial resolution, like the one adopted by the council this winter in support of Standing Rock protesters. "If we're already doing everything we can to protect this vulnerable population," she said, "I would rather not bring the attention to us and jeopardize the federal funds we get. I would be nervous about using that word."
Councilmember Bendy White is similarly against the concept but for different reasons. He feels the political discord that would inevitably arise among his colleagues when they debate the issue would threaten the council's delicate cohesion. "There's a real price to pay for that," he said. "These things tend to put fissures in the decision-making process."
It would be unwise for Santa Barbara to rush down the sanctuary city road, said Councilmember Randy Rowse. "A lot of this is reaction to a guy who's expressed every one of his policies in adjectives and superlatives," he said. "I think people are taking his inflammatory rhetoric and giving it a credence it doesn't deserve." And Rowse, along with Councilmember Frank Hotchkiss, is uncomfortable with actively subverting federal law. "We're a law-abiding country," said Hotchkiss. "I would oppose being a sanctuary city, not because of a lack of sympathy, but because it's a bad idea to encourage people to come here illegally." Mayor Helene Schneider, Chief Luhnow, and City Attorney Ariel Calonne declined to comment for this story.
Congressmember Salud Carbajal said a patchwork of sanctuary cities is hardly an effective solution to the country's broken immigration system, but he acknowledged, "They are increasing in number across the country due to the dangerous and harmful immigration policies proposed by President-elect Trump over the course of his campaign." This trend underscores the need for Congress to pass comprehensive immigration reform, he said.
There is no tidy definition for "sanctuary city." In general, it's used by cities that offer political support or practical protections to people who are in the country illegally. Some sanctuary jurisdictions, like Huntington Beach, simply encourage people without legal status to get more involved in local government. Others, such as San Francisco and Los Angeles, are home to far-reaching policies that have fully cut ties with federal immigration officials.
Since the election, at least 18 major sanctuary cities have pledged to limit their association with immigration agents. More than 400 jurisdictions across the country have some sort of sanctuary policy. And California, in many ways, is a sanctuary state, thanks to the Truth and Trust acts, which limit immigration holds at local jails and restrict the access of federal agents to undocumented individuals in custody.
Santa Barbara Sheriff Bill Brown said his department complies with both state policies, and he stressed his deputies don't enforce immigration laws. "As local police, we need to gain the trust of those who live in our communities, including undocumented persons," he said. Brown explained the Sheriff's Office does cooperate with federal Immigration and Customs Enforcement (ICE) to assist its officers in taking custody of undocumented immigrants who have committed serious crimes. "In fact, experience has shown us that such criminal aliens usually prey on members of the Hispanic community," he said.
City police spokesperson Sergeant Riley Harwood explained that booking sheets filled out by officers don't ask for a detainee's immigration status but do include a place-of-birth field. That information is reviewed by County Jail officials and possibly by immigration agents, as well, he said. Every so often, city police will assist federal agents in an arrest. Federal officials are not required to notify the department when operating in the city, but they typically do as a matter of courtesy. In the field, immigration agents identify themselves verbally and on their uniforms as "police," as that's the universally understood term for law enforcement, Harwood said.
Sheriff's Office spokesperson Kelly Hoover confirmed ICE has access to the County Jail's computers. Hoover could not say how many undocumented Santa Barbara inmates are taken into ICE custody on a weekly or monthly basis, referring that question to the federal agency. ICE spokesperson Lori Haley said the agency doesn't track those figures by county but by its operational field office. Santa Barbara is covered by ICE's Los Angeles Field Office, which also encompasses Orange, Riverside, San Bernardino, Ventura, and San Luis Obispo counties.
It's our County Jail's relationship with ICE that CAUSE's Frank Rodriguez and others want to focus on first. They seek clarity on the dynamic ​— ​rumors exist that custody deputies routinely tip off ICE agents when an undocumented inmate is scheduled for release ​— ​and what steps Brown is willing to take to further separate his law enforcement efforts with changing federal policies. Rodriguez noted Brown has so far been open to their discussions.