Film & TV
Ella Brennan: Commanding the Table
Director Leslie Iwerks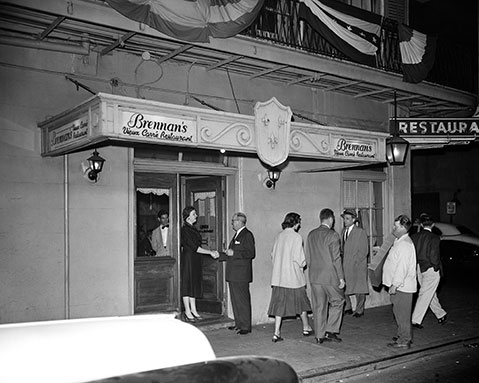 When Ella Brennan started working in her family's New Orleans restaurants as a teenager in the 1940s, no one guessed this hard-working yet hospitable woman would wind up leading a culinary revolution. In the decades to come, she'd turn Commander's Palace into a pioneer of American brunch, a leader in farm-to-table cooking, and the place where celebrity chefs like Paul Prudhomme and Emeril Lagasse cut their teeth.
This exhaustively researched and thoroughly engaging documentary by Leslie Iwerks will help restore Ella to her rightful place atop America's culinary landscape, which is now more thriving than ever, thanks largely to her. See ellabrennanmovie.com.
Why did you decide to tell this woman's amazing life story?
I was introduced to Ella Brennan via a mutual friend named Debra Shriver. Deb knew that Ella's daughter, Ti, was in the process of writing a book, and she suggested the idea of doing a documentary as well.
Deb and I had done this idea together before, with my film, Citizen Hearst, about the Hearst media company, It was a feature documentary chronicling 125 years of media starting with its founder, William Randolph Hearst, all the way through the present day. Deb also published an accompanying book, and so we had created a successful model for book/film/biography.
My background is telling stories of world-renown people and companies, but I had never told a strong female story or anything on food or New Orleans. It stimulated me to take on a whole new subject of a very interesting and inspiring kind.
Any personal connection to New Orleans?
I had only been to New Orleans once prior to returning for this project. I was as fresh to the subject as one could be, and my job was to find the interesting parts of Ella's amazing life story, while capturing the essence of New Orleans history and culture in a way that hadn't been done before.
Why don't more people know that this woman is responsible for the rise of such chefs as Paul Prudhomme and Emeril Lagasse?
I think Ella is the most self-effacing successful person I've ever met. None of her life's work was about making her more famous; it was about putting New Orleans on the culinary map, bringing tourism to the city, building a restaurant that would become world renown, and taking her chef's and employees to new heights they might never thought possible. So, everyone and everything she touched became famous around her.
What do you think that chefs and restaurant owners today should take away from the film?
That hospitality is the most important trait in any business, but especially the restaurant. Ella was into the entire holistic experience: From the moment you enter the restaurant to the moment you leave, you are the most special person on the planet. She learned hospitality at a young age from her brother Owen, as well as time spent at the 21 Club in New York, and she carried those warm inviting traits with her in her soul for the rest of her life. She is contagious. I also think men and women alike who know Ella or have seen this film or read her book are inspired by her tenacity and perseverance, her genuine warmth and interest in people. That is a rare find.
Is there anyone doing something similar to the groundbreaking Ella did?
I would say from a female standpoint, Ti Martin, Ella's daughter, is not only carrying on the fine tradition of a great restaurateur, she is a pioneer in and of herself. She is a sharp businesswoman and bold risk taker, a leader in the ever evolving culinary food movement, and a true champion of her city and its rich culinary heritage.
Is Ella finally getting some respect?
Yes. I think this film and the people who were witnesses to Ella's life really bring out the side to her that has largely gone unnoticed in the wider circle of culinary history. She was doing farm-to-table way before anyone else really was in the United States, and serving California wines at a time when restaurants in the South and elsewhere were only focusing on French wines. Napa Valley and California vintners may not realize it, but they owe a lot to Ella Brennan for bringing California wine to the South, and as a result it helped to spread across the country from there.
How is she doing today?
At 91, Ella still has her finger very much on the pulse of Commander's Palace, guiding, championing, critiquing, and mentoring from her lovely Garden District Mansion next door to the restaurant. She and her sister, Dottie, often order in, and I just loved witnessing Chef Tory and a small gaggle of waiters carry a silver tray of Old Fashions and a fine Commander's meal into their beautiful dining room. It's good to be Ella Brennan!
What are your future plans for the film?
We plan to let the film roll out on the festival circuit this year, and we are in talks with distributors for a wider release as we speak.
What is your next project?
I am currently in post-production on two feature documentaries and another that may be filming in China this year, as well as developing several live action narrative projects.