Arts & Entertainment
Night Vale Haunts Lobero with 'Ghost Stories'
Popular Podcast Created by UCSB Alum Hosts Live Performance on Valentine's Day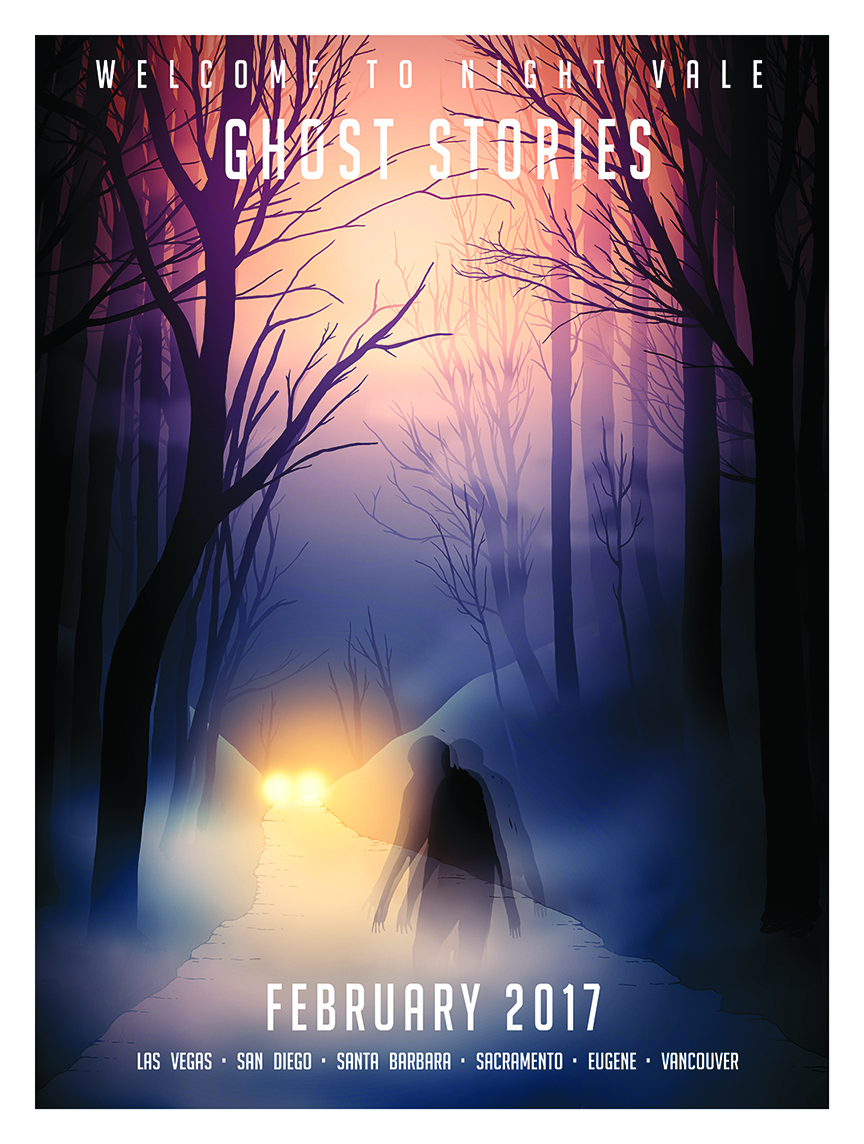 The couple that gets scared together stays together. A shared love for horror movies, experts say, is one of the most reliable determinants of whether or not a date will succeed. On Valentine's Day you can test this theory when the cast of the fanatically loved podcast Welcome to Night Vale visits Santa Barbara with Ghost Stories, a live-performance spin-off appealing to both longtime listeners and first-time visitors to their fictional universe. Loosely based on the podcast about a spooky town and its romantically entwined citizens who are plagued with nonstop visitations from ghosts, aliens, and government agents, the live-action narration will haunt the Lobero Theatre on Tuesday, February 14.
The imaginary locale of Night Vale can count a UCSB alum among its chief city planners: Joseph Fink, who cocreated the podcast with his friend, Jeffrey Cranor. Before blossoming as a writer in New York, Fink remembers taking Dr. Rudy Busto's religious studies class where they analyzed American religious themes in science fiction. "I find religion and conspiracy theories fascinating, and they have the same purpose," said Fink. "They're taking a world that doesn't make sense to us and trying to tell a story about why it is the way it is. It puts a framework on the world to make it work for the person who tells it." Exploring horrors in Night Vale, he says, is a chance to make the fear of the unknown into something fun.
Their Lobero production, Ghost Stories, makes the supernatural especially relatable. "It's our favorite live show we've done yet; it's very creepy and also very sad. It goes into a more real emotional place," Fink said. The live show will feature voice actors from the podcast reading a script with musical accompaniment. "It's really great because it takes a lot of the story lines of Night Vale and the characters people love from the podcast and then makes it accessible to a larger audience," said Cecil Gershwin Palmer, the narrator of Welcome to Night Vale. "It also includes some really funny parts, some scary parts, and some heartfelt parts, which is very fun and exciting for me to bring to life."
Over the course of the series, voice actor Palmer has enjoyed having free rein to interpret the scripts with creative tonality and expression. "It's like putting a jigsaw puzzle together in new and interesting ways in every episode," he said. Each episode introduces a new plot wrinkle, or something glowing and ghoulish at the very least. "The sky is the limit. We're not beholden to anybody," Palmer said, with each episode "a chance to unveil new limits."
Fink and Cranor keep the series insular, despite the expansive universe created by fans who write fan fictions and spin-offs. "If you start chasing what fans want or fan reactions, you end up with a complete mess of a story," said Fink. Just as the universe expands, so do the projects, including Night Vale Presents, a platform for rising podcasts. "Our goal is to keep finding artists doing really interesting work that aren't in podcasting yet," Fink said.
If anything, the creepy goings-on of Night Vale might be comforting. "These days, a lot of the news is pretty scary. There's an inherent fear of the unknown, of not knowing what kind of world we're going to wake up to, and Night Vale capitalizes on a lot of that feeling," Palmer said. So take your sweetie and face your fears with these stories — if you don't fall through a vortex into another dimension en route, that is.
Welcome to Night Vale is at the Lobero Theatre (33 E. Canon Perdido St.) on Tuesday, February 14, at 8 p.m. For more information, visit lobero.org.