Angry Poodle
City Hall Between Rock and Hard Place Over RVs
Santa Barbara's 'Oversized Vehicle' Ordinance Incurs Wrath of RV Dwellers, Mercedes Sprinter Owners
HOME ON THE RAGE: Linda Trevino isn't moving anywhere. Why should she? She was here long before there was even a "here" to be from. But staying put might prove exceptionally challenging.
Most people trace their bona fides as Certifiable Santa Barbara Locals by where they went to high school. By this metric, Trevino passes the "Don" test with flying colors, having graduated from Santa Barbara High School in 1979. But that's nothing. Trevino can trace her family back to the so-called Spanish "leather jackets" who first settled Santa Barbara more than 200 years ago. She's a Cota, after whom the street between Ortega and Haley streets was named. More than that, Trevino has the paperwork linking her blood lines to that of Justo, the Barbareño Chumash "captain" of the village at Cieneguitas, now Hope Ranch. That was before the Chumash occupants there got burned out by a succession of deliberate arson fires that paved the way for what we now know as progress.
Despite her pedigree, Trevino may now find herself on the wrong side of history, at least as the Santa Barbara City Council has chosen to rewrite it. That's because for the past five years or so, Trevino has lived in an RV. In 2006, she injured her back. In 2009, she said she sustained a head injury during an assault, and the after-effects never went away. A little later, scoliosis would set in. All these combined conspired to put Trevino on the disabled list where 9-to-5 work was concerned. Her husband—with whom she shares a four-wheeled home on wheels—has a similar conclusion. For years, the couple and their two small dogs have been part of the city-sanctioned Safe Parking program, which provides nighttime management at a handful of parking lots set aside for about 150 people who find themselves forced to live in their cars, trucks, or RVs.
Push came to shove a few months back when the City Council passed an ordinance banning all RVs from all city streets at all times with a limited number of exceptions allowed for those who know how to apply to get them. Enforcement of this new ordinance will begin sometime in the next couple of month. As ordinances go, it qualifies as both a period and an exclamation mark, proclaiming in oblique legal verbiage, "Get the hell out of town!"
That being said, the ordinance qualifies as a beautiful, ingenious work of legislative craftsmanship—maybe too beautiful and too ingenious by half.
Here's why. The ordinance does not focus on RVs. Nor does it focus on the loud, obnoxious, unsanitary habits of some RV occupants who have, in fact, made a nuisance of themselves. Instead, the law is strategically and antiseptically neutral where the socioeconomic vulnerabilities of its prime targets are concerned. In fact, it isn't about RVs at all, according to City Attorney Ariel Calonne. It's about size.
The city ordinance purports to target "oversized vehicles." These are defined as anything with at least four wheels that are 82 inches tall, 80 inches wide and 25 feet long. The contrived problem the new ordinance seeks to address is the public-safety problem posed by large vehicles. By their size, bulk, and scale, such vehicles reportedly block views other motorists rely upon to safely navigate the city's old and narrow streets.
It's a wonderfully neutral-sounding argument. But it's one based mostly in fiction. City police get flooded with complaints about RVs not because they're big. It's because their presence makes residents nervous. And in some instances, so does the behavior of the occupants.
Here's the rub. For one thing, people like Linda Trevino—those who are enrolled in the city-sanctioned nighttime parking program—will have no place they can exist during daytime hours. When RVs are outlawed from city streets, RV dwellers will become outlaws.
For many people—afflicted with homeless fatigue or worse—that's not an issue.
But there's a really oversized problem with the city's oversized-vehicle ordinance. And that's the growing popularity of "tall-profile vehicles," like the Mercedes Sprinter. Under the new ordinance, they'll be effectively outlawed. All of a sudden, these vehicles are everywhere. They function as a cross between pick-up truck and SUV. Every delivery van, it seems, is one of these things. Surfers and paddle-boarders love them; construction workers find them utilitarian in the extreme. They offer more storage space with far greater security. Mercedes is building a new factory in North Carolina to make more of them.
Most of these tall profilers violate the new height limit set by the city's new oversized-vehicle ordinance.
It turns out that hell hath no fury like a Sprinter owner outlawed. The City Council and Calonne have a tiger by the tail. And the tiger is pissed. Sprinter owners have made it clear they are not going quietly into the long, good night of a City Council oversight. They are showing up at council subcommittee meetings to complain. These meetings, by the way, were set up to identify places where RV owners can park legally during the day once the ordinance is enforced. For their exertions, they have identified all of five additional parking spaces.
More than 100 Sprinter owners—a term I use generically because I find "tall-profile vehicle" a bit clunky—have signed a petition demanding for relief. To put it mildly, they were upset to find notices affixed to their windshields stating their vehicles would soon be subject to $53 tickets for the crime of parking on city streets.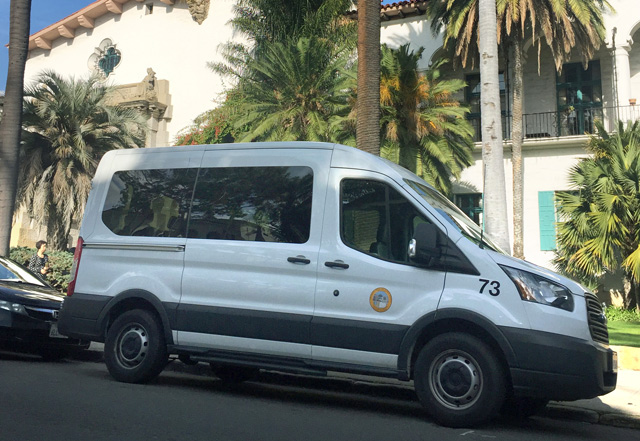 Many Sprinter owners dispute the contention their vehicles constitute a safety hazard. If you want to ban an unsafe vehicle, said one, ban Priuses. Because Priuses are nearly silent, they creep up on other motorists—not to mention cyclists and pedestrians—and catch them totally unaware. That actually is dangerous. And Sprinter owners wonder how Santa Barbara has the legal authority to ban vehicles from its streets that have been deemed safe by the California Department of Motor Vehicles.
There is, of course, an easy quick fix. But it's also fatal.
Under the city's ordinance, any vehicle that exceeds just one of three dimension restrictions—height, width, or length—is banned. Other cities that have passed similar ordinances were less restrictive, banning only vehicles that exceeding two out of the three or, of course, all three. By a simple stroke of the pen, Calonne and the City Council could quell the uprising among Sprinter owners.
But if all of a sudden the council opts to allow tall vehicles after all, doesn't that expose the pretext upon which the ordinance is supposedly based as a sham and a fraud? I would think so. The real question is what will the judges think when City Hall gets sued. I'm no lawyer, but most judges take a dim view of laws that target—or even appear to target—poor people. Laws, judges tend to think, should be written to outlaw conduct and behavior, not classes of people.
In any case, Trevino said she isn't budging. Like hundreds of other people, she lives in an RV because of economic necessity. On fixed income because of her disability, she can't afford Santa Barbara's escalating rents. She doesn't make three times the monthly rent, the litmus income test required by many landlords, nor does she care to pay the nonrefundable $45 many landlords require to screen potential tenants. With 700 single-room-occupancy hotel rooms having evaporated from Santa Barbara's downtown over the years, there's not much of a private-enterprise safety net left for low-income Santa Barbarans. Public housing has a waiting list 6,000 long.
In the meantime, City Hall can save itself a big headache and go back to the drawing board. Start over. Get it right. Enforce existing laws on problem RV occupants. Create a system to register and permit RV dwellers. Trevino appears to be hoping for the best and bracing for the worst. She's identified an out-of-the-way spot—owned by City Hall—where she says about 25 RVs can be parked during daylight hours. But so far, no nibbles. "I'm not moving anywhere," she vowed, if worst comes to worst. "My roots were here before Santa Barbara was Santa Barbara. I belong here."