Voices
Not a Fan of the VBAC Ban
Lift the Block of Vaginal Birth After Cesarean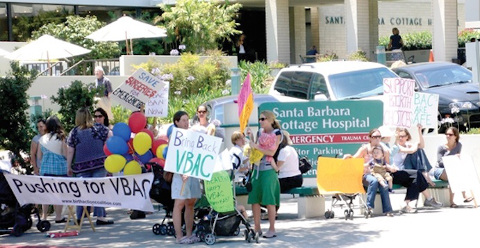 Given the attacks on women's health-care services currently being waged in our country, there is no better time to reopen public awareness and conversation around an issue that has been affecting for far too long a woman's access to the highest quality maternal care. In Santa Barbara, there's a de facto ban on vaginal birth after cesarean, or VBAC.
Maternity services are so important to all families, and our health-care system is letting us down. Women and families deserve to make informed choices about childbirth, and healthcare professionals deserve options to practice patient-centered, evidence-based care. Right now, we don't have that here.
The ban in our community goes against the strongest recommendations of major professional medical organizations, including the American College of Obstetrics and Gynecologists (ACOG). Over the years, ACOG has published guidelines and practice bulletins concerning delivering vaginally post-cesarean.
The following recommendation has the strongest assessment rating, "Level A," because it is based on good and consistent scientific data:
"Most women with one previous cesarean delivery with a low-transverse incision are candidates for vaginal birth after cesarean delivery (VBAC) and should be counseled about VBAC and offered a trial of labor."
So, why aren't most women counseled on VBAC and offered a trial of labor? Doctors and administrators will point to a lesser quality ACOG guideline — one assigned "Level C," the lowest strength rating, as it is based primarily on opinion not science. It reads:
"… VBACs should be attempted in institutions equipped to respond to emergencies with physicians immediately available to provide emergency care."
Wait, "institutions equipped to respond to emergencies with physicians immediately available to provide emergency care"? If I were a contestant on Jeopardy! I'd be hitting the buzzer right about now and shouting, "What is a hospital?" This guideline was interpreted by many community hospitals, including Cottage, to mean that 24-hour in-house obstetrics and anesthesia must be present to allow a trial of labor after cesarean.
Despite being poorly supported, this guideline known as the "immediately available" standard has been cited as the primary justification for refusing to offer VBAC care, which in effect, has prevented women from availing themselves of the stronger, evidence-based recommendation concerning VBAC.
That's a serious problem that hasn't gone unnoticed by consumers and the National Institutes of Health (NIH). In 2010, the NIH held a Consensus Development Conference, "VBAC: New Insights," wherein a panel expressed concern over the barriers to access that women were facing. The panelists recommended, in light of the low level of evidence for the "immediately available" standard, that the American College of Obstetrics and Gynecologists reassess the requirement.
Further bolstering NIH's recommendation on this point were key findings presented that showed the overall risk for perinatal mortality and morbidity with trial of labor (for VBAC patients) is similar to that of any woman in labor. Nonetheless, there is no "immediate availability" mandate for other acute obstetric emergencies with similar potential adverse neonatal outcomes, such as severe abruption or umbilical cord prolapse.
The ob-gyn American College did go on to issue less restrictive guidelines, and the professional association acknowledged it never intended to restrict VBAC access. Addressing the "immediately available" standard, Dr. William A. Grobman, who cowrote the revised guidelines, stated, "Women and their physicians may still make a plan for a trial of labor after cesarean in situations where there may not be 'immediately available' staff to handle emergencies, but it requires a thorough discussion of the local health care system, the available resources, and the potential for incremental risk."
Providing proper support for VBACs for most women with a prior cesarean section, in communities like ours, is reasonable and possible. Failing to support mothers in exercising their rights to informed decision making and patient autonomy — that's the real risk here. Moreover, if physicians in our community really feel that Cottage isn't equipped to deal with emergency medical situations, we've got an even bigger problem on our hands than women being denied their maternity patient rights.
For the record, I personally had a successful VBAC in 2007, but I had to leave my hometown of Santa Barbara, and travel while in labor, to do it. A lot has changed since then. We now have a more substantial body of evidence concerning VBAC outcomes to rely upon, and less restrictive practice guidelines reflect this. Furthermore, the development of new models of care in smaller communities that are dedicated to offering patient-centered care, including support for VBACs despite not having 24-hour in-house obstetric and anesthesiologist coverage, offer new options for managing risk for patients and physicians alike. The New England Perinatal Quality Improvement Network VBAC program (www.nnepqin.org) is one such example.
But what hasn't changed is the ban. Since 2003, women in our community desiring VBACs have had no choice but to birth their babies outside their hometown. Explicit policy or not, when women in Santa Barbara cannot find a care provider that will take them on as a VBAC patient, the result is in effect a ban. While I'm not insensitive to the onerous medical liability climate that affects physicians, ultimately I agree with Dr. James R. Scott, who penned an editorial published in Obstetrics & Gynecology in June of 2010, titled "Solving the Vaginal Birth After Cesarean Dilemma." In it, he opined, "Standards of care should be based on medical evidence, not patterns of litigation."
Let's come together as a community and solve this. Two upcoming events present opportunities to participate in the conversation: On March 18 at 1 p.m., outside of Cottage Hospital, our local chapters of the International Cesarean Awareness Network and Improving Birth Network will hold a protest against the ban, and on May 10 at 6 p.m., a panel discussion on VBAC will be held at the Santa Barbara Museum of Natural History.