Living
Feasting at The Guilded Table
Eight Artisans Now Selling Photos, Clothes, Jewelry, and More at The Waterline in the Funk Zone
Anyone who's taken apart one of those Russian nesting dolls can easily understand The Guilded Table. The outer shell is Santa Barbara, inside which is the Funk Zone neighborhood, and inside that is The Waterline development on Santa Barbara Street. Open it up further to find The Guilded Table, inside which are eight different craftspeople.
"It came initially from a desire to recognize that the Funk Zone has … artist roots, and that's starting to disappear," explains Kassie Goodman, who developed the concept. "So we wanted to give a nod to what this community has originally been about."
Adjacent to the shared common space, each artisan has an individual studio where they design and sell inventory, throw events, and, starting this month, hold their own workshops that are open to the community. "Brick-and-mortar retail is kind of dying," said Goodman, "so we created a concept that is more interactive, more experiential."
Here's a look at each artisan involved.
ACE RIVINGTON: Hidden in the back right corner is the secret world of Ace Rivington, the aviation-laced character and brand that Beau Lawrence created as a fusion of entertainment and fashion. "I created a character who grew up on a fishing camp in Alaska and is a modern-day private jet pilot," he said. "That's Ace Rivington. He's a machismo kind of fellow." So Ace's story is told by the apparel, which Lawrence designs based on 18 years of experience, and ranges from Italian denim to the popular crewneck sweatshirt made out a super soft homespun terry that inspired the business. acerivington.com
BLANKITA: For every Ace Rivington guy, there's a girl for whom Jennie Stierwalt's neighboring space is the perfect match. Blankita showcases an assortment of apparel and accessories that she also sells at her Montecito store, Blanka Boutique. "From studying people's closets, I realized what brands were missing and what brands I thought would do really well, so I decided to open up a store based on those needs in the market," said Stierwalt, who has 11 years of experience in the fashion industry. "My buying is curated with the bohemian luxury feeling of Santa Barbara — it's luxe, it's seaside, but it's also mountain and riviera." She'll also start selling her own line of clothing in April. blankaboutique.com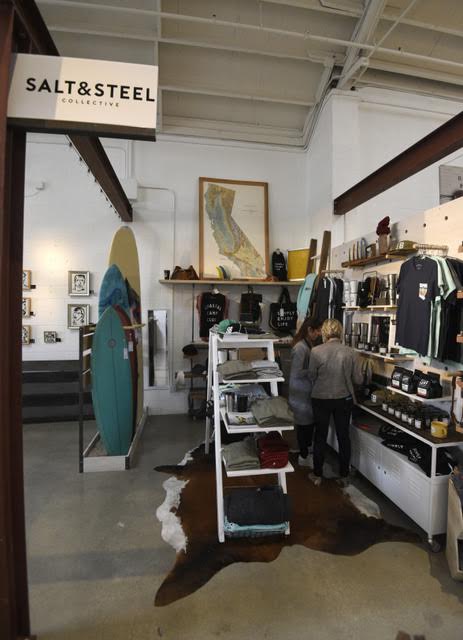 SALT & STEEL COLLECTIVE: "It's a lifestyle brand for people that like to adventure and keep life simple," said Karley Mase of his clothing and accessory boutique. "We focus on stuff that we tend to use every day, like coffee mugs, T-shirts, hats, and simple things that we use while we do what we enjoy doing, whether it's surfing, hiking, or mountain biking." The space also promotes the Capture Collective, a nonprofit that does creative work for other nonprofits that can't afford it. "Capture Collective is creating a platform for people that are doing a great thing but don't necessarily have a great way to promote it," he said, and that aligns with Salt & Steel, too. "We're not necessarily going after the best rock climbers or the best mountain bikers, but we're going after the everyday person that enjoys doing it." saltandsteel.com
BED|STÜ: Started by a husband-and-wife team in 1995 out of a small warehouse in L.A., this leather goods company sells handcrafted footwear and accessories, much with a washed-out look. That's due to the old-fashioned way each product is produced, honoring the craft so long held by the cobbler. "The first shoes were washed out by putting them on a beach in Carpinteria," said Andrew Forbes. Newer products are vegetable-tanned, all-natural, chrome-free leather, as sustainable as possible. "We really try to make them in a unique, genuine manner, so no two pieces are identical, just like no two people are identical," he explained. bedstu.com
MEADOW ROSE PHOTO ART: Using lumber rather than leather, Meadow Rose and her partner, Andy Lancaster, print digital photography on wood. "Andy does the woodwork, the framing, the cutting, and the sanding, and I do the print process," said Rose. Her sunny, muted images of the Santa Barbara coast are enhanced by the patterns and textures of the wood. "It's California lifestyle stuff," she said. "The beach, a small town, VW bugs, surf shots, sunsets — all that is beautiful about California, I try and capture it." meadowrosephotoart.com
JULES BY THE SEA S.B.: Jules Kramer's jewelry business started five years ago when, seeking a bit of mental clarity, she took beach walks and wound up accumulating an extensive collection of sea glass. "I realized this is so beautiful; I have to do something with it," said Kramer, who taught herself wire wrapping, soldering, and gem-stone placement. Her space glimmers a shade of blue almost identical to the ocean, thanks to her recurring use of apatite, her favorite gem. "I put a lot of my love and energy into it, and so I feel it goes on to each person who buys and gives it," said Kramer. "It's sort of like a traveling gift." julesbytheseasb.com
ASHER MARKET: While on a trip to South America, sisters Ashley and Erin Hayes discovered a Peruvian blanket woven with alpaca yarn that led to Asher Market. "It's perfect for Santa Barbara all year round because it's lightweight," said Ashley, who explained that alpaca wool is five times warmer than sheep's wool but much lighter. They expanded into throws, scarves, and other California-designed, Peru-made merchandise, all comfortable yet durable. "They're machine washable so you can take them to the beach after you surf, and then take them home and wash them," said Ashley of the throws. ashermarket.com
CROWE STUDIOS: The latest addition, expected to move in by the end of March, is Crowe Studios, which incorporates jewelry by Jen Crowe and panoramic landscape photography by her husband, James Crowe. "Our collections are all based around places we've visited together," she said. "He takes the pictures of the places, and I create little wearable pieces of art that are inspired by the places we've been." Crowe's bold, sculptural jewelry is largely influenced by natural rock formations, and James portrays large-scale landscapes of vast expanses devoid of human disturbance. But more than just portraying nature, the Crowes give back to their inspiration, planting a tree for every item sold. jencrowestudio.com
Opening every day at noon, The Guilded Table is located inside The Waterline (120 Santa Barbara St., guildedtable.com).