Arts & Entertainment
'Brain Candy Live!' Serves Food for Thought
Adam Savage and Michael Stevens Spark Minds at Arlington Theatre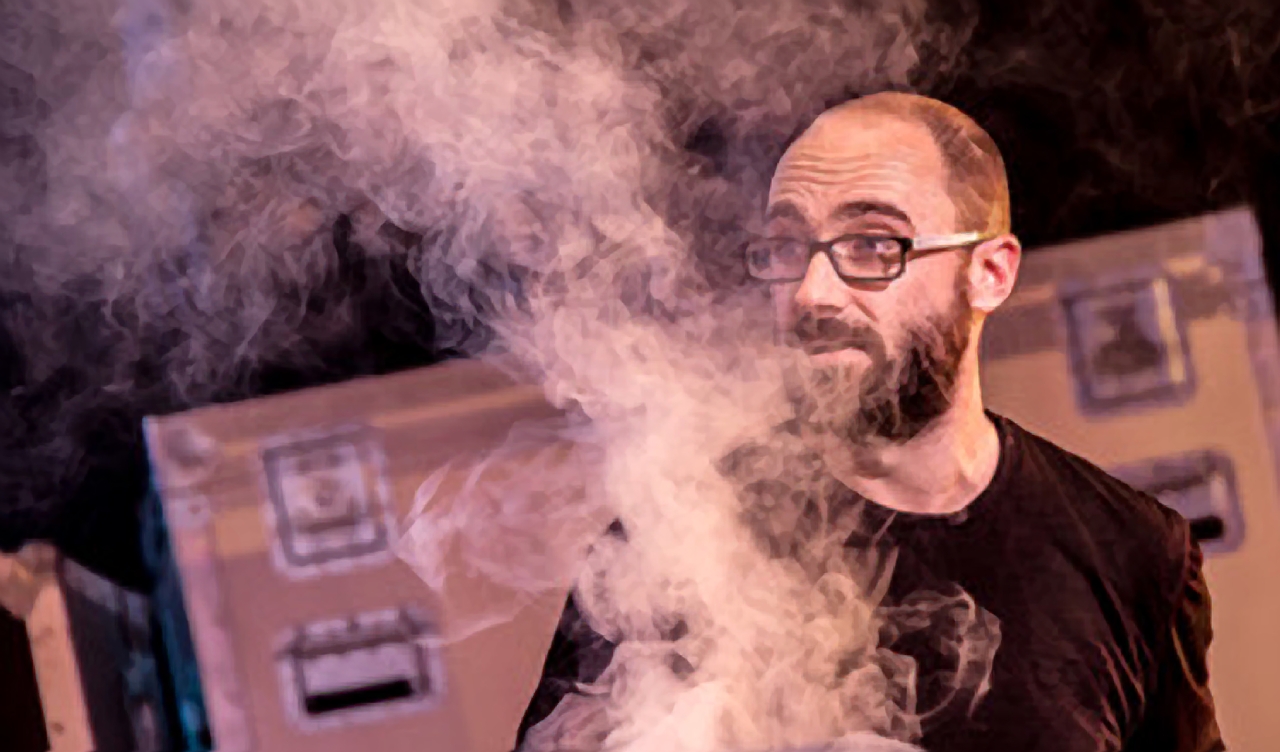 Boom! Pow! Bap! Science! Expect to hear these and other exclamations as scientific power duo Adam Savage and Michael Stevens blast into the Arlington Theatre on Thursday, April 6, with Brain Candy Live!, an outrageously entertaining and educational science show. Savage and Stevens, of MythBusters and YouTube fame, respectively, will use a mix of toys, power tools, and home appliances to get to the bottom of burning inquiries such as: What happens if everyone on Earth jumps in the air at exactly the same time? Can anyone bottle up a magical invisible substance and use it to power a rocket? It's a gravity-defying, eye-opening show that will rewire your mind and get your science senses tingling, with experiments galore and a Q&A to follow.
The pairing was a natural one — "The chemistry was perfect," says Stevens — with both Savage and Stevens wanting to break down the fourth wall and bring science to the stage. The two have "very similar, endless curiosity and endless imagination," says the YouTube star, whose channel, VSauce, takes a philosophical look at perceptual phenomena.
They brainstormed all kinds of ideas to create Brain Candy, working with director/magician Michael Weber to craft a show largely based around fluid dynamics, building marvelous contraptions à la MythBusters for some experiments and using mundane objects for others. Some ideas and projects didn't make the cut. They crafted, for example, gigantic customized bellows with which a young child from the audience could inflate a mattress and eject his recumbent mother out of bed, hence demonstrating mass. "The bellows is beautiful, and we still travel with it," said Stevens.
Brain Candy will spark minds, Stevens said, for the thrills of scientific inquiry. "If you combine entertainment and science, the real goal is a lot of people there will be inspired to pursue careers in science and will want to take classes in science," he said. But what's more, Brain Candy reminds us that science is a collective inquiry, one that minds can engage in on any level. "We want to celebrate what scientists are doing to make the public excited for what can come. Science is something everyone can do. You don't have to be a super brainiac genius or have natural-born skill to think critically and make a difference in the world."
For future shows, Stevens hopes they can be more inclusive, with more female scientists onstage and more at-home demonstrations, like a show about math with no numbers. Stevens hopes he and Savage can inspire critical thinking in all brains in attendance, and not just for scientific matters. "We want the curiosity to be contagious. We can really spread the word of thinking critically, asking: What does it mean to be true or not, and how can you test that? It makes for better citizens," he said.
4∙1∙1 Brain Candy Live! is on Thursday, April 6, 7 p.m., at the Arlington Theatre (1317 State St.). Call (805) 963-4408 or visit thearlingtontheatre.com.