News
UCSB Braces for Trump's Proposed Budget Cuts
Science and Arts Programs Expected to Lose Millions in Grant Dollars
Universities are just beginning to realize the impact that Trump's budget proposal, released on March 16, will have on their campuses. The budget, as it now stands, proposes to eliminate multiple science, education, and arts programs in favor of a $54 billion increase in military spending. This "budget balancing" move comes despite the fact that the next biggest military spender, China, budgets one-fourth of what the U.S. expends, and that Russia actually cut its defense spending by 25 percent this year.
Though grants currently in place will remain, the money for a wide array of major programs and projects could vanish by 2018, costing UC Santa Barbara millions. Specifically targeted are programs investigating climate change. To put it into perspective, UCSB's Office of Research counted more than $132 million in direct and indirect federal funding in 2015-2016. Total campus operating expenses that year were $960 million. But an even greater cost will be to students, whose quality of education could be lowered. "We might be actually facing a generational loss of scientists," avowed Gretchen Hofmann, chair of UCSB's Ecology, Evolution, and Marine Biology department.
"I can train and graduate four PhD scientists for about the cost of one F-35 fighter pilot helmet," exclaimed Douglas McCauley, an environmental biologist in the same department. "That could be one scientist who goes on to reduce incidences of child blindness in Santa Barbara County, another who helps harvest salmon without causing their populations to crash, or one who recovers an endangered species, and another that figures out how to save corals from bleaching," he said. "These are all real examples of PhD research in our department."
Scientific preparedness, such as was needed during the Refugio Oil Spill, is likely to be affected by the cuts, as well. UCSB's David Valentine and his biogeochemistry students were among the teams that studied the underwater aftermath of the Refugio spill, and he's recently published papers on another catastrophe he's studied: BP's Deepwater Horizon spill off Louisiana. The National Science Foundation and Department of Energy were already funding Valentine's research when the Macondo rig exploded in 2010, and he was "mission ready when the need arose" with an added NOAA (National Oceanic and Atmospheric Administration) grant.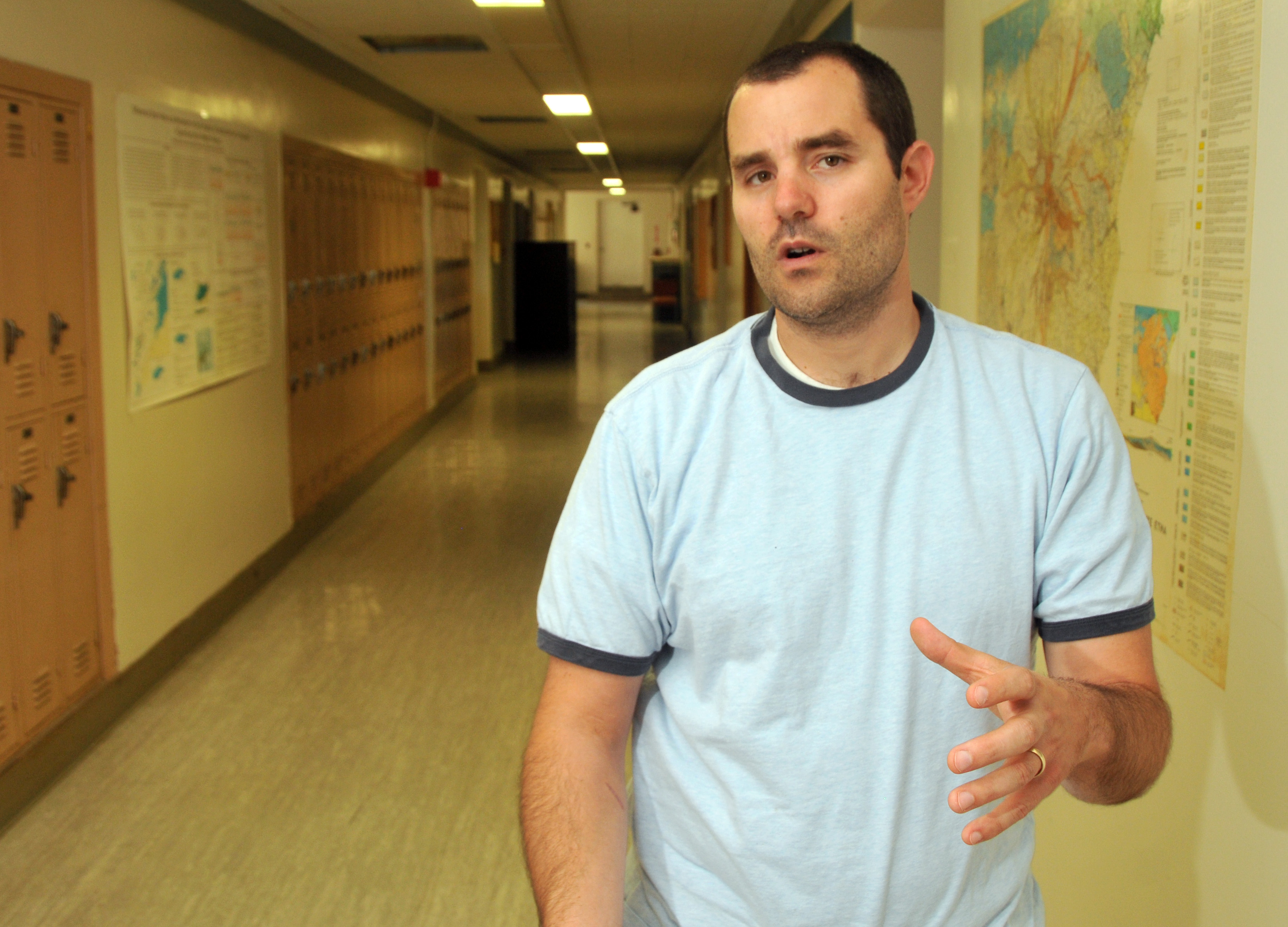 "We knew this was coming down the pike," Hofmann said, referring to Environmental Protection Agency cuts, "but the NIH?" EPA suffers the worst loss at 31 percent, and the National Institutes of Health (NIH) takes an 18 percent hit — a reduction of $5.8 billion, bringing it down to $25.9 billion — under Trump's budget. At UCSB alone, NIH grants have funded research on cancers and stem cells, bacteria and infection prevention, an insulin pill, and even a grant of $1.2 million to develop a preschool health and biology curriculum. Worldwide, it funded $32.3 billion in medical research in more than 2,500 labs at every level. Even though House Speaker Paul Ryan recently acknowledged the importance and popularity of NIH grants, proposed cuts to this agency could end up cutting operating costs for laboratories.
"What we forget," Hofmann said, "is that grants like these provide opportunities for our kids." "We rely heavily on a symbiosis with undergraduate science majors," McCauley added. "They help us keep our research in motion, and in so doing, we train them with skills that make them more employable when they graduate. Work-study funding helps many low-income science students who need to work to pay rent take a job in a research lab rather than at Home Depot."
Who Needs Arts and Humanities?
Funding currently stands at zero for the National Endowment for the Arts (NEA) and the National Endowment for the Humanities (NEH) in Trump's budget proposal. But advocates are working to get Congress to reconsider. David Marshall, executive vice chancellor for UCSB, said that during National Humanities Advocacy Day on March 14, hundreds of people made visits to Capitol Hill in support of arts funding. But the proposed budget also ends funding for foreign-language study, museums, and libraries, not to mention the Corporation for Public Broadcasting.
The Capps Center was begun with a $500,000 NEH grant, Marshall said, and went on to raise $1.5 million privately to support Professor Walter Capps's groundbreaking work integrating Vietnam veterans into classes that became a nationally recognized forum. The NEH has been instrumental in supporting the Thoreau project, a collaboration to publish 28 volumes of Thoreau's writings with historical accuracy, and UCSB's Next Generation PhD grant from the NEH that allows the school to rethink how it will prepare doctoral students for the job market. "What valuable and important projects and programs will not be supported in the future if the NEH is abolished?" Marshall asked.
One program would be the UC Student Veterans Summer Writing Workshop, which allows veterans to develop writing skills, said UCSB workshop director Susan Derwin. It not only helps veterans communicate their thoughts and experiences to civilians but also contributes to their success academically and in their future careers. Derwin believed that "shutting down the program would be a real loss to student veterans throughout the UC system."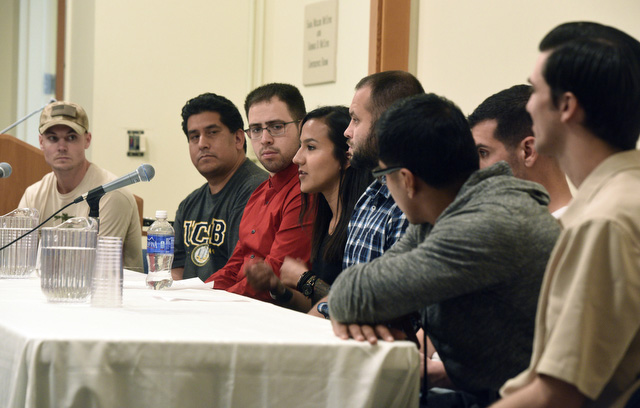 NEA has funded UCSB's Arts & Lectures (A&L) programming by $20,000-$30,000 per year to bring artists such as Bill T. Jones, Taylor Mac, Twyla Tharp, Akram Khan, and Sebastião Salgado to campus. Heather Silva, A&L's programming manager, added that they'd still venture into innovative programming without the funds, but the loss of NEA money would reduce their ability to underwrite such programs as Viva el Arte, which brings free arts performances and education to 4,000-5,000 schoolkids annually.
Why Study Climate Change?
Beyond the university cuts, Santa Barbara aquaculture will lose its resident specialist, a position that has existed here since 1976, if Sea Grants are cut, as is currently proposed in Trump's budget. Program specialist Carolynn Culver, who works with UCSB's Marine Sciences Institute and also at UC San Diego's Scripps Institute, acts as a "farm advisor," helping fisheries in the Santa Barbara Channel, including ridgeback shrimp and lobster fisheries. A UCSB team recently studied El Niño's tumultuous effects on shoreline erosion with a Sea Grant, information that can help Santa Barbara evaluate its most vulnerable places.
Sea Grants originate with NOAA, a part of the Commerce Department slated to take the worst of a 16 percent, or $1.5 billion, cut. NOAA researchers benefit from the instruments aboard NASA launches, four of which are being terminated under Trump's budget: PACE, OCO-3, DSCOVR, and CLARREO Pathfinder, most of which look at the interactions between the ocean, atmosphere, and gases — including carbon dioxide — to establish the climate record. DSCOVR monitors the solar wind to alert of potential geomagnetic storms that can disrupt power grids, telecommunications, and GPS. Vandenberg Air Force Base has launched one to three weather or environmental-monitoring satellites annually, including the predecessor OCO-2, or Orbiting Carbon Observatory, for NASA.
The satellites that register climate change — a "hoax," according to Trump — provide information that is indifferent to politics, UCSB's scientists emphasize. After studying Arctic sea ice with satellite data funded in part by NOAA and NASA, Qinghua Ding, a climate scientist with UCSB's Earth Research Institute, said that having good and consistent global observations over the next decade would be essential in determining both man-made and natural causes. In particular, he stressed, their research might not recover from cuts to the satellite program "since we have high-quality, seamless, and consistent observations of Earth's climate system since the 1980s."
The concern among the university's ocean-oriented departments is acute, pierced by the knowledge that just beyond their office windows, the Channel Islands National Marine Sanctuary — largely funded by NOAA — also faces the $250 million zeroed out in Trump's budget for "low priority" grants and programs for "coastal and marine management, research, and education." McCauley stated, "It is our living laboratory. My students use the sanctuary to test new ideas and new tools for protecting ocean biodiversity and coastal economies. Trump's proposed cuts to NOAA will make it harder for UCSB to do this kind of research here in our own ocean backyards."
Gretchen Hofmann speculated that the lack of a science advisor at the White House meant "the voices at that level just aren't there." But those voices will undoubtedly get more vocal when Congress takes Trump's wish list and translates it into dollars and cents And the suffering will spread, given what's on the table nationwide. Trump administration officials have said that more cuts — even to entitlement programs such as Social Security and Medicare — will be in the more finely tuned budget to be released mid-May.