News
ICE Ping-Pongs on Shaming S.B. Sheriff
After Apologizing, Feds Call out County Yet Again for Not Cooperating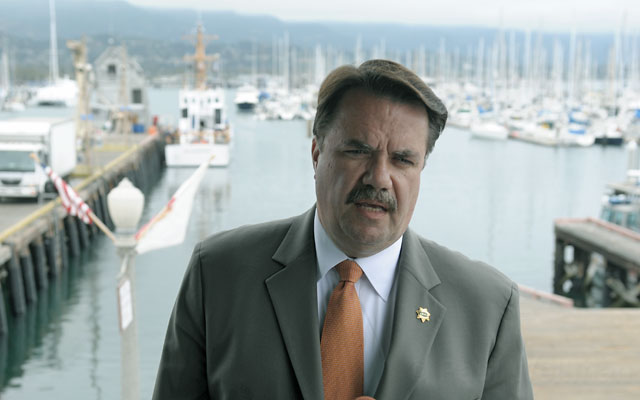 President Donald Trump's immigration initiative rollout is giving Santa Barbara County officials whiplash.
Two weeks ago, ICE (Immigration and Customs Enforcement) issued a report accusing the Santa Barbara County Sheriff's Office of "potentially endangering Americans" by releasing an inmate convicted of forgery. A few days later, ICE field director David Marin called Sheriff Bill Brown to apologize for the "error." It turned out the inmate was not from Santa Barbara.
But less than a week later, ICE besmirched Santa Barbara again. The next report, which is updated weekly, accused the county of being among the top 10 worst offenders in the country for failing to cooperate with federal law enforcement on "a routine basis" during a one-week period in early February.
"It's frustrating," Brown said Monday. "My frustration is not with the local ICE authorities. It's with the way this thing was rolled out."
Brown was much more measured in his criticism of ICE officials than his counterpart in Kern County, which was accused of being the third most uncooperative county in the country. Sheriff Donny Youngblood convened a press conference to declare the information "fake."
The confusion centers on the release of foreign-born inmates from county jails who are wanted by ICE. When ICE agents find an inmate they wish to detain ​— ​by searching through a sheriff's database ​— ​they issue what are known as "immigration detainers." They ask jail staff to hold these inmates for 48 hours beyond their release date so they have time to pick them up. But under a California law passed in 2014 ​— ​known as the TRUST (Transparency and Responsibility Using State Tools) Act ​— ​sheriffs are prohibited from holding defendants longer than their local sentence.
The ICE report functions as nothing more than a scare tactic to compel sheriffs to cooperate out of a fear of losing federal funds, argued Marisol Alarcon, an immigration attorney in Carpinteria. "It's misleading," she said. Santa Barbara County receives $1 million in funds from the federal government. Of that, Brown said, $350,000 is specifically for housing undocumented immigrants in jail.
Virginia Kice, an ICE spokesperson, explained the report lists the declined detainers that ICE agents became aware of during that week in February. "ICE can only report what we know," she said. She acknowledged criticism of the rollout but said the reports have "succeeded in focusing attention on an issue we believe is a vital importance to public safety. … It's got people talking, and that's important."
The second report stated ICE agents became aware Santa Barbara County officials "declined" 24 detainer requests. But Brown argued that's not even statistically possible. "We are the 17th most populous county in the state. If we are all doing the same thing, there is no reason we would appear on a top 10 [list]," he said. "It can't be accurate."
Exactly who these 24 inmates are and what they have been charged with is information Brown said even the local ICE agents don't have access to. "It's generated in Washington," he explained. "I think [local ICE authorities] have been as frustrated as we have been as far as this change in policy."
Though he said his frustration was not directed toward President Trump, Brown said he thought the new administration was going through "some growing pains." "There is a lot of data," he said. "All the sudden, now you have this additional mandate … They are working to get it resolved at a national level."
Matt McFarlin, president of the Deputy Sheriffs' Association, took exception to the public perception that Santa Barbara custody deputies have failed to cooperate with ICE officials. "It's not an order. It's a request," he asserted, adding, "We don't create the laws. We follow the laws."
What Brown's custody staff does ​— ​when possible ​— ​is inform ICE agents exactly when wanted inmates will be released from County Jail or are scheduled to be on the premises to get their electronic monitor removed.
While sheriff's officials stress their cooperation with ICE agents,  ​immigration activists contend the relationship has been too cozy. "When you give ICE unfettered access to the county database, they can look for anyone who is foreign born and match it up with the release date," Alarcon said. As for President Trump's immigration initiative more generally, she called it "hateful." "He doesn't quite understand the problem, and he's preying on people's fears that immigrants are here to steal people's jobs," she said. "The reality is it is the opposite."