Arts & Entertainment
BRAVO! Puts Families Inside the Sound
How the Santa Barbara Symphony and the School District Make Music Together
Saturday, April 29, at the Page Youth Center was like any other Saturday at the city's most popular destination for parents and school-age children. The parking lot overflowed with family cars, SUVs, and vans, and the bases of the ball fields were loaded by Little Leaguers. Yet something was different; there was an unusual new sound coming from inside the big main room of the recreation center. Instead of the squeaking of athletic shoes on polished wood, the steady rhythm of basketballs being dribbled, or the sporadic applause of a crowd following a close volleyball game, there was music. Classical music.
Entering through the center-left door between the bleachers, I saw a large half-circle of folding chairs set up on the court and, seated in them, close to 200 young people between the ages of 8 and 18 holding and playing musical instruments. What's more, while the majority of the spectators sat facing the action in the bleachers, just as they would at a sporting event, there were several dozen parents and siblings who had chosen seats alongside the players in this jumbo-sized orchestra. They were on the court with their children instead of cheering them on from the sidelines.
The idea for this novel approach to concert seating came from Santa Barbara Youth Symphony conductor Andrew Radford, and in between the Bach and the Beethoven, he commended those who had chosen to break the fourth wall and enter the playing space. After the traditional conductor's rite of acknowledging his section leaders and soloists, Radford spoke to the audience, thanking all the friends and family for being there and calling attention to the ones who had taken their seats in the orchestra with the students. "I call that being in the middle of the sound," he told them, "and it's something I recommend that everyone try because it's a very special experience to be inside the music." "That's why I do this," he added, raising both hands in a classic conductor's pose, "because I love to be in the middle of the sound." Maestro Radford and Marisa McLeod, the conductor of the Symphony's Junior Orchestra, then led the entire group in two short pieces to conclude the program: the "French Folk Song," immortalized by Volume 1 of the Suzuki method, and the "Ode to Joy" from Beethoven's Ninth Symphony.
Was the orchestra the best I've ever heard? No, but as anyone who has ever attended such an event will tell you, it's the desire, not the execution, that counts. As the Page Center filled with the wobbly initial bars of Beethoven, I felt something, and when the music swelled with the repetition of the "Joy" theme, that something became something more. I saw restless younger siblings sit still to listen, and proud parents gaze with keener eyes on the humble sources of Beethoven's heavenly sentiment. These families were all together in the middle of the sound, and it was clearly a moment that none of us would forget.
BRAVO! 2.0
The citywide program that brought these students and their loved ones together is part of a suite of educational efforts coproduced by the Santa Barbara Symphony, the Santa Barbara Unified School District (SBUSD), and the Santa Barbara Education Foundation. Designed to develop better musicians, better students, and better citizens, its components include the Music Van, Community Concerts at the Granada, BRAVO!, and the Symphony's Junior Orchestra and Youth Symphony. In a town such as Santa Barbara where the collective musical IQ is off the charts, these free programs are the glue that one hopes will fasten our youngest residents to the seats and potentially the stages of our most august cultural institutions. The Music Academy of the West and the Community Arts Music Association (CAMA), the S.B. Opera and S.B. Symphony, the Granada Theatre, the Lobero Theatre, and UCSB Arts & Lectures will all need an infusion of youthful interest to survive in the 21st century.
Thanks to a recent initiative led by Dr. Amy Williams, director of education and community engagement at the Santa Barbara Symphony, and Dr. Donna Ronzone, visual and performing arts director of the SBUSD, direct participation in instrumental music instruction by Santa Barbara public school students is at an all-time high, and it looks set to rise again soon. Less than a year ago, however, the whole system was in jeopardy. For a variety of reasons, the loaner instruments many of the children play were close to being taken away, and without some frenetic wheeling and dealing at the Symphony and in the schools, this glorious renaissance of public musical education might never have happened.
To begin at the beginning would involve going back to 1978 and revisiting one of the founding public gestures of 21st-century coastal California: Proposition 13. It's safe to assume that none of us want to do that. Suffice it to say that, according to a study conducted by the real estate website Trulia in November 2016, Santa Barbara occupies an impressive third place in a list ranking California municipalities with the lowest effective property tax rates. We pay just one half of one percent, a figure surpassed only by Silicon Valley's Millbrae and Palo Alto, and that puts us ahead of (or is it behind?) both Malibu and Beverly Hills. But what does that mean? Proposition 13, which limited property tax increases and value assessments for people who stay in their homes, incentivizes certain positives, such as stable communities and neighborhoods, and institutionalizes certain negatives, such as deep cuts to public school budgets, even ​— ​or especially ​— ​in areas where property values are high.
As a result of Prop. 13, funding school programs, especially in the arts, has been a major challenge ever since. For 50 years, the Santa Barbara Education Foundation has ridden herd on a pack of initiatives, public and private, that have managed to keep our public schools not only functional but flourishing. The organization lobbied successfully on behalf of parcel taxes twice, once in 2008 and then again in 2012, while suffering only one ballot box loss in spring 2011. These four-year deals helped pay for such programs as BRAVO!, the Monday and Thursday afternoon music school currently conducted at Santa Barbara Junior High. Yet despite the public support, revenue from these measures was spread thin across the system, and in its early years the total BRAVO! budget hovered at around $30,000. Music teachers had barely enough resources to keep the lights on, and participation lagged accordingly.
Private Money for the Public Good
Enter the Incredible Children's Art Network, or iCAN, a visionary program for teaching visual art and music funded by a private family foundation. Inspired by the extraordinary achievements of Venezuela's El Sistema, the progressive music education movement that produced Los Angeles Philharmonic Artistic Director Gustavo Dudamel, iCAN set up a pilot program at Franklin Elementary School in 2011. With ample resources and a dynamic young leader, Adam Johnston, the iCAN music program at its height offered three hours of after-school music instruction daily to more than 100 students between the 1st and 6th grades. When I observed and wrote about the program in June 2013, I found it to be exemplary. Student were provided with instruments free of charge. Help with homework was available on-site every afternoon, and the quality of the instruction was clearly first-rate. The organization's teaching artists in both the visual arts and music were recruited from the community, paid a living wage, and supplied with enthusiastic assistants mostly drawn from Westmont College. By 2014, the iCAN music program was ready to jump State Street, and with help from the city's Parks and Recreation Department, they opened a second music site at the Westside Neighborhood Center that year. At that time, the much larger iCAN visual arts program served 3,200 students at six Title 1 schools in Santa Barbara.
Alas, how fast things in the philanthropic world can change. Johnston decamped when his partner took a new job working for Los Angeles Mayor Eric Garcetti, and within a year, the executive director of the entire organization, Jeffry Walker, was announcing a restructuring that would hand over control of the operation to the SBUSD. Another year went by, and in June 2016, iCAN said "I can't" continue to deliver services to the community directly, and it became a granting (rather than a program-operating) foundation. The teaching artists, along with Walker, were given notice, and by September 2016, the iCAN music program was history. The title of a June 7, 2016, press release said it all: "Incredible Children's Art Network closing all programs."
In fairness to iCAN, at least two things ought to be made clear. First, in a family foundation, as in a family, expenditures that don't pencil out can't be rescued by wringing hands. In other words, sometimes there's only so much you can do. Second, as is the case with all of the wonderful foundations that make Santa Barbara such a rich and rewarding community to live in, the goal is ordinarily to initiate positive change rather than to underwrite public programs in perpetuity. Every person I talked to for this story made the same request ​— ​"Please don't make iCAN sound bad." ​— ​and I see their point, because without what iCAN started, the amazing effort that came next would not have been possible.
Rally Time
While researching this story, I had the good fortune to attend an event sponsored by the Santa Barbara County Alliance for Arts Education at the Community Arts Workshop on Garden Street. Both Ronzone and Williams were there, and by telling the story of how the Santa Barbara Symphony got involved with BRAVO! and salvaged the work done by iCAN, they gave attendees a master class in negotiating school district bureaucracy. Their story begins in June 2016, and it's a thriller. Here it is from Williams's perspective:
"We saw the need at the Symphony. We had been receiving students out of this program [iCAN] into the Youth Symphony, so we knew the value of what they were doing, and we could see what might happen if it stopped. One evening I was in the Vons on Turnpike, and a child walked up to my husband in the deli section and said, 'You are married to Amy; what's going to happen to my cello?' And my husband turned to me and he said, 'Amy, what's going to happen to this kid's cello?' The conversation we had that night sent me to Donna, and I said to her, 'You're going to be seeing this massive bump of students [in BRAVO!, the remaining publicly funded music instruction program]. What are you going to do?' And she said they were ready to take them on."
'The arts experience will provide a Foundation that can launch these students to another level.'—Dr. Amy Williams
Williams was impressed by the can-do attitude but was skeptical about the practicality of BRAVO! absorbing so many new students. She continued the story: "You have to understand this about teachers: They are phenomenal at doing a job with just the resources at hand. At the beginning of my first meeting with the music teachers, I asked them what they needed, and I think the answer was something like '25 pencils.' And that made me change my question. Instead of asking them what they needed, I started to ask, 'What do you dream of doing?' Gradually, they opened up, and they said, 'Well, an 8-1 student-to-teacher ratio would help, and we have students in 4th grade who are starting violin but they don't have an after-school program, so we could use one of those.'"
According to Williams, "These conversations took a while; we had many meetings." In those meetings, she found out it was not just that the music teachers needed resources; they also needed site coordinators. They were operating without on-site support, so, literally, if a kid needed a Band-Aid, the instructor would have a student conduct the orchestra while he or she would go and get that Band-Aid. At that point, because the district was paying for the whole program, there wasn't enough money for on-site support. So the Symphony came in and raised funds. Between the beginning of June 2016 and the end of August, they raised $91,000, in the process turning a $40,000 program into a $130,000 program. Williams devoted her every waking hour to creating the best possible music education program, and with this new influx of resources, including a major contribution from the S.B. Bowl Foundation, she started looking around to see what else could be done. That's when the foundation established by iCAN came back into the picture. Williams said, "We realized that there were all these trained teaching artists available who had been with iCAN. These were highly qualified teachers that the students already knew, and they were bilingual, so we hired them."
Get on the Bus
As is the case with any citywide program, logistics were a special challenge. Some students using the regular bus routes were riding around for up to an hour after school just to get to Santa Barbara Junior High for their lessons. Williams and Ronzone went to work with the transport company and got five buses designated just for BRAVO!, but that triggered another glitch. Many of the students in BRAVO! were also enrolled in A-OK, a five-day-a-week, after-school child-care program. Taking these students out of A-OK, even for just two days a week, would have significantly affected that program's funding. The solution? On the two days a week that they have BRAVO!, students sign into A-OK, take the bus to BRAVO!, and then take the bus back at the end of the day to sign out of A-OK. This way, A-OK keeps its funding and the students get their music program.
For Williams, the final push came in August, when it was still not clear that the Symphony was ready to go forward with the program. She described the process like this: "When I set the first deadline for August 1, I already knew we weren't going to make it. The board kept pushing back, saying they needed more time to figure things out, so I moved it to August 5 and then to August 15. At that point, I had to say, 'Look, if you can't get fully behind this by August 15, I can't do it.' When I pushed back, they were surprised at first. I literally got the word that we were a go at 5 p.m. on August 15, 2016. That's how down to the wire this was. It was truly fast and furious, and we still had a pretty wild first month. We had no site coordinator at that point."
The Community Steps Forward
For Ronzone, the experience was eye-opening. As a former principal and a longtime SBUSD administrator, she enjoyed a privileged perspective on the Symphony's fast track to supporting BRAVO!, and she summed up her take this way: "It's very common in the school district to operate based on the status quo. We tend to do things the way they have always been done. So when Amy asked what we could do better, that was already a step out of that pattern. And now, when I look at what happened, I realize that we all knew how valuable these programs were to the children and to the district. When we found out somewhat abruptly that iCAN was ending, rather than just crying and having kids say, 'They're taking my violin away,' we had to find a route to go forward. How do we make this work? These kids are invested in this, and it's valuable, and we have to maintain it. What was wonderful was that we found there were people in town who could do this, that we had the right personnel right under our nose. And then it was like, how can we not make this work? Success breeds success, and the community steps forward."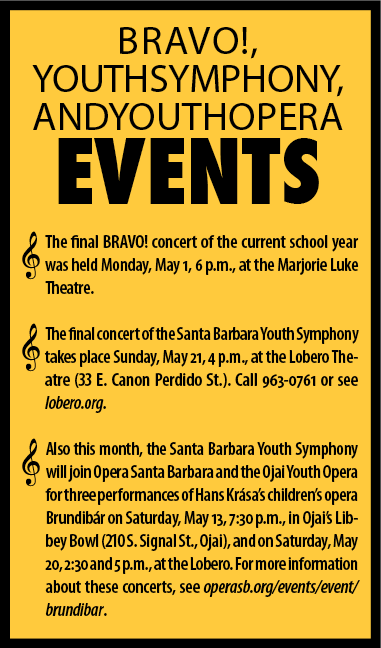 For Williams, it all comes back to one basic principle: If you want to make a difference, you start by asking questions, and you end by answering them. "Collaboration is communication," she said, "and not just with teachers but with families who need to learn how to advocate for their children through the arts." She related an interesting story in this regard: "I've had a parent come to me with this question: 'I understand soccer, and I have a violinist. What do I do?'" And, like Maestro Radford with his seating plan, she's prepared to answer that person. "The arts experience will provide a foundation that can launch these students to another level," she said, and as they take their places alongside their children inside the sound of this emerging youth orchestra, Santa Barbara families are beginning to imagine what that future might be.