Society Matters
SEE International Hosts Talk and Reception with Dr. Helena Ndume
Namibia's Amazing Ophthalmologist Gives Inspiring Talk at The Lobero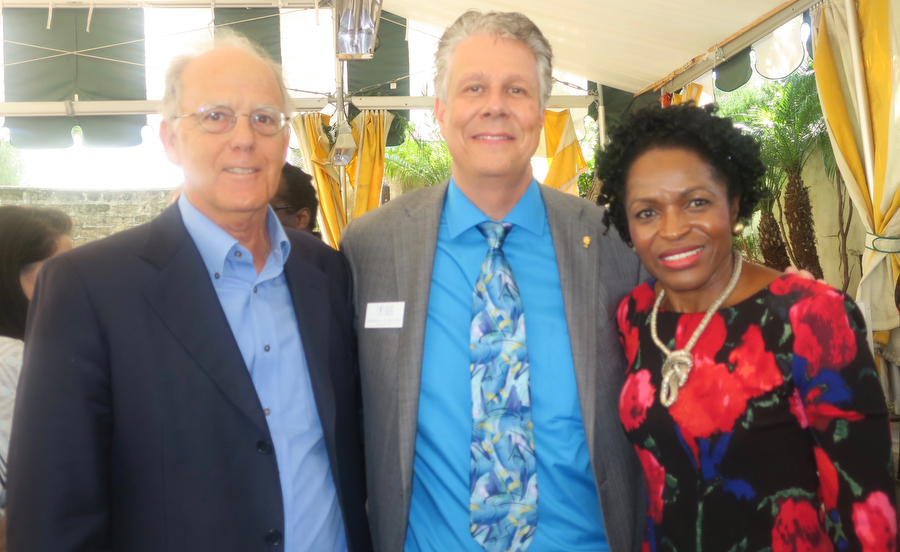 Thanks to SEE International, on April 29, about 400 guests got to hear Dr. Helena Ndume's incredible tale of going from hardship as a youth in Africa to becoming an ophthalmologist who has performed more than 35,000 sight-restoring surgeries over the past 30 years in Namibia.
Since 1997, she has worked with Goleta-based SEE International, which has provided volunteer ophthalmologists, equipment and supplies for the clinics where she works. In 2015, Ndume received the first ever Nelson Mandela Prize from the United Nations General Assembly, which is awarded to someone who has dedicated his or her life to the service of humanity.
When Namibia was under the brutal apartheid government of South Africa, Ndume, 15, fled with three friends to refugee camps in Angola and Zambia and later attended secondary school in The Gambia. She then received a scholarship to study in Germany, where an advisor persuaded her to give up her first choice of studying fashion in favor of her second choice, medicine, because of the needs of her home country. After becoming an ophthalmologist, she practiced for a brief period in India to gain experience, and then returned to the newly-independent Namibia.
Ndume works for the government of Namibia at Windhoek Central Hospital and at clinics throughout the country. The government buses people in from more remote locations to the hospital and clinics and provides accommodations. However, budgetary constraints in this very poor country ravaged by HIV prevents adequate funding for ophthalmologists, equipment and supplies.
Enter SEE International, a nonprofit that sends volunteer surgical teams to restore sight, typically through cataract removal, to underserved populations worldwide, along with equipment and supplies, including the interocular lenses used in cataract surgery. In recent years, SEE has done two expeditions per year in Namibia, serving 800 to 1,000 patients per year.
Ndume is every bit as sweet and charming as she is brilliant and dedicated. Her warmth and positive energy are as contagious as her story is inspiring. After a fascinating talk and Q&A lead by Mark Sylvester, about 150 guests adjourned to the Lobero Courtyard for a VIP reception where they got to meet and talk one-on-one with this amazing doctor and humanitarian.
When Ndume was studying in The Gambia, she was taken in by a generous family who has since relocated to the United States. They had lost touch with one another years ago, but the family read about Ndume in a recent National Geographic story and contacted SEE International, which flew the family to Santa Barbara where there was a heartwarming reunion.
Over the past 43 years, SEE International has restored sight to half a million people worldwide and provided vision care to more than 3.8 million people in more than 80 countries. This year, SEE plans to restore sight to 20,000 individuals in 40 countries. Much work lies ahead — there are an estimated 31 million blind people in the world, 48% of whom are blind because of cataracts. SEE's volunteer eye surgeons pay their own travel expenses, most supplies are donated, and SEE keeps a lean staff. As a result, for every $50 SEE receives in donations, it can perform a sight-restoring surgery.
SEE also operates here in Santa Barbara, providing free eye exams, medicine, and surgeries to the uninsured. Free eyeglasses are supplied by Goleta Valley Optical. Last year, this program served more than 1,800 patients.
For more information about SEE International, go to seeintl.org
Send event invites to Gail at society@independent.com.