News
Dog Mauling Victim Speaks Out
Rema Rainsford-Hunt Is On the Mend and On a Mission
Rema Rainsford-Hunt still can't sleep at night. Every few hours she's startled awake by visions of the Thursday afternoon a year and a half ago when she was very nearly mauled to death by three large dogs. She meets regularly with a PTSD counselor, but the nightmares persist. Her days are hard, too. She's in constant discomfort. Mangled nerve endings send shooting pain through her feet and legs, now crisscrossed with pink and purple scars. "I always thought my best asset was my legs," said Rainsford-Hunt, shaking her head. "Now, to me, they look like chop suey."
In the days and weeks after the attack on November 5, 2015, Rainsford-Hunt actively avoided attention as a victim of a violent incident that grabbed headlines and shocked the dog-loving sensibilities of the City of Santa Barbara. It was enough to anonymously endure the medical procedures, court hearings, and public scrutiny ― which at times placed the blame for the attack squarely on her ― that followed. Now, Rainsford-Hunt is speaking publicly for the first time to set the record straight about that day and to help prevent another attack. "I want to finally say what really happened," she said. "And I don't want this to happen to anybody else."
Born and raised in Santa Barbara, Rainsford-Hunt operates a nail salon in Montecito and a dog-training business, Specialized K9 Services, with her husband. They've owned a German shepherd, Belgian malinoi, and Rottweiler. Needless to say, Rainsford-Hunt is comfortable around big dogs.
Out of the blue in late October, Rainsford-Hunt received a text message from an old friend, Joseph Martinez. He asked her to look after his five dogs while he vacationed in Las Vegas. She agreed, and they arranged for a quick meet-and-greet with the dogs ― a combination of pure breed old English bulldogs and bulldog mixes weighing up to 120 pounds ― at his house on Dibblee Avenue, where Martinez gave her feeding and toilet instructions. (Police initially described the pets as pit bulls.)
Right away, Rainsford-Hunt observed Martinez had little control over his animals. They ignored his commands and ran amok. But they didn't act aggressively, and Martinez said they'd never bitten anyone. Rainsford-Hunt wasn't deterred. She was confident she could handle them, and she trusted Martinez wouldn't put her in harm's way. "Joe was my friend," she said. "If he'd been honest about their history, I would have of course said no."
Rainsford-Hunt was attacked within the first hour of her first visit. Two of the dogs lay in the living room while the three others, blocked by a piece of particle board in the kitchen doorway, roamed the rear of the house and its backyard. Rainsford-Hunt opened the front door to let the two dogs in the living room out to the front yard to go to the bathroom. But they didn't budge, so Rainsford-Hunt walked outside onto the porch, hoping they'd follow.
Immediately, one of the dogs started nipping at her feet. "I ignored it," she said. "I thought he has just playing." The other dog soon joined in. Rainsford-Hunt stood still and remained calm, but they didn't stop. "Then the bite came." Then another, and another. Now the dogs were snapping, snarling, and lunging. They grabbed and twisted mouthfuls of flesh on her feet, arms, legs, and buttocks. One of the three other dogs crashed through the particle board barricade and joined the attack. Rainsford-Hunt screamed for help. A neighbor across the street peeked out her front door then darted back inside to call 9-1-1.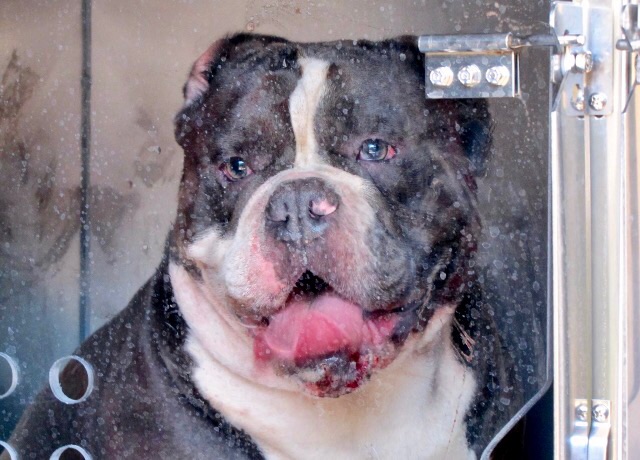 Rainsford-Hunt was being pushed and jostled so violently that she toppled over the porch railing and into the yard, where she was immediately set upon again. By this point she'd lost a lot of blood. "I was getting too tired to fight." Another neighbor rushed over and tried to distract the dogs with a broom. "Then I heard someone say, 'Come to the gate now!'" She stood up, but fell. "I told myself: 'You gotta do it, you gotta do it.'"
Rainsford-Hunt doesn't remember reaching the gate, where she promptly passed out and was pulled to safety. But she does recall waking up on the pavement and grabbing the pant leg of a police officer standing over her with his gun trained on the three frenzied dogs as they tried to break through the fence. "Don't worry," he said. "You're safe. They can't get you anymore."
Rainsford-Hunt called Martinez from the ambulance on her way to the hospital. He was still on the road to Las Vegas. His friends asked him if they should turn the car around. No, he said, there was nothing he could do. That was Thursday. Martinez didn't contact Rainsford-Hunt again until Saturday, when he asked her to check on his dogs, named Sterling, Annabelle, Big Bubba, Queen Bea, and Hendrick, who had been placed in quarantine at a county animal shelter. "I'm a bundle of nerves and having trouble sleeping because I'm really worried about the dogs," he texted her. Rainsford-Hunt ignored the request. "It was always about the dogs," she said. "I thought he was my friend."
Doctors used over 100 surgical staples to piece Rainsford-Hunt back together. "I couldn't even count the stitches," she said. She also received a blood transfusion and a second round of staples after her wounds reopened. Later, Rainsford-Hunt learned that as she was being loaded into the ambulance, Martinez's uncle arrived at the home, where he lived with his nephew. He showed police officers scars on his arms from bites by the dogs just a month prior.
The last time Rainsford-Hunt saw Martinez was during the administrative police hearing at which case officer Sgt. Riley Harwood declared Sterling, Annabelle, and Big Bubba vicious and ordered they be euthanized. Queen Bea and Hendrick had hidden in the backyard during the mauling. "The testimony provided by the witnesses was very, very compelling as to the severity and ferociousness of the attack, and the fear that other people have of these dogs," Harwood explained at the time, noting the dogs' history of biting. He cited testimony from a neighbor who fended off Sterling with his lawnmower when the dog escaped Martinez's yard. "Had [Rainsford-Hunt] not been rescued by her neighbors, she would have been killed," Harwood said. Queen Bea and Hendrick were returned to Martinez. His Dibblee Avenue neighbors reportedly remain troubled by their unruly behavior and incessant barking.
Martinez appealed the order in court. He claimed Rainsford-Hunt "provoked" his "loving" pets by trying to push them into the house with a gardening stool. Judge Colleen Sterne found no evidence of this and upheld Harwood's decision.
Rainsford-Hunt ultimately sued Martinez but decided to settle out of court for a sum that covered her medical bills and little else. The process was painful and draining and put stress on her relationship with her husband. "He's been my rock and been by my side," she said, "but he was tired of seeing me cry every day." Rainsford-Hunt doesn't blame the dogs for what happened. She's an animal lover, having played polo for years, and knows a pet's behavior is merely a reflection of its training. "I blame the owner," she said.
Rainsford-Hunt was confined to a wheelchair for weeks after the attack and used crutches for many more months after that. She still gets around with the aid of a walking stick, and her feet remain so swollen she can't wear shoes. Her active lifestyle of camping and hiking is no more. "I'm lucky if I can walk a few blocks, but I try," she said.
Rainsford-Hunt expressed immense gratitude for the friends and family who've helped her through her recovery. Loyal customers kept her nail salon afloat, and a coworker even paid its rent for a month. She also thanked the police and animal control officers who saved her. "Every one of them was absolutely amazing," she said.
Now, Rainsford-Hunt and her husband are tapping into their 20 years' worth of expertise on canines and her recent experience to launch an education effort on the proper selection, management, and training of dogs. They want to teach individuals and public agencies about socialization and safety techniques, as well as ways to manage aggression. "Many times people bring home the wrong dog and are at an immediate disadvantage in regard to aggression issues," she said. "I just really want to stop this from happening again."
You can reach Rainsford-Hunt's Specialized K9 Services at (805) 565-8942. For more information and local resources on dog behavior, training, and adoption, visit the websites of the Santa Barbara Humane Society,DAWG Adoption and Welfare Group, and C.A.R.E.4Paws. You can also check out the offerings of Nathan Woods – Professional Dog Trainer, Camp Canine, and K-Nine Solutions.