Chicago occupies a special place in the history of American music — or, more truthfully, it holds several such places. The home of blues is also the birthplace of house music, and it commands, through the Lyric Opera and Symphony Orchestra, a significant position in the history of classical music. This season, under the music direction of pianist/composer Vijay Iyer, the Ojai Music Festival will celebrate what is perhaps Chicago's most distinctive musical movement — the development, beginning in the 1960s, of an African-American experimental music tradition centered on the collective known as the Association for the Advancement of Creative Musicians (AACM). Rooted in the jazz scene of the city's South Side yet focused with fierce determination on transcending conventional genre categories, the AACM produced some of the most important musicians of the late 20th century, several of whom will be in attendance and performing, including Wadada Leo Smith, Muhal Richard Abrams, Roscoe Mitchell, and George E. Lewis. Leavened by other elements of Iyer's broad range of musical interests — such as violinist Jennifer Koh, who will present her latest Bach and Beyond program as a Late Night feature on Friday, and the contemporary music group ICE, which will perform Stravinsky's Rite of Spring on Saturday on a program with Iyer's piece RADHE RADHE: Rites of Holi — the festival will resound with the distinctive, raucous, and unpredictable beauty of what has been famously called "great black music, ancient to the future."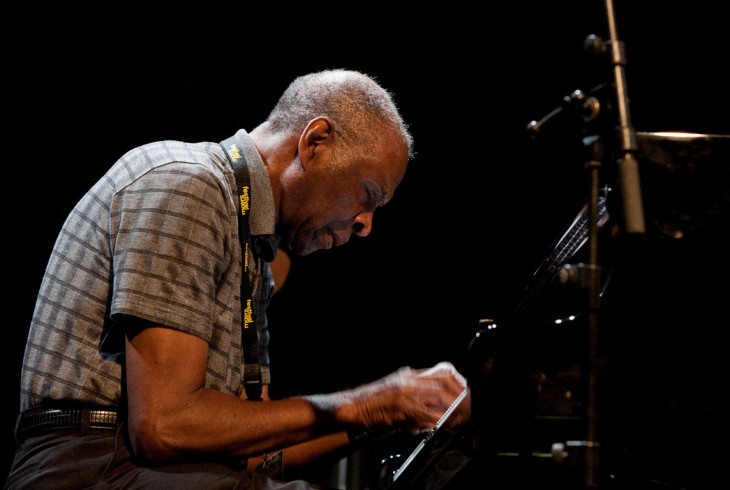 For Iyer, who is both a longtime fan of the AACM and a serious scholar of jazz history, the Chicago creative music scene represents a distillation of the approaches to improvisation that have formed him as an artist. As the festival progresses, a portrait will emerge of how this particular artist's aesthetic evolved. Thursday's program begins the process with premieres, one an American Premiere and the other a World Premiere, of new major works from Iyer. Emergence, the American Premiere, was written for piano trio and orchestra and will be conducted by Stephen Schick with Iyer at the piano. The World Premiere, Trouble, features Koh on violin with Schick conducting the same orchestra. Following these two performances, Iyer will return to the stage and the piano for a session of improvisation with trumpeter Smith, drawing on music the duo released as A Cosmic Rhythm with Each Stroke.
Smith, one of the original members of the AACM circa 1967, may be the most prolific artist of this highly prolific cohort. He has performed and released an astonishing range of high-quality music since the late 1960s and was an influential faculty member at Cal Arts from 1993 until 2014. Smith enjoyed a period of unprecedented creative productivity in the late 1990s and 2000s, resulting in dozens of outstanding compositions including the monumental Ten Freedom Summers, a piece dedicated to various figures of the civil rights movement that was nominated for the Pulitzer Prize for Music in 2013.
Smith and Iyer toured Europe as a duo early in 2017. I asked Smith, who has played with a galaxy of prominent improvisers — from guitarists Derek Bailey and Henry Kaiser to pianist Matthew Shipp and composer/saxophonist Anthony Braxton — how he chooses the musicians he works with, and the answer was thorough and enlightening: "I look for artists who are already operating in a special way and who have established a clear identity," he said. "They have succeeded in developing their own sense of composition and performance, and they have shown that they can create and control an ensemble. Someone who's done all these things is someone who I can collaborate with."
Smith described Iyer as "creative and sincere" and declared that he "enjoyed every moment" of their work together, both on tour and in the studio. "Vijay is so generous," said Smith. "He constantly collects colleagues," which is a perfect description of the kind of artist who does well as music director of the Ojai Festival.
Another supplier of several big pieces of the Ojai puzzle this year is composer, scholar, inventor, and trombonist George E. Lewis. A distinguished music theorist and historian, Lewis holds the Edwin H. Case professorship of American Music at Columbia University and is the author of several books including A Power Stronger Than Itself: The AACM and American Experimental Music (2008), which won the American Book Award. Lewis has composed an opera based on the conclusion of that book called Afterword, and it will get its West Coast premiere on Friday evening's program. Lewis's work joins Jeremy Denk's The Classical Style: An Opera (of Sorts), which had its world premiere at the Ojai fest in 2014, in an emerging genre of new operas about music history in its social context.
When he was still in his early twenties, Lewis burst onto the Chicago scene as both a collaborator and as an important solo artist, demonstrating extraordinary virtuosity on his instrument and a remarkably advanced musical sensibility. He soon showed himself to be as idiosyncratic a polymath as anyone in the AACM, a group that prided itself on self-determination and cultural scope. Even as he continued to play and record groundbreaking music, Lewis earned a degree in philosophy from Yale and began conducting research on computers and music at the Institute for Research and Coordination in Acoustics/Music in Paris. A 2002 MacArthur Fellow with decades of university teaching experience, Lewis brought the full force of his training to bear in his book, A Power Stronger Than Itself, which tells the definitive story of the social movement that found its greatest expression in the forming of the AACM. Years of archival research and more than 100 interviews, combined with access to a library of tapes documenting the meetings that resulted in the formation of the group, gave Lewis the ingredients he needed to compose this highly readable and conceptually challenging account of musicians coming together to act as forces for social change. It's a story with ramifications that extend far beyond jazz or the experimental music scene, and that contains important lessons for the future about creative self-determination and cultural agency.
The Afterword section of the book is a tapestry of quotations from the many interviews that Lewis conducted, and Afterword: An Opera recycles these fragments as lyrics and gestures in what Lewis refers to as a bildungsoper. This coinage is based on the literary term Bildungsroman, defined as a novel narrating the development of a young man from an outsider into someone who lives within and embraces the dominant cultural values of his society. The reference emphasizes what Lewis sees as most important about the formation of the AACM, namely the way that it allowed these musicians to control their own destinies and enter and embrace a culture of their own making. Lewis is clearly fascinated by the tone and ambition of this social experiment, saying that in the tapes of their early organizational meetings, "they spoke in a courtly way. … There was no one around except them, and as a result, the conversation was not about fighting the racist society but instead about finding a way through music to the self."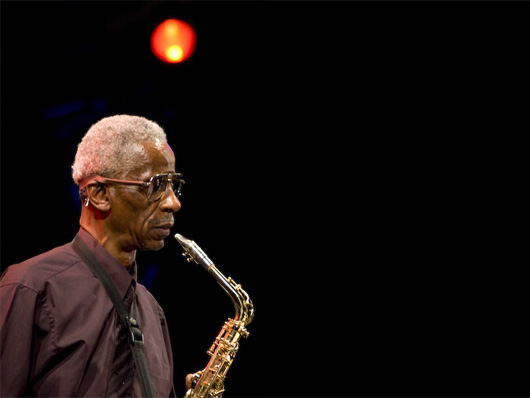 Like the 19th-century Greeks, who sought to revive links to their ancient heritage as a path to national identity and liberation, or the Irish, who rediscovered and translated early Irish folklore and founded the Abbey in Dublin as a national theater in the service of their drive for independence from the British empire, these African-American artists on the South Side of Chicago in the 1960s found new sources of dignity and opened creative pathways by embracing the full extent of their ethnic American and African diaspora heritage. When Lewis joins original founding AACM members Roscoe Mitchell and Muhal Richard Abrams on Sunday morning in Ojai, The Trio, as their group is called, will establish a clear channel of communication direct to the spirit of that founding period. It would be a superficial reading of this year's Ojai Festival program to reduce it to one "featuring Chicago free jazz," no matter how expansively one defines the latter term. It's more that this is another year in which Ojai explores music's capacity to change lives and create new communities.
411
The Ojai Music Festival runs Thursday-Sunday, June 8-11, at various locations in Ojai, but primarily at the Libbey Bowl (210 S. Signal St., Ojai). For tickets and information, visit ojaifestival.org or call 646-2053.