Voices
Paris Is Unstoppable
International and State Efforts to Reduce Greenhouse Gases Continue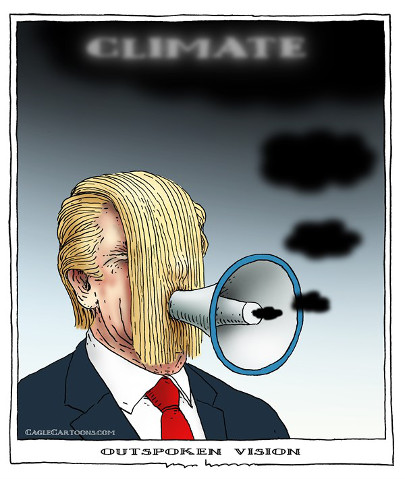 The 195 countries that produce 98 percent of global greenhouse gas emissions were party to the Paris Agreement. All these countries pledged to reduce their emissions in this unprecedented international agreement. That essential first step toward solving the climate crisis was taken in 2015.
Now President Trump has announced that he is withdrawing the U.S. from the Paris climate agreement. Does this mean that these international efforts to reduce emissions will be abandoned?
On the contrary, the multifaceted, global clean energy revolution is unstoppable. This movement still includes almost every nation, plus businesses and financial institutions, religious leaders and faith groups, cities and states, and nonprofits and activist groups.
For example, there is a bipartisan effort in the U.S. Congress called the Climate Solutions Caucus. The caucus resulted from the efforts of Jay Butera, a leader in the nonpartisan Citizens Climate Lobby, and Representative Ted Deutch, a Florida Democrat. In 2013 they imagined creating a bipartisan caucus to focus on climate solutions.
They knew that South Florida's mayors and county leaders needed help because they were already dealing with the impacts of climate change. Some towns had raised their roads and moved wells miles inland to escape seawater intrusion. In other places, seawater poured onto the streets at every high tide.
They found that congressional staff members in Washington, D.C., were unaware of these alarming impacts. For two years, Butera, Duetch, and Citizens Climate Lobby volunteers worked to address this disconnect. They reached out to mayors, county commissioners, presidents of Chambers of Commerce, state representatives, and university presidents across South Florida to sign a letter asking Congress to act on climate change.
Citizens lobbying made a difference. In 2016 the bipartisan Climate Solutions Caucus was launched — by rule it includes an equal number of Republicans and Democrats. The first Republican to step forward was Representative Carlos Curbelo. In February, he joined Deutch to file the paperwork for the Climate Solutions Caucus.
The Caucus has now grown to 40 members, 20 Republicans and 20 Democrats including our 24th Congressional District Representative, Salud Carbajal. The mission of the Climate Solutions Caucus is "to educate members on economically viable options to reduce climate risk and to explore bipartisan policy options that address the impacts, causes, and challenges of our changing climate."
The nonpartisan Citizens Climate Lobby (CCL) supports the mission of the Climate Solutions Caucus because our goal is to build the national political will for climate solutions by educating legislators, community leaders, and neighbors. Founded in 2007, CCL is a volunteer-based organization with members in all 435 Congressional Districts.
We lobby for national carbon fee-and-dividend legislation in the U.S. The fee would be placed on carbon-based fuels at the source — the mine, wellhead, or port of entry. This fee would start low and increase annually at a predictable rate. All the money collected would be returned to American households equally on a per-capita basis. A border adjustment would ensure fair trade and incentivize other countries to adopt similar legislation.
Trump claims that our economy would be hurt by limiting fossil-fuel use, however a CCL-commissioned independent economic study shows that, in 10 years, this policy would:
• Create 2.1 million jobs.
• Add between $70 billion and $85 billion to our GDP.
• Reduce U.S. CO2 emissions by 33 percent.
• Save 13,000 lives annually due to reduced air pollution.
Trump also claims that working families would be hurt by limiting fossil-fuel use, however a CCL-commissioned working paper indicates that the financial impacts of this policy nationally and in our Congressional District would be fair and equitable. For example, the paper reports that 94 percent of low-income households and 85 percent of moderate-income households in our District would experience a net financial benefit from this policy.
In mid-June, the Citizens Climate Lobby will hold its annual conference and lobby day in Washington, D.C. Members from Santa Barbara and San Luis Obispo will be among the 1,200 CCL volunteers from around the country who will meet with all 535 members of Congress to tell them about the benefits of carbon fee-and-dividend legislation.
Will the U.S. Congress take action on climate policy? Jay Butera reflects the belief of Citizens Climate Lobby volunteers when he says, "If the American people demand action on climate from Congress, there's no doubt that it will happen."
John D. Kelley is a member of the Santa Barbara Chapter of the Citizens Climate Lobby.