Bottles & Barrels
Hidden Terroir at JCR Vineyard
Pinot Noir and Chardonnay Thrive in Bucolic Canyon off Jalama Road
I first discovered the rural wonders of Jalama Cañon Ranch almost a decade ago. I was searching for a place to host my good buddy's bachelor party and found a private ranch for rent with cabins, big barbecue, horseshoe pits, and trails that traversed about a thousand acres of mountainous, oak-studded terrain off Jalama Road near Highway 1. Only when our crew rolled in did I notice the spindly grapevines clinging to a steep hillside, and my fascination deepened.
Earlier this year, I returned to the ranch to meet with co-owner Wayne Siemens, one of Santa Barbara's self-made developer kings, and General Manager Kiah Jordan, who's been Siemens's right-hand man for a dozen years. Though Jalama Cañon Ranch doesn't really host the sort of rough-and-tumble parties that I throw anymore — it's mainly for upscale weddings now — Siemens and Jordan are very proud of the wines that have emerged from those grapevines.
Bottling under the JCR Vineyard brand, they release a smattering of pinot noirs and one chardonnay each vintage (plus a rosé in 2016) — altogether about 700 or so cases a year. It's all grown on the five and a half acres of south-facing hillside that overlooks the cabins, roving goats, and wooden barn of the property's central valley. Located about five miles due north of Point Conception and to the southwest of the already very coastal Sta. Rita Hills appellation, the vineyard enjoys a climate of its very own. "All of the terroir is so unique," said Jordan, explaining that it gets both cooler and hotter than a typical day in the Sta. Rita Hills. "We have more extremes."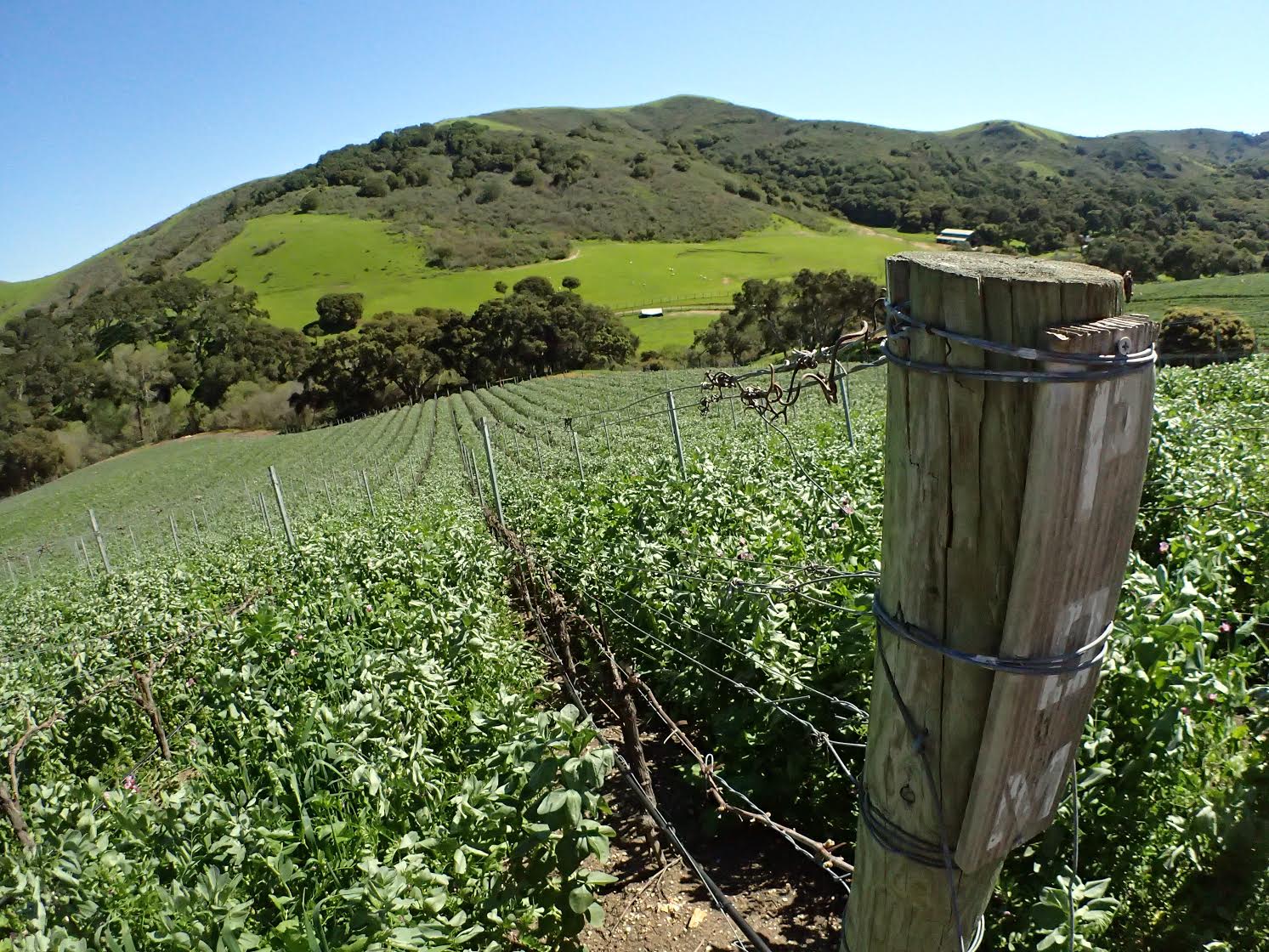 The property's hallmark, though, would be the white-flecked, limestone-laden soils. Siemens recalls when the region's vineyard guru, Jeff Newton of Coastal Vineyard Care Associates, first came to look at the property, soon after Siemens and his longtime business partner, Dave Grotenhuis, bought it in 2004. "You know, Wayne," Siemens remembers Newton saying, "everything here is suitably crappy soil for wine."
In fact, the ranch was even permitted for a diatomaceous earth quarry on the very hillside where they decided to plant grapes, which they did in 2008 with the help of Newton as well as Mark Cargasacchi, who farms the nearby Jalama Vineyard. Chad Melville handled the first few vintages and now his former assistant, Alison Thomson, is in charge of winemaking, which she does in the Lompoc Wine Ghetto, where tastings are offered by appointment.
Having grown up the son of a cotton, potato, and table grape grower in Bakersfield, Siemens knew a little bit about farming before attending college at Westmont, where he played baseball. But after breaking his tailbone, he decided to go into real estate as a graduate student at UCLA. Against most advice, he started developing apartments in the competitive Santa Barbara market in 1972, founding Santa Barbara Capital with Grotenhuis, also a Westmont grad.
"I just didn't know any better," said Siemens of his early days. "We had a lot more hustle than anyone else." Today, Santa Barbara Capital owns residential and commercial properties from Goleta and Camarillo to Reno, St. Louis, and Oklahoma.
He's watched Santa Barbara's wine country evolve over the years, being friendly with pioneers like Richard Sanford. But he's not the typical mogul who wanted a glory wine project. "They made us a great offer," said the shrewd, investment-minded Siemens of the previous owners, "and we got into the farming business." The property also runs cattle — which is more the domain of Grotenhuis — as well as goats, which they also sell. "It's a lot of fun for Kiah and me," said Siemens, "and Dave gets a modest kick out of it."
After Siemens returned to town for other business — at age 76, he hasn't stopped making deals — Jordan took me up to the vineyard, where sharp white limestone shards twinkled in the sun. We then drove up to the rest of the property, a massive bowl that is home to seasonal ponds, foxes, cougars, kestrels, and more, rising up toward a mountaintop forest thick with oak and fir trees. With the proper infrastructure work, there's plenty more room to plant vines up there without altering the property's wild nature much at all. It's actually for sale, as well, listed at $6 million.
Until that happens, Jordan is content with selling the small amount they make each year. In bottles hand-dipped in wax and wrapped in labels that subtly display the script of the original government land grant deed to José Antonio de la Guerra, the wines from this tucked-away property are singular in style and yet beautifully approachable, much like Jalama Cañon Ranch itself.
See jcrvineyard.com.