Theater
On the Verge Summer Rep
Community Arts Workshop Hosts Innovative Summer Theater Festival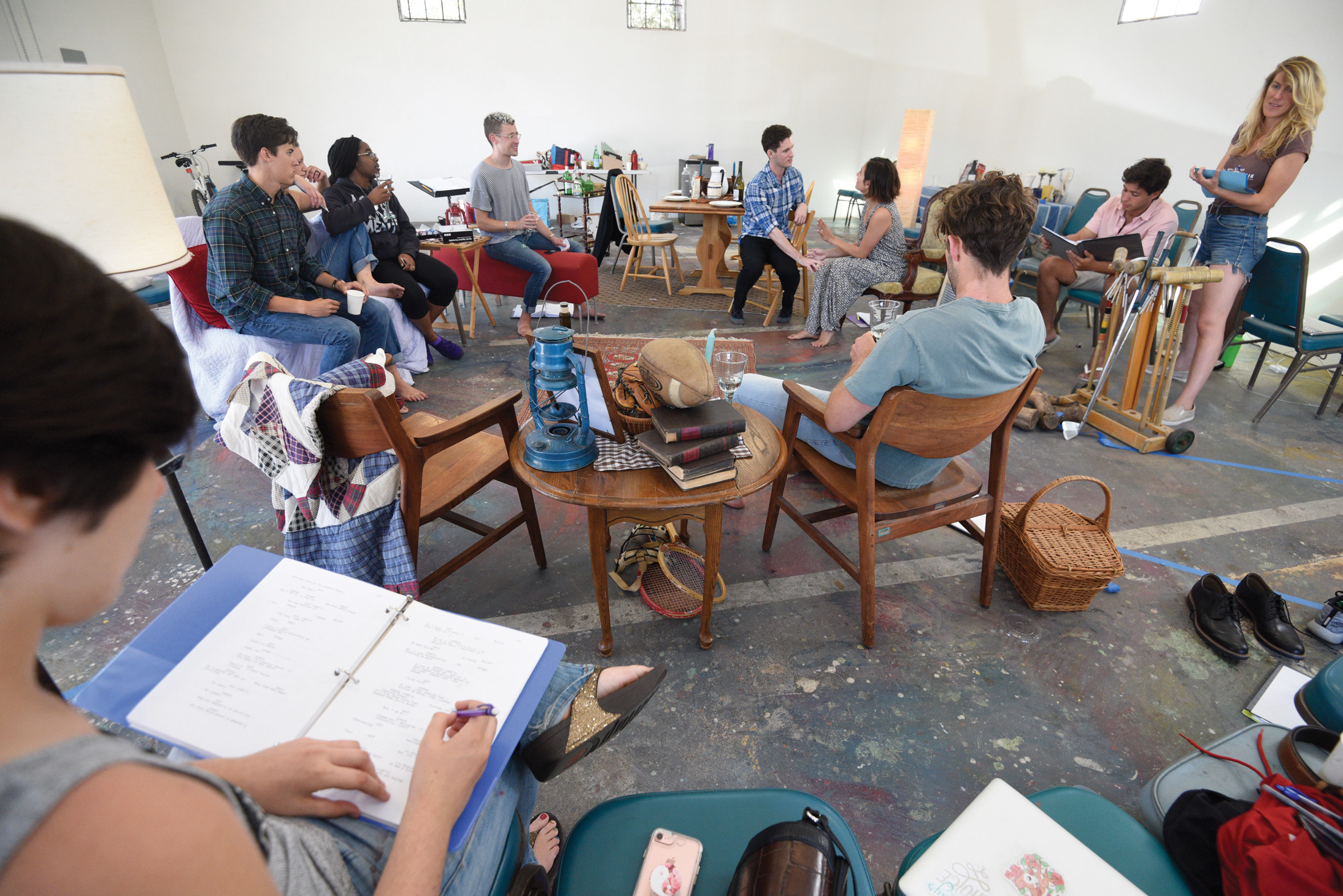 In April 2014, when the City of Santa Barbara leased 631 Garden Street to an organization known as the Santa Barbara Arts Collaborative, the only certain tenant for the former motor pool's rugged, raw space was the Solstice Parade, which had been using the site to build and stage floats for a number of years. Three years later, the Community Arts Workshop (CAW) has acquired a long list of happy users that includes Santa Barbara High's Visual Arts & Design Academy, the Lit Moon Theatre Company, and the Pacific Pride Foundation. Yet one organization stands apart from the others, including even the Solstice Parade, as having realized what is referred to in the legalese of real estate transactions as the "highest and best use" of the space, and that's On the Verge, a three-year-old summer theater project started by a group of young directors and theater teachers that promotes plays intended to "spark conversations about important topics" and bring together talented Santa Barbara residents with top writers and performers from across the country. By setting up camp at the CAW for a full month in the middle of the summer and rehearsing on-site for what has grown into a 10-day event featuring five separate full productions, On the Verge has brought cutting-edge repertory theater to the heart of downtown Santa Barbara. Founded on principles of equity, diversity, and inclusion, On the Verge consistently raises the bar for responsive dramatic art in an era when audiences are hungrier than ever for political, emotional, and spiritual engagement.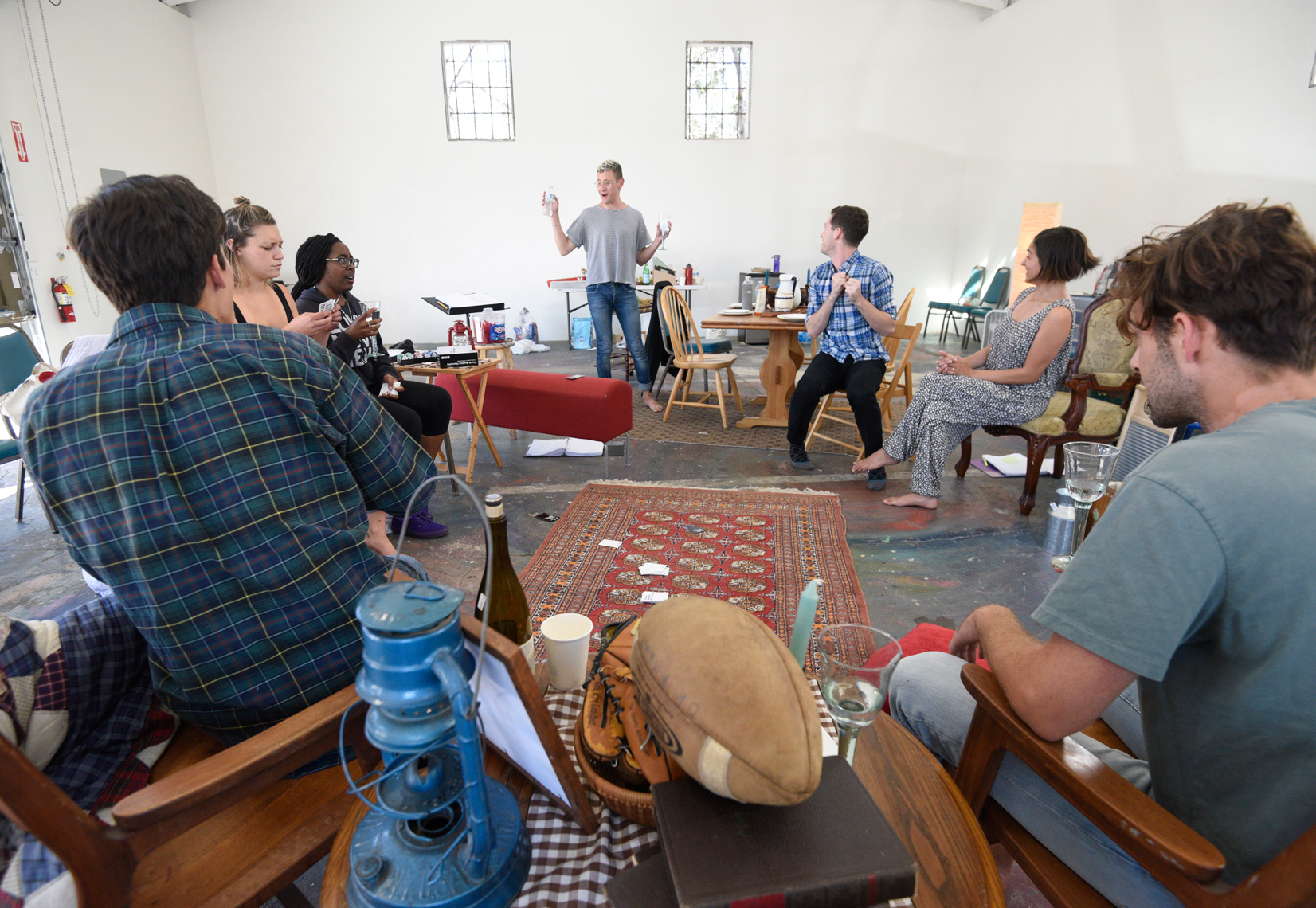 Beginning on Thursday, August 3, with Michael Perlman's award-winning play At the Table, On the Verge will present some of the most exciting theater on the West Coast in a format and at a price that encourages audiences to watch two shows in one night and keep coming back for more. The On the Verge team includes artistic director Kate Bergstrom, executive artistic associates Riley Berris and Jessica Ballonoff, along with Casey Caldwell, founding artistic director of Ratatat Theater and CAW partnership leader, and associate artistic director Josiah Davis, a recent graduate of UCLA's School of Theater, Film and Television who has already compiled an impressive résumé as both an actor and a director.
And that's not nearly all. Out of the Box Theatre Company founder and Santa Barbara audience favorite Samantha Eve will direct Julia Izumi's surreal and provocative three-hander A Likely Pair; the Indy Theater Award–winning team of Danielle Draper and Lindsey Twigg will present their latest, a play called peanutbutterjellybagelcreamcheese; Katie Williams will direct Maggie Yates's Talkback, a satirical take on contemporary political discourse; and UCSB professor Risa Brainin will bring Meanwhile There Are Letters, the final installment of this season's Launch Pad Summer Reading Series, to the CAW on Friday, August 11.
It all adds up to one of the most ambitious projects we've seen here in years, and yet the principals retain the kind of energy and enthusiasm that results in unexpected benefits such as the free yoga classes that they conduct before rehearsals every day and that are open to the community.
Talking with Bergstrom about the mission of On the Verge feels like a ride on the express to a new world for theater, both on and off Broadway. Bergstrom points to the recent Broadway success of shows by Paula Vogel (Indecent) and Lynn Nottage (Sweat) as indicators of a major shift in what counts as relevant contemporary drama, particularly with regard to equity, diversity, and inclusion. "This is the biggest conversation that U.S. theater is having right now," said Bergstrom, a Dos Pueblos and UCLA grad who is currently enrolled in the Brown University/Trinity Rep graduate program in directing. "Talk about exclusion has been going on for decades, but now that EDI [that's theater-speak for "equity, diversity, and inclusion" —Ed.] is finally actually happening, all kinds of other changes are taking place as well."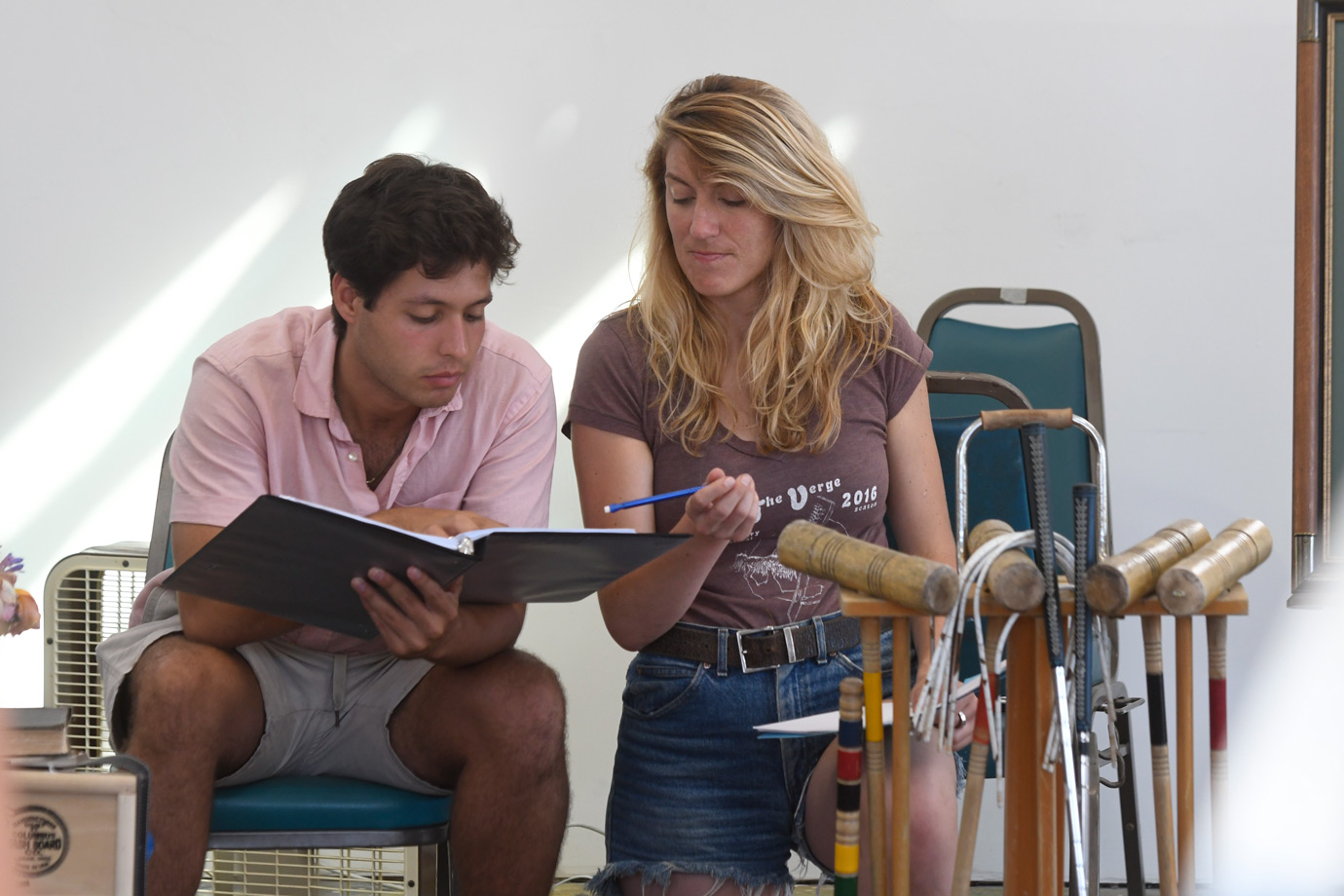 Bergstrom offers At the Table, the show she will direct, as an example of what she means. The story begins when one of the characters, a young woman, responds to a seemingly casual remark concerning abortion made by a male friend at a dinner party. In a conversational move that all millennials as well as many others will surely recognize, she upbraids him for weighing in on a subject that she feels rightly belongs to women. She denies him the right to talk about abortion by saying, "You're not at that table." From there a battle of words and wills ensues, all of it centered on the concept of the "burden of representation," the idea that one's identity either confers or disallows one from entering into public debate about certain topics, as for example, when a man "splains" feminism or the politics of reproductive rights to a woman.
According to Bergstrom, the process of rehearsing this show, which won multiple Jeff awards this past season in Chicago, where the company Broken Nose Theatre staged a completely sold-out run, has already begun to parallel the content of the script, with the actors picking up on the ideas it expresses and examining the way that they affect events in their own lives. "Rehearsal," she told me, "has become an enactment of the principles of the play."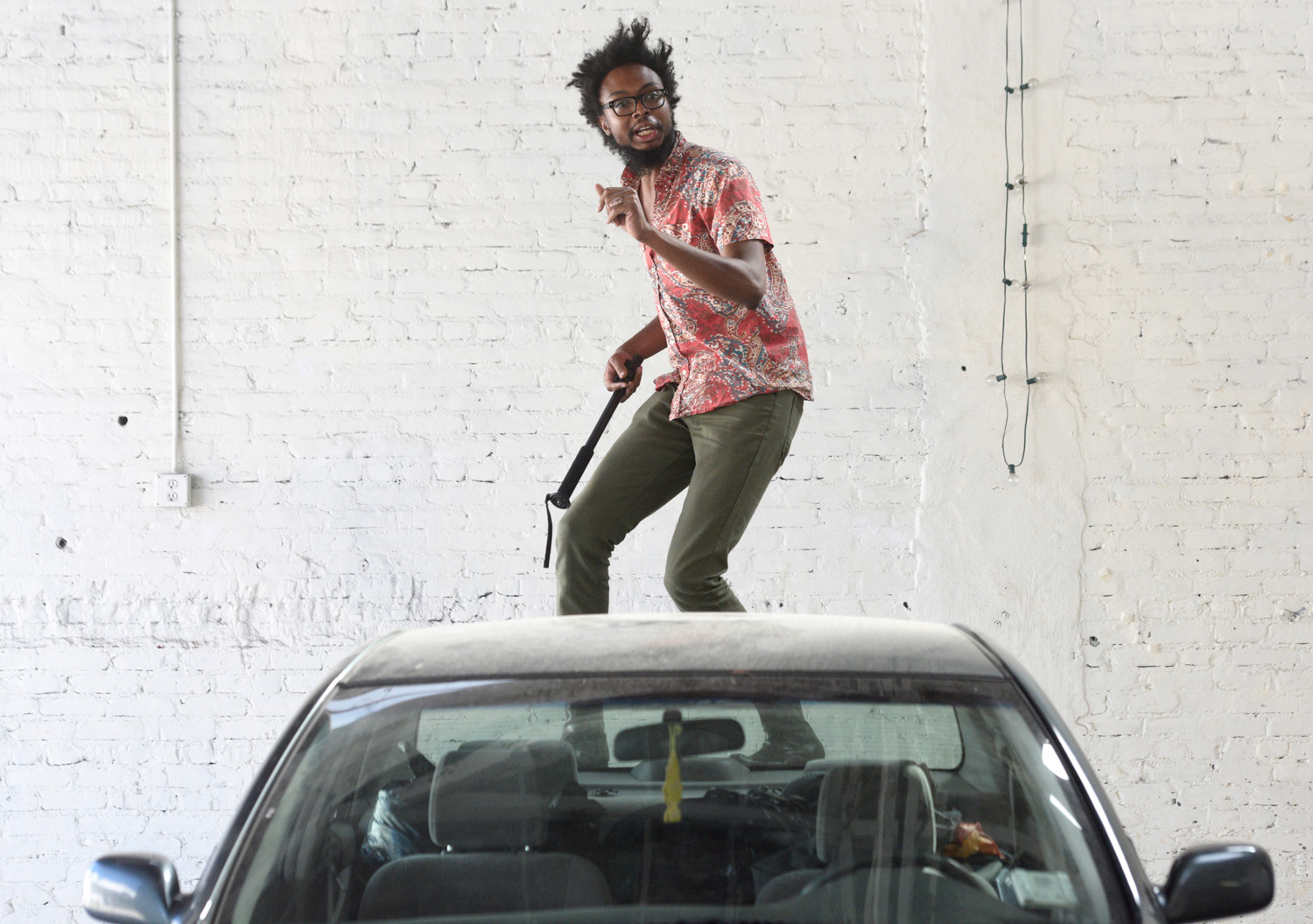 Meanwhile, in an adjacent space at CAW, Davis works with an all-black cast on Outcry, a choreography and music-intensive show by Thais Francis that examines police brutality through the eyes and minds of four famous victims — Emmett Till, Sean Bell, Amadou Diallo, and Trayvon Martin. These young men come back to life in an alternate reality where they face their fates and seek answers to the tragic questions posed by their deaths. Emmett Till's mother and Sean Bell's fiancée also figure in this lyrical, even at times humorous work, which the playwright began while completing her degree at NYU's Tisch School of the Arts in 2012.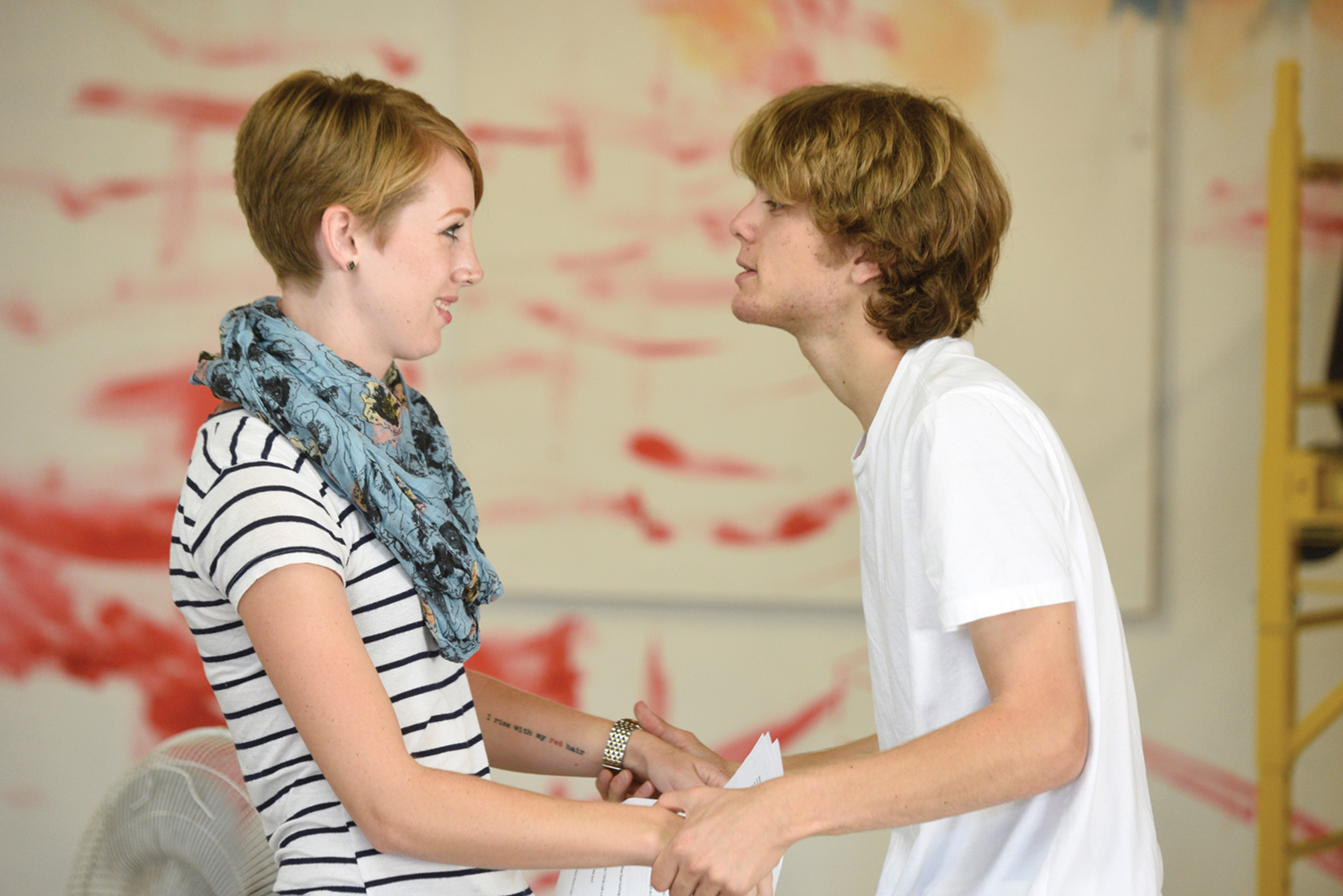 Izumi's A Likely Pair, directed by Eve and featuring Mathew Goldsholl, rounds out the slate of full-length productions on a surreal note. The play finds two nameless young people dealing with the influence of a character named Mother, a role that's played by an actor who doubles as the character Poison. Bergstrom describes it as an exploration of "the drive to fulfill a desire for something else," adding that it's also an examination of a "toxic relationship."
It will be a pleasure to join these young performers as they take on such an ambitious set of shows, and it will be a blast to be back in the Community Arts Workshop for what is becoming a great summer tradition.
For tickets and information, visit onthevergefest.org.