Books
Book Arts at the Arts Fund
Five Artists Who Love Books
This exhibition brings together five distinguished figures in the field of book arts who are either faculty or alumni of UCSB's College of Creative Studies: Carolee Campbell, Linda Ekstrom, Mary Heebner, Sandra Liddell Reese, and Harry Reese. The works on display cover a wide range of approaches, from beautifully illustrated limited editions of poetry to sculptural objects derived from manipulating preexisting texts. Taken together, they succeed in linking fine printing and papermaking to the outer limits of the fine arts and literary expression.
Heebner's lifelong love affair with great books and handmade paper is inextricable from her globe-trotting wanderlust. This kaleidoscopic overview of her recent forays includes work that originated in expeditions to Italy, Cambodia, and Patagonia. Campbell's Ninja Press produces elegant, timeless volumes of illustrated verse and prose. Harry Reese contributes an intriguing pair of works, "His Master's Voice" (2012) and "Sweet and Spicy" (2008), that meditate on the form of the book's vinyl cousin, the 33 1/3 long-playing record.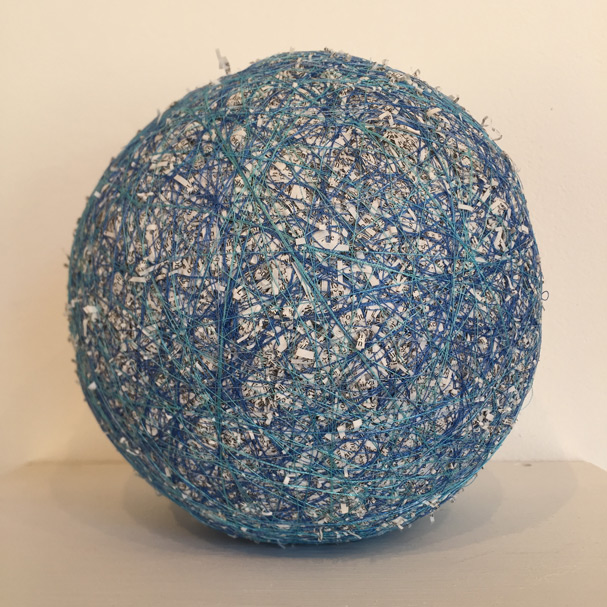 Sandra Reese's "bucket of blue smoke," from a collaboration with poet Jonathan Williams, plays with the evanescent nature of content. Finally, Ekstrom brings together her extraordinary series of sculptural manipulations of the Bible with more recent work devoted to the mystical qualities of canonical women writers. Her "Mystic: Simone dB" (2016) takes the work of Simone de Beauvoir as its point of departure for a delicate construction cut from Tyvek. The text begins with Beauvoir's immortal line, "Love has been assigned to woman as her supreme vocation," which makes a fascinating pendant to the bibliophilia so much in evidence in this excellent show.