Sports
Polo High Season in Carpinteria
Horses and Riders Show Their Mad Skills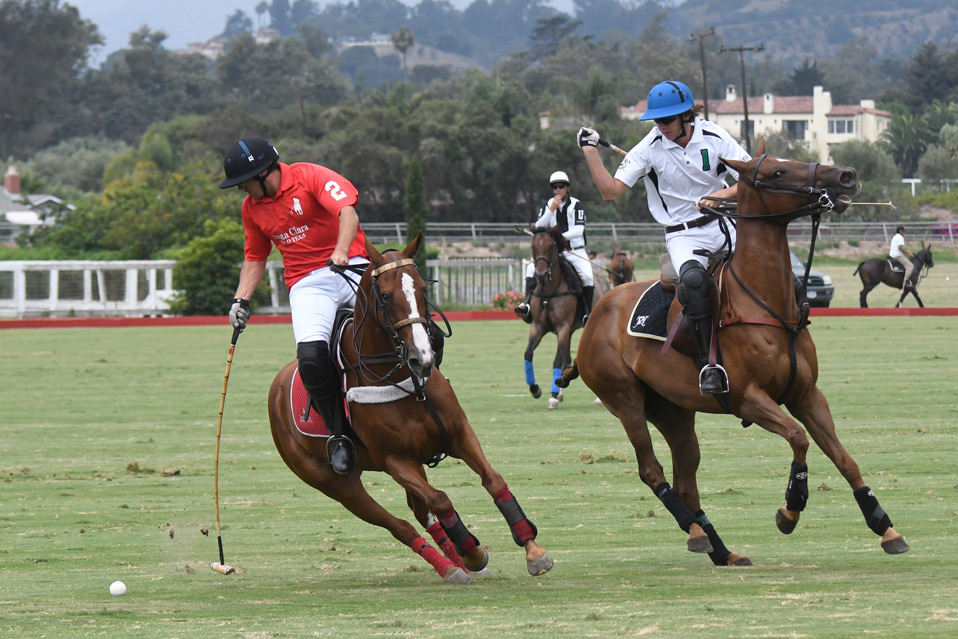 To sponsor a polo team requires a considerable investment, but to Francisco Escobar, it's worth every penny. "I love horses, and I wonder, what am I going to do with my kids?" he said. "What are we going to talk about? I decided what to do is to have something in common with the horse. Polo is a family sport. I have three boys and a girl who play polo. I have three grandsons and a granddaughter who play polo."
Escobar, a successful developer from Costa Rica, has brought his Florida-based Santa Clara team to play in this summer's high-goal season at the Santa Barbara Polo & Racquet Club. He will be 73 next month, but he can still saddle up and play a highly competitive game, although he carries an amateur rating. The other three players bring the team's total rating up to the required 16 goals, including his 46-year-old son, Luis Escobar, at five goals.
"We have a good training program that makes the horses quiet and easy," Luis said. "The happier a horse is, the better he'll move. If they also have power, they'll be really good. Horses are no less than 80 percent of the game. That's why [his father] can still play."
Luis's son, Nico Escobar, 17, made his debut at the professional level at the fields in Carpinteria. He could not fit on the Santa Clara team with his father and grandfather, so the Farmers & Merchants Bank team picked him up. Nico's younger brother, Lucas, 14, has seen action in a few matches as a substitute for his grandfather.
The generations clashed recently in the championship match of the America Cup tournament. Santa Clara, which reached its third consecutive final but was still hungry for a title, took a two-goal lead over Farmers & Merchants into the final chukker, only to see Nico Escobar go on a scoring rampage that sent his grandfather and father down to a 10-9 defeat. "It was sweet and sour," Luis said. Nico was named MVP of the match. "He received a very good bottle of scotch," Francisco said. "I took it from him."
But Nico and his team got the America Cup, and now they are in contention for the most prestigious prize of all, the championship of Gulfstream Pacific Coast Open (PCO). The polo club's big week starts Thursday, August 24, with two semifinals:
Klentner Ranch, featuring young American Jesse Bray, will face defending champion Restoration Hardware at 1 p.m.
Farmers & Merchants Bank, whose playing sponsor, 63-year-old Danny Walker, still thirsts for a PCO title, will go up against Lucchese at 4 p.m.
Santa Clara, was knocked out of the running when it lost to Farmers & Merchants, 13-9, last Sunday. Nico Escobar again made some brilliant plays against his elders. He attributes some of his knack for the game from playing soccer at his school in Florida. "Nico plays with natural talent," Walker said. "He's fantastically quick with his stroke. It's like he's swinging before the ball gets there."
There will be a consolation game at 11 a.m. on Saturday between Santa Clara and Sol do Agosto.
At 3 p.m. Sunday, the finalists will trot onto the vast 300-yard field for the grand finale. At the end of the match, champagne will flow, and the winners will put their names on the towering gold-and-silver PCO trophy that was first awarded in 1909.
FOOTBALL WEEKEND: The prep football season gets off to good start Friday, August 25, with four teams that won a bunch of games last year pairing off: San Juan Hills at Dos Pueblos, 7 p.m., and Desert Pines of Las Vegas versus Bishop Diego at SBCC's La Playa Stadium, 7:30 p.m. On Saturday night, the Santa Barbara Dons begin their two-year home stand at La Playa by taking on Saugus at 7 p.m.
FÚTBOL WEEKEND: UCSB's men take the pitch at Harder Stadium against St. Mary's at 7 p.m. on Friday. The Westmont College men, buoyed by their 2-1 victory over the Gauchos, will play their home opener against Cal State San Bernardino at noon on Saturday, and UCSB will be back in action at 2 p.m. on Sunday against Siena College from New York.
Westmont defeated UCSB for the first time since 2000 last Saturday night. "We're like a solar eclipse," Warriors coach Dave Wolf said. "Every 17 years we get them."
Westmont's experienced defenders, led by senior Blake Homan, rose to the challenge against a UCSB team that had outscored them 15-1 in the previous five years. Homan also put the Warriors up 1-0 on a goal off a corner kick in the first half, enabling them to sit back and frustrate UCSB's attacks the rest of the game. Augie Andrade made it 2-0 after a Gaucho turnover. Westmont fans were cheering joyously in the final seconds, even as UCSB's Derek Kryzda broke through the defense and scored to avert a shutout.
Wolf conceded his team caught the Gauchos in an emotionally difficult state after they lost their top player, Kevin Feucht, to a knee injury. "They'll be searching for an identity with him gone," the Westmont coach said. "They weren't able to answer the question tonight."
GAME OF THE WEEK
8/26-8/27: Swim-Bike-Run: Santa Barbara Triathlon
The granddaddy of all triathlons in the area is being run for the 36th time. Longtime director Joe Coito expects 1,400 participants. Hard-core athletes will tackle the long course on Saturday (1-mile swim, 34-mile bike, 10-mile run). The popular sprint races on Sunday include coed, women only, and parent-child. A limited number of last-minute entries will be available at the Cabrillo Bathhouse from 11:30 a.m.-6 p.m. on Friday. Another way to participate is to sign up as a volunteer. Sat.: 7am; Sun: 7-8:30am. East Beach, 1118 E. Cabrillo Blvd. Entry fees: $125-$210. Volunteers call 682-1634 or visit santabarbaratriathlon.com.