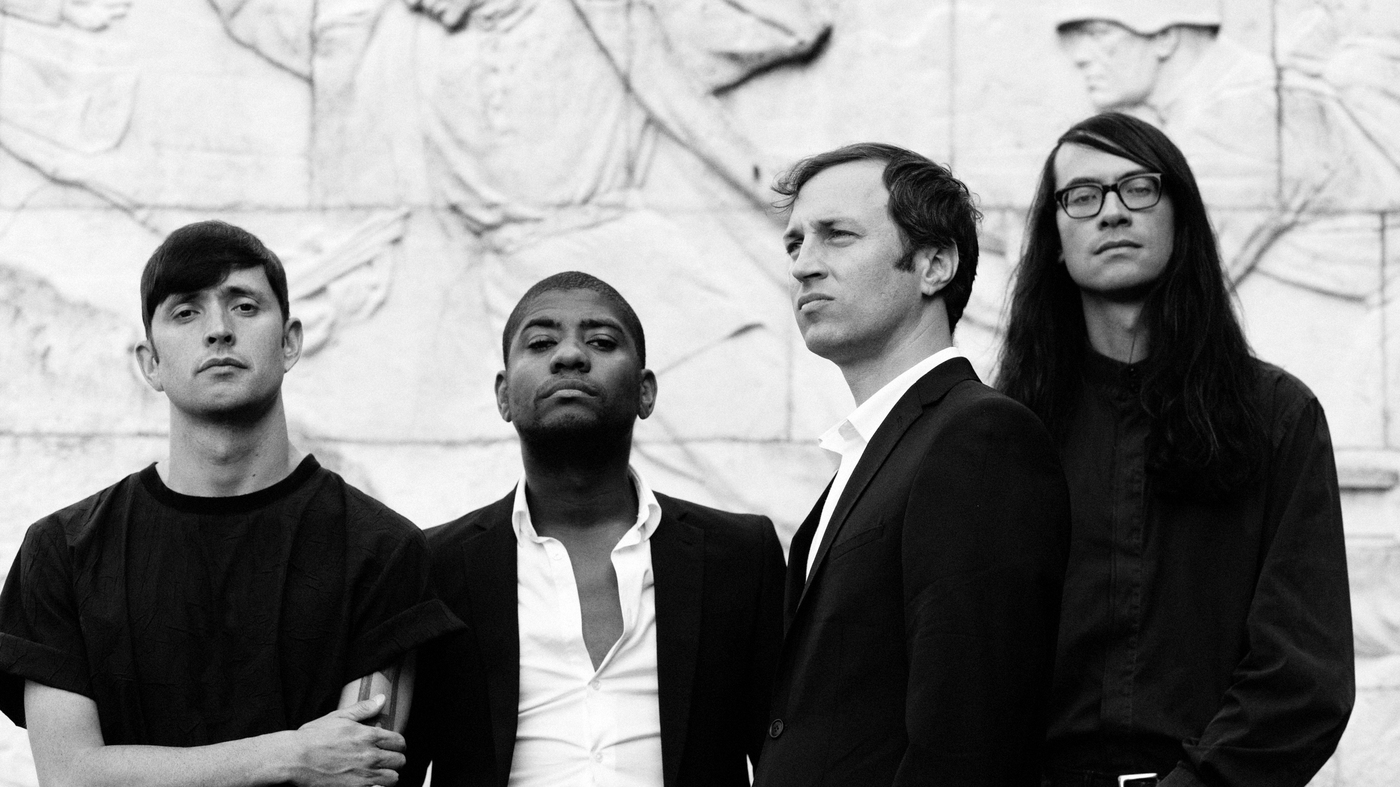 "There have always been bands and artists that have been political," said Franklin James Fisher, frontman of the experimental rock band Algiers. "[But] what's happening right now is people are realizing the script [behind] the reality they are living and what is actually happening in their daily lives." And it's for that reason Algiers seeks to bring about political and social discussions through their lyrics.
The band, which consists of Fisher (vocalist), Ryan Mahan (bassist), Lee Tesche (guitarist), and Matt Tong (drummer), started playing music in college in Atlanta, Georgia, drawn together by their common musical tastes and political views. But Algiers didn't officially form until they were living in London in 2007. It was another eight years before they released their debut, self-titled record, which received critical praise. Their most acclaimed single was "Blood," on which drumbeats mimic the sound of slaves being whipped as Fisher sings about history repeating itself.
Algiers's most recent album, The Underside of Power, which was produced during Brexit and the presidential election of 2016, is rife with political and social discussion. The record's eponymous single, for example, explores imbalances of power and the changes looming.
In a recent phone conversation, Fisher spoke of music and politics, what inspires him, and the state of the world.
Do you think current artists are doing a good job helping their audiences understand what is going on politically in America? I think real artists have always done that, but it's not the question of whether or not they're doing that, it's the extent of the culture and what the music industry wants to focus on. Some people want to listen to music to escape. I think these people are more than likely to live in this fantasy world, and whatever happens outside of it they aren't concerned about.
When was your moment of political awakening? When I was in college, I was in a program that discussed cultural and national identities and … deconstructing certain myths. When you're a young adult, you're traveling; you're reading literary criticism and cultural criticism that resonates with your own life experience; you become someone who's aware of what happens in the world. You realize how it affects who you are, what you do, and your place in it.
Both Algiers albums express a strong message of resistance. How do you think that translates to your audience? After our shows, we have a chance to talk to our audience. We also have a circle of friends who are like-minded people, artists, writers, who are doing the same thing. Our ideas resonate with them, and that's where the meaning hits with me. When you have tapped into a conversation that's already been initiated with people.
"Walk Like a Panther" from Underside begins with a quote from Chicago Black Panther Fred Hampton. What was your inspiration behind this song? The idea was to focus on the reclaiming of history, which is one that is being rewritten. Mainstream America seems to have a misconception of who the Panthers were and where they came from. They weren't a civil-rights group; they were a political group of the left who believed in solidarity.
What is the meaning of the title The Underside of Power? That was the track title of our song, and we didn't have the title of the album until it was finished. We had a number of titles that it could've been, but that title seemed to be that most accurate. The song itself is a survey of what we created.
What is influencing your writing now? We're always creating music at different times and different paces. Unfortunately, given the state of the world, there's not going to be any shortage of topics for us to write about.
4•1•1
Algiers opens for !!! Saturday, September 30, 9 p.m., at SOhO Restaurant & Music Club (1221 State St.). Call (805) 962-7776 or visit sohosb.com.