News
Valley Residents Object to Tentative Chumash Agreement
They Lament the Camp 4 Deal Was Hashed Out Behind Closed Doors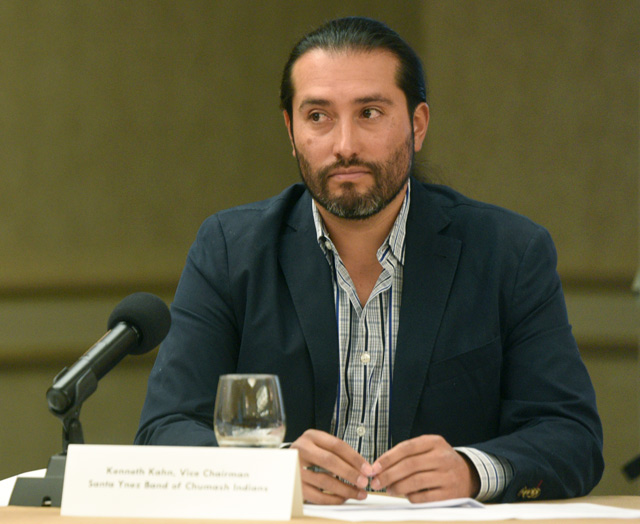 Santa Ynez Valley residents packed St. Mark's-in-the-Valley Church Monday evening to blast Santa Barbara county supervisors Joan Hartmann and Das Williams on the outline of a preliminary agreement reached with the Chumash.
For six months, Hartmann and Williams met privately with Chumash Chair Ken Kahn and Vice Chair Raul Armenta to negotiate land-use and financial matters regarding Camp 4, the 1,400-acre property east of Highway 154. The land, which the Santa Ynez Band of Chumash Indians has petitioned to annex into its reservation since 2011, has caused years of contention between the tribe and Santa Ynez Valley residents. As a sovereign nation, the Chumash would not be required to pay taxes or adhere to the county's building codes.
This new deal, which still must be approved by both the Board of Supervisors and the Chumash Business Committee, could build 143 residences and a tribal center on Camp 4. The Chumash must comply with the existing Williamson Act contract, which prohibits development on open spaces, until it expires in 2023. At that point, or upon completion of the first house, the Chumash would pay $178,000 annually to the county. The tribe would sign a limited waiver of sovereign immunity. Santa Barbara County would drop its ongoing federal lawsuit against the tribe. The deal would last until 2040.
"Our tough conversations were helpful to getting us to this point," Kahn said. "This is a step in the right direction." Meanwhile, a corresponding federal bill ​— ​House Bill 1491 ​— ​is moving through Congress. The bill would immediately make Camp 4 part of the Chumash reservation. Should this agreement be finalized, it would be incorporated into HR 1491, Hartmann said. That bill, she added, is moving forward regardless of whether or not the deal is confirmed.
All but one public speaker opposed the deal. Several lamented that the full agreement has not been released. Many objected to the fact that the ad hoc subcommittee meetings have taken place behind closed doors. The private meetings were convened after nine public hearings led by former 3rd District supervisor Doreen Farr and current 4th District Supervisor Peter Adam wound up contentious and unsuccessful. "I feel like I'm being told here's your medicine; what orifice do you want it to go down?" charged resident Karen Jones, who ran last year for 3rd District supervisor.
Others raised questions about water usage, enforceability, and the looming deadline. Many of these questions will be answered when the full preliminary agreement is released on September 29, Hartmann said. There will also be follow-up public meetings on October 5 and 9.